Emperor Cookie Dough Strain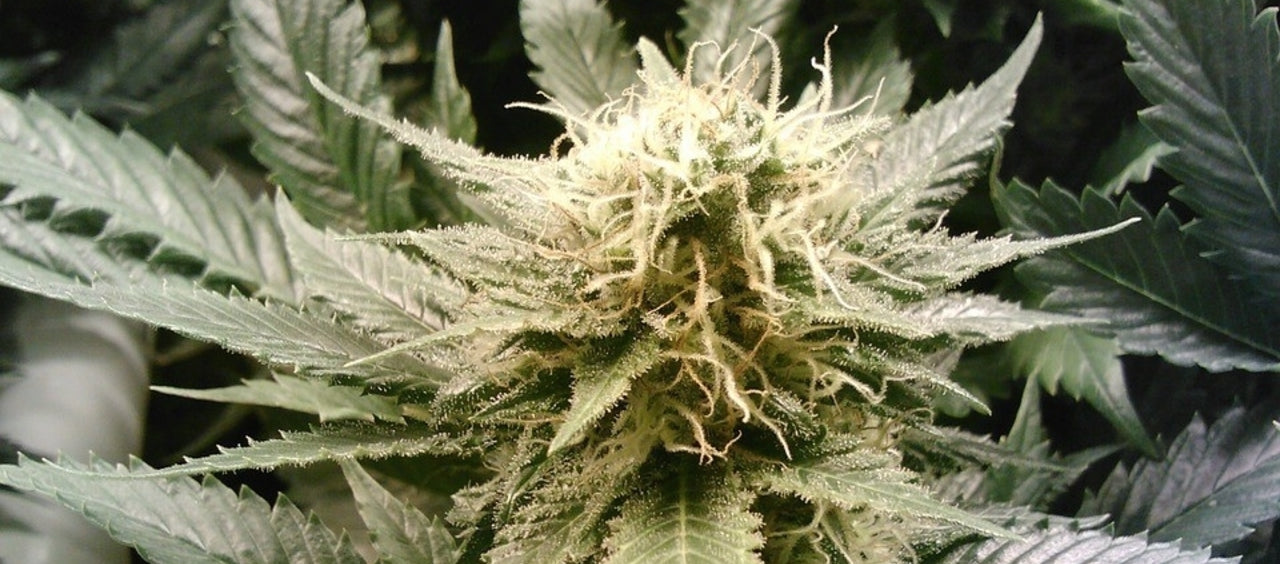 Emperor Cookie Dough Strain is a reasonably well-balanced hybrid with a 65/35 leaning towards Sativa. Unfortunately, this means that you'll get Emperor Cookie Dough clones often. This is an incredibly popular type of cannabis, largely because it offers both a warm indica hug and a cerebral burst of sativa energy. In addition to that, Emperor Cookie Dough was considered to be one of the strongest strains in the 2016 High Times. As it takes two dank strains and crosses them to make one dank monster strain, it's a certified #dankenstein strain. It's a potent, balanced, and very tasty strain that you don't want to miss!
This strain is also sometimes called Imperial Cookies, Cookie Dough Cannabis strain, or Cookie Dough Weed. Emperor Cookie Dough clones usually copy the names.
A close up of one of the most potent strains out there! Photo: @mrbuddhabellysbuds


Emperor Cookie Dough strain: Indica or Sativa?
Emperor Cookie Dough (and Emperor Cookie Dough clones) are balanced hybrids. These are very sought-after strains because they offer both the best effects from both branches of the cannabis tree. The potency of this strain is very high, leading some users to feel a little overwhelmed after smoking this strain. Read below for our tips on what to do if you start to feel the strain take over. Emperor Cookie Dough buds have a great tight, spherical shape. This makes it a perfect strain to grind up and stick inside your flower vaporizer.
Emperor Cookie Dough strain genetics
If you know anything about cannabis, then you will have heard of Girl Scout Cookies. If you haven't heard of Girl Scout Cookies, then you're definitely in for a treat. It's one of the best-tasting strains in the business and often gives its 'children' its taste and potency. Emperor Cookie Dough is no different, as this strain was created for potency and flavor. By crossing GSC with an OG strain, the original breeders of this strain made an absolute powerhouse of a strain. The two strains inside Emperor Cookie Dough are:


Emperor OG

Girl Scout Cookies
Emperor Cookie Dough strain THC percentage
As mentioned previously, this is one of the strongest marijuana strains on the market. As such, it's 100% not the best option for beginner stoners. The average Sativa-dominant hybrid contains around 13% THC. The average Emperor Cookie Dough strain has about 35% THC. However, the absolute strongest phenotypes of this strain contain around 41% THC. This is enough to blow anyone's head off, so please be careful. This is literally the definition of a one-hitter strain. Once you take one hit you'll feel too stoned to have another one. You've been warned!


Emperor Cookie Dough strain price
This is a dankenstein strain, whose original breeder is hard to pin down. Emperor Cookie Dough clones might also increase the difficulty in pricing. The seeds are not available online unless you want to buy some snake oil from a snake oil salesman. As such, the price is incredibly high. That's because it's one of the strongest strains, it tastes great, and it's very high in demand. In an LA dispensary it's probably about $20 a gram. In a coffee shop in Amsterdam, you're likely to pay about $35 a gram. This is because the supply in Amsterdam is exceedingly low for these kinds of strains, and only the best of the best coffee shops will have a strain like this. They know this, and therefore they charge whatever they want for these kinds of strains.
Emperor Cookie Dough strain taste
Emperor Cookie Dough, and all the Emperor Cookie Dough clones inherit much of their taste profile from its Girl Scout Cookie parent. This makes it an incredibly tasty strain. As such, it's not worth adulterating this strain with tobacco or papers. Your best bet is to either bong this strain or if you want to have the best taste possible, put it inside your trusted flower vaporizer. If you grind the buds up first, you'll allow the best taste possible to shine through. You won't regret smoking it this way. The full taste profile of Emperor Cookie Dough is:

Emperor Cookie Dough strain oil, wax, shatter, edibles, etc.
Emperor Cookie Dough isn't the best choice for making concentrates unless you somehow procure some seeds yourself. That is because you need a relatively large amount of the strain to make a good amount of concentrates, and as it's such a rare (read: expensive) strain, this probably isn't worth it. However, if you do somehow manage to get seeds or clipping of this strain, the taste and potency of this strain make it an absolutely perfect choice for making into a concentrate.


Edibles can be made in one of two ways:


Using already vaped bud (recycle what's in your flower vaporizer!)

Using decarboxylated flower to make them


Either method requires heat first, which is an essential part of making cannabis edibles. This turns THCA into THC, which is the chemical that gives you your high. This process is called decarboxylation, and, without it, the potency of your edibles will go down massively. You must also mix your decarbed weed with a fat or oil.
Emperor Cookie Dough looking absolutely royal here. Photo: @worldonwheels1936


Someone's about to be a very happy camper! Photo: @710drewperry710


| | | |
| --- | --- | --- |
| Emperor Cookie Dough General | Emperor Cookie Dough Medical | Emperor Cookie Dough Negative |
| Relaxed 100% | Stress Relief 100% | |
| Happy 95% | Depression 80% | Dizziness 10% |
| Euphoric 85% | Pain Relief 80% | Headaches 10% |
| Uplifted 80% | Fatigue 55% | Paranoia 5% |
| Focused 75%  | Inflammation 50% | Overwhelmed 5% |

Please don't smoke this strain if you're fairly new to cannabis. It would be like that first time you ever got drunk and you downed an entire bottle of vodka by yourself. Think about how well that turned out. THINK ABOUT IT. Yeah, we don't want a repeat of that either. If, however, you're an adept stoner and you're looking for a Sativa-dominant hybrid to help you with stress or depression, then Emperor Cookie Dough is definitely going to be one to try. It will help you with the stress and worries of depression because of its high THC percentage and balanced, albeit Sativa-dominant, high.

If you do feel too stoned after lighting up, you can follow this guide on how to feel less stoned:


Take a cold shower

Drink a hot coffee

Go for a run, go for a swim

Simply relax in a room, lying down, and focus on your breathing

Remember that it's all in your head, and it's just the weed making you feel bad


After you follow these steps, you should feel a lot less stoned.


Emperor Cookie Dough strain flowering time
The flowering time of Emperor Cookie Dough is 52-56 days, making it a relatively quick grower. If you leave it for the full grow time you're not going to regret it.


Emperor Cookie Dough strain growing tips
This strain grows like a classic Sativa, which normally grow fairly tall. It's a relatively difficult strain to grow, but if you train it correctly and use SCROG (Screen of Green techniques) then you should be good to go. Check out the video above to see how to do both of these techniques.


Emperor Cookie Dough strain seeds
The seeds for this strain aren't available. You will have to try your best with the online sellers who claim to sell this seed or somehow try to find a clone. Good luck!

Emperor Cookie Dough strain yield
The yield of Emperor Cookie Dough is about 4 ounces per foot squared, which is a moderate to high yield.


What a dreamy grow! Photo: @lighthousegardensor


What is the Emperor Cookie Dough strain?
Emperor Cookie Dough was voted one of the strongest marijuana strains in the world in the 2016 High Times. This means that it's not a strain you should joke around with. It's the equivalent of absinthe, to be honest. If you know what you're doing, and you want to try a new strain to help you treat depression, then this strain may be for you. If you're a relatively new stoner, steer clear of this strain except in incredibly low dosages.
One of the strongest marijuana strains in the world (as of 2016)

A very tasty combination between Emperor OG and Girl Scout Cookies

Should be enjoyed inside a flower vaporiser

Not for new stoners

Hard, if not impossible, to find the seeds

Tried Emperor Cookie Dough before? First of all, lucky you! Secondly, let us know what you thought in the comments below!
.

Written by Megan Medeiros (BA)
Megan Medeiros has a bachelor's degree in English and is currently working on a master's in English at James Madison University. She's the owner and operator of Medeiros Writing, and has been working as a cannabis writer for the past three years, mostly following the legal climate of marijuana, especially in areas like California, Colorado, Oregon, Canada, and other legal areas.
This post contains references to products from one or more of our advertisers. We may receive compensation when you click on links to those products. For an explanation of our Advertising Policy, visit this page. All photos were sourced from Pinterest.com | updated 2021
Stay home & get your daily
needs from our shop
Start You'r Daily Shopping with Nest Mart
Best prices & offers
Orders $50 or more
Free delivery
24/7 amazing services
Great daily deal
When you sign up
Wide assortment
Mega Discounts
Easy returns
Within 30 days