Jack Herer Cannabis Strain Pipe
David and Leah Kaye Weathers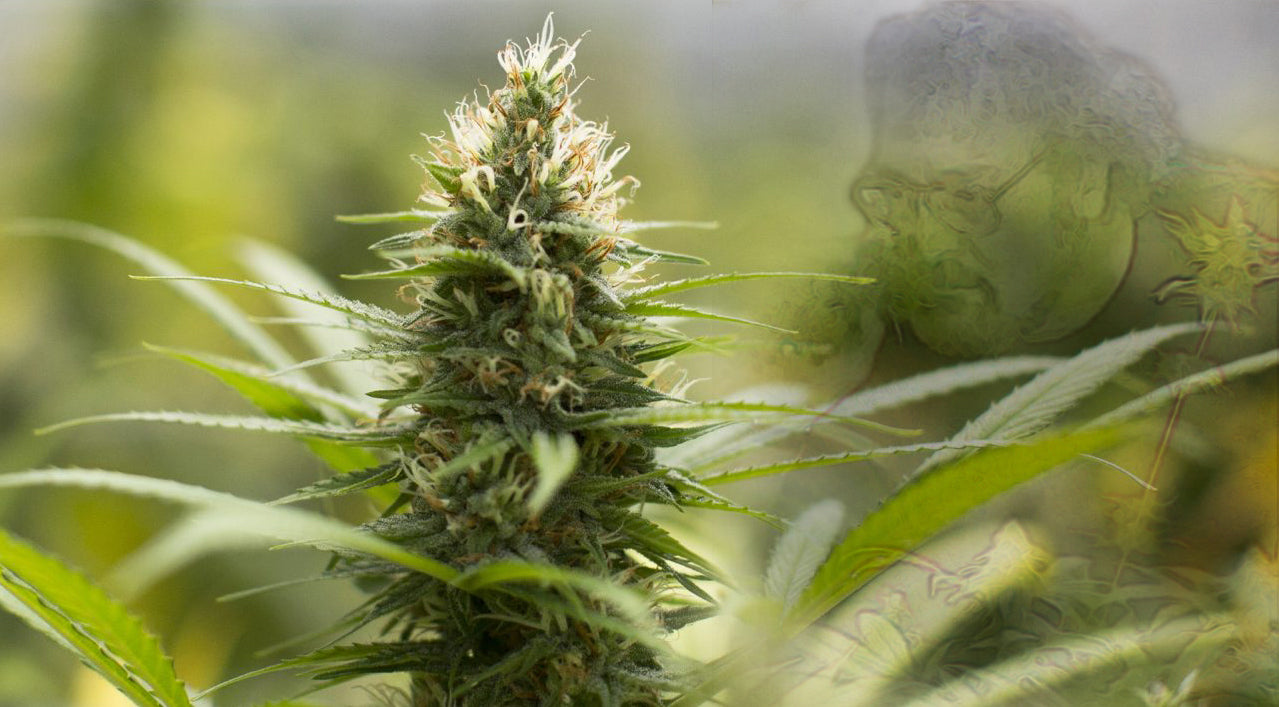 Intro:
There once was a man named Jack Herer who was a passionate, outspokenly vocal advocate for hemp and marijuana acceptance and legalization in the United States and worldwide; and this forward-thinking man made quite a name for himself, he became a cannabis culture legend! To honor this wise weed innovator, Sensi Seeds created and named a strain of sativa cannabis marijuana after him – factually, Jack Herer 'sativa' is a hybrid cannabis cultivated from crossbreeding Haze (a high energy sativa strain) with Skunk #1 (an indica and sativa hybrid) and Northern Lights #5 (which is a couchlock-y indica-dominant hybrid)! This parental lineage combined to comprise a multiple award-winning sativa-heavy ganja that stimulates the brain while it relieves your pain; Jack Herer is a great boost for the daytime, but it probably should be avoided just before bedtime when you don't want to be energized and stimulated. Medical marijuana patients benefit from Jack Herer effects invigorating effects when they use it to treat a host of conditions from stress and depression to pain and fatigue. Recreational ganja users will just enjoy its sweet yet earthy taste and pungent skunky smell and Jack Herer cannabis' creative cranial charge! 



(A cluster of Jack Herer cannabis plants, image source: EN Seedfinder.EU)
Background:
The man who inspired the weed strain came to be called the "Emperor of Hemp" because of a book he wrote titled 'The Emperor Wears No Clothes', a book that as of 2016 was in its twelfth edition after 31 years of continuous print, was a call for decriminalization and legalization of cannabis and to expand the use of hemp for industrial use. It is available for free on his official  web site, run by Jeannie Herer, his wife. Back in the mid-1990s, Sensi Seed from Holland developed a sativa-dominant sativa/indica hybrid strain of cannabis and named it in honor of Jack Herer's lifetime of cannabis advocacy work. The Jack Herer weed strain has won several awards, including the coveted High Times Cannabis Cup (several times), and was inducted into the Counterculture Hall of Fame!

Jack Herer marijuana has good genes; bred from Haze with Skunk #1 - or some Jack Herer variants use Skunk's direct offspring, Shiva Skunk, a powerfully relaxing, calming indica strain - and Northern Lights #5, it has 18-23% THC, 0.03%-0.2% CBD for a 55% sativa/45% indica blend. It is generally regarded as just a straight sativa, despite its mixed lineage, because it has such strong sativa-like mental and physical effects: providing an invigorating, uplifting cerebral reaction that promotes alertness, and a body response that stimulates physical activity - and Jack Herer is ideal for smoking when creative projects, say like writing cannabis strain reviews, beckon! The flavor of Jack Herer cannabis is a cocktail of skunkiness, earthiness, and some sweet fruitiness; some have described a piney, lemony aftertaste.

Similar strains to Jack Herer weed would be Sour Diesel, Lemon Haze, Purple Haze, and Strawberry Cough – all stimulating sativas!


(A single nug, or bud, of Jack Herer marijuana, image source: Greenstate.com)
Effects:
| | | |
| --- | --- | --- |
|  Jack Herer Cannabis General  Effects | Jack Herer Cannabis Medical Effects | Jack Herer Cannabis Side Effects |
| Uplifted 100% | Stress 100% | Dry Mouth 100% |
| Energetic 90% | Depression 90% | Dry Eyes 80% |
| Happy 90% | Fatigue 75% | Anxious 40% |
| Creative 75% | Pain 60% | Paranoid 40% |
| Euphoric 70% | Headache  50% | Dizzy 30% |

(Some Jack Herer flower or nugs in a bowl,  image source: Cannabis Now.com)
Buying:
If you want to go out and buy yourself an 8th of  Jack Herer marijuana leaf to smoke down and try, your friendly neighborhood storefront dispensary would charge you an average of $40-55 – depending, of course, upon whether you had a medical or recreational state license, what the quality of the grow or crop is, strain availability, the time of year and your geographic location (note that some dispensaries are required to charge you a local or state tax, usually 2-6%, on weed purchases). Online prices are usually steeper and you will likely have to factor in shipping costs. Jack Herer cannabis vape pens would run you about $40; Jack Herer oil cartridges are about $45 for ½ gram and $80 for a full gram. You can buy wax or as shatter, or resin, for $50-60 a gram. Pre-rolled joints can be found for as little as $5 a piece to $15 or more depending upon their size, they tend to vary in size from half a gram to two grams or more. Insofar as edible marijuana or 'medibles' are concerned, labels usually don't specify the Jack Herer effects of weed strain used in making or baking the food, usually, they just indicate the level of THC or CBD – but there are exceptions, and here is a video review of someone taste-testing some 'Kushtown Jack Herer's Hemperor's Lemonade' with 150 mg THC that they picked up at a provisioning center for $6:

(Jack Herer Eighth of an ounce in a sealed jar, image: Source Sante Fe Co-op)
Growing:
Jack Herer ganja can be grown indoors, with soil or precisely controlled hydroponics, with a short flowering period, that runs about 8-10 weeks on average and produces around 18 ounces per square yard/meter. But it can offer you 18 ounces per plant, way more than the indoor harvest if grown outdoors in the fresh air and sunshine in a moderate climate with temperatures between 70 and 85 degrees Fahrenheit (21-29 degrees Celcius); if promptly planted in early summer, then it should be ready for harvest around late September to early October. Jack Herer strain plants can grow far above 2 meters tall and tend to be very bushy, so they need a bit of room to fill out. The cannabis flowers are dense with a clear trichome sugar-frosting that covers not just the buds or nugs but also the leaves and even Jack Herer effects stems and stalks.

You can pick up Jack Herer seeds online at sites like I Love Growing Marijuana.com for 5 for $59, 10 for $89, or 20 for $159; Crop King Seeds.com has them for 5 for $60, 10 for $110 and 25 for $200. Do a little research! You can also purchase Jack Herer plants at a cannabis nursery or dispensary for around $35 or so per plant, but like with pregrown and packaged dispensary products, prices likely will vary with location, or from web site to web site, and it's always best to consult an online menu and even call, email or text message ahead if you're interested in a particular plant, such as Jack Herer, to make sure that they have them in stock.
(Jack Herer bud, heavily frosted with trichomes, image source: Oregon Marijuana Seeds.Co)




Summary:
If you are looking for a powerfully heady sativa pick-me-up and something to get your creative side percolating, then Jack Herer is made to order! It is tremendously effective medical marijuana for relieving stress, alleviating depression, and even lessening pain and headaches. This up-to 23% THC sativa marijuana strain is as legendary as the late-great weed pioneer and well-known advocate that it was named after!  Jack Herer Cannabis was bred by Sensi Seeds in the Netherlands from the powerfully 21% THC heavy sativa Haze with the 65% indica Skunk #1 – or sometimes 85% indica Shiva Skunk - and 95% indica Northern Lights #5.  Jack Herer is immensely popular and has won numerous awards, such as the High Times Cannabis Cup! It has a strong skunky aroma, and an earthy taste with a citrusy fruit sweetness. It can be cultivated with indoor soil or hydroponics, but you do get better results outdoors with a moderate, Mediterranean climate. It is a widely available strain for purchase in brick and mortar provisioning centers and the seeds are found pretty much everyplace that sells cannabis seeds online. If you want to see exactly what the fuss is over this sativa heavy strain, then by all means give it a whirl - like the Dormouse in Alice in Wonderland said, 'feed your head' – and Jack Herer is a gourmet feast for your mind as well as a panacea for bodily aches and pains!
.

Written by Megan Medeiros (BA)
Megan Medeiros has a bachelor's degree in English and is currently working on a master's in English at James Madison University. She's the owner and operator of Medeiros Writing, and has been working as a cannabis writer for the past three years, mostly following the legal climate of marijuana, especially in areas like California, Colorado, Oregon, Canada, and other legal areas.
This post contains references to products from one or more of our advertisers. We may receive compensation when you click on links to those products. For an explanation of our Advertising Policy, visit this page. All photos were sourced from Pinterest.com | updated 2021
Stay home & get your daily
needs from our shop
Start You'r Daily Shopping with Nest Mart
Best prices & offers
Orders $50 or more
Free delivery
24/7 amazing services
Great daily deal
When you sign up
Wide assortment
Mega Discounts
Easy returns
Within 30 days