Pineapple Kush Strain Review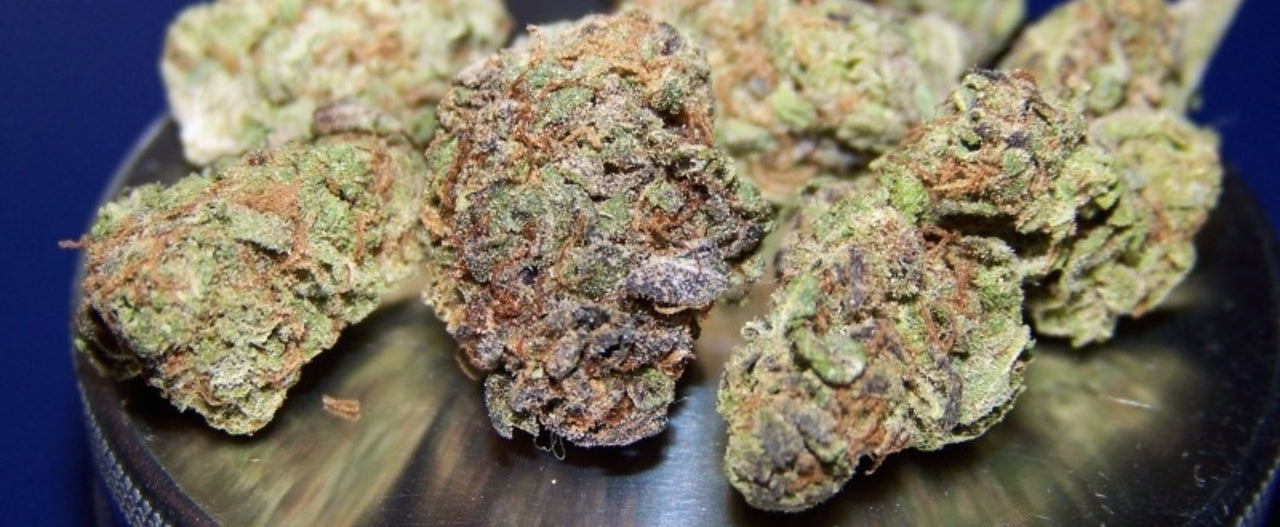 Pineapple Kush is a fruity strain that was created in California. The exact origins of the strain, predictably, have been lost to the often frayed history of cannabis. However, its two parent strains are well known, and of course one of them is an OG Kush relative, hence the name. This indica-dominant hybrid has the advantage of having both a nice body buzz, as well as a nice cerebral buzz. This strain isn't by any means overwhelming and would make a perfect starter strain for newer smokers.

This strain isn't to be confused with Pineapple Express strain, which is a totally different strain. Pineapple Express is a cross between Hawaiian and Trainwreck and is a sativa-dominant hybrid. The strains are very different: Pineapple Express weed THC level is up to 25%, and its buds are very sativa shaped.

The Pineapple Kush strain is sometimes called Pineapple OG, Pineapple Diesel, Pineapple Skunk strain, Pineapple Haze strain, Pineapple Sativa, Purple Pineapple Kush, and Pineapple Crush Strain.


What does Kush mean?
Kush means a strain is created from OG Kush. Whether it's a direct breed with the master strain itself, or a phenotype of OG Kush, or simply across from a few generations back, OG Kush is used for a massive variety of different strains. That is because it brings with it a high potency, and its incredibly popular taste and smell.


Pineapple Kush standing tall. Photo: @enlite_lighting


Pineapple Kush strain: sativa or indica?
The Pineapple Kush strain is definitely more on the indica-dominant side. If you're looking for a well-balanced indica, perhaps you should try something like the Fruity Pebble strain. This strain isn't really a dankenstein strain or a landrace cross strain. It's what some people would call a dank strain. It has a great smell and flavor, but the potency isn't quite at the same level as a lot of the more popular strains these days. However, this doesn't mean it doesn't pack a punch, and it could produce a couch lock or lethargy in some users. Overall the indica effects will dominate, leaving tokers in a relaxed, stress-free state.

Pineapple Kush strain genetics 
This isn't a dankenstein strain. That's because Pineapple and Master Kush aren't super dank strains themselves. However, this strain is definitely dank and has a good THC: CBD ratio, balancing Pineapple Kush's high out nicely. It's obviously a Kush strain, hence its name. The two strains that were brought together to create this strain were:
 
Masterkush strain

Pineapple strain




Pineapple Kush strain THC percentage 
The average indica-dominant hybrid has around 12.5% THC. As previously stated, Pineapple crush strain isn't really known for its potency. As such, you shouldn't be surprised to find out that the average phenotype of Pineapple Kush only has 10% THC  content. However, some stronger contents have closer to 17%.
 
Pineapple Kush strain price
Pineapple Kush isn't particularly expensive. That is because there are plenty of online sellers who sell the seeds. Also, it's not really a particularly 'in' strain right now. Although possibly in the future, there may be a shift back towards a weaker style of cannabis (landrace strains and landrace cross strains): right now, the shift is in the other direction. You won't pay more than $10 a gram anywhere in the world for this strain.


Pineapple Kush strain taste 
Landrace cross strains or dank strains often have fruity flavors. This is especially true of a strain such as a pineapple, which is an exceptionally fruity strain. Obviously, Master Kush also gives it specific kush flavors, which are famous amongst stoners. It's recommended you get your flower vaporizer out for Pineapple Kush and grind your herbs first, so you can fully appreciate the fantastic flavor, which consists of:
 
Pineapple

Tropical

Sweet

Kush

Pineapple Kush strain oil, wax, shatter, edibles, etc. 
Pineapple Kush is a decent choice to make into a wax. It's not the best, but the flavor definitely makes it a good choice. Additionally, the fact that it has a decent amount of trichomes covering its buds also makes it a good choice. However, the less than ideal potency means that the wax won't necessarily be as strong as other types of shatter. Still, if you want to try and make some Butane Hash Oil out of Pineapple Kush, it's a decent option. However, this can be considered very dangerous, so please exercise extreme caution.
 
You can use any strain to make edibles, and they're almost all the same potency. Obviously, if you have a 34% THC strain it's going to be a bit more potent, but the difference is actually pretty negligible. Therefore, it's best to use strains like Pineapple Kush that are cheap and easy to find. There are two methods of making cannabis edibles. You can either use Already Vaped Bud (AVB), which is the leftover material from when you vape. The second option is to decarboxylate your weed yourself. Both methods will then require you to mix the plant matter with either a fat or oil. Once you've done this, you have a pretty potent mix, ready to go.

What would you do if you had a handful of Pineapple Kush? Photo: @dabmidz1


Whoever said pineapple pizza is bad? Photo: @babyj.blessed


| | | |
| --- | --- | --- |
| Pineapple Kush General | Pineapple Kush Medical | Pineapple Kush Negative |
| Happy 100% | Stress Relief 100% | |
| Relaxed 80% | Depression 80% | Headaches 80% |
| Uplifted 70% | Pain Relief 35% | Anxiety 10% |
| Euphoric 50% | Fatigue 30% | Dizziness 10% |
| Giggly 40%  | Headaches 25% | Lethargy 5% |

Pineapple Kush, as an indica-dominant hybrid, has a few benefits for medicinal users. This is especially true for those who don't want their heads blown off by heavy sativas, or, equally, for those who don't want to be completely glued to the couch from a heavy indica. Something like Pineapple Kush is perfect for stress in newer users and can help with pain and heaches also. However, if your tolerance to THC is relatively high, you may struggle to get the much-needed buzz from a strain like this, as it simply doesn't have enough oomph.

Pineapple Kush has been known to induce a couch lock. If you do find yourself locked to the couch, follow this guide for getting back out:
Have a strong pot of coffee

Have a cold shower

Do some exercise

Swimming is also very good for relief!

You should find that after you've followed these - or some of them at least - steps, you will feel a lot less glued to your couch and a lot more ready for action.


Pineapple Kush strain flowering time
Pineapple Kush's flowering time is 63-77 days or 9-11 weeks.

Pineapple Kush strain Growing tips 
This strain requires topping or trimming at the top. This is because the bushy top leaves will crowd out those at the bottom. You must cut the top leaves down a bit to allow air and sunlight to get to the bottom of the plant.


Pineapple Kush strain seeds 
Although, as mentioned previously, many seedbanks sell this strain, it's actually pretty hard to find the strain in its original form. That is because the original breeders are unknown, and there was no effort to preserve the original seed.
Pineapple Kush strain yield
The yield of Pineapple Kush is moderate to high.


Pineapple Kush starting strong in the grow room. Photo: @_lil_king_trash_mouth_


What is the Pineapple Kush strain?

Pineapple Kush is an indica-dominant hybrid. It is fairly mild, but it makes up for this with its fantastic taste, which should be appreciated inside a flower vaporiser. Pineapple Kush is perfect for treating stress, and, in less-experienced users, pain and headaches. Prolonged use may cause lethargy.
 
Fantastic taste

Rather mild strain

Hard to find the seeds

Fairly cheap strain as it's not that in-demand

Should be enjoyed inside a flower vaporiser

Cross between Master Kush and Pineapple
Have you tried Pineapple Kush before?  Let us know what you thought in the comments below!
.

Written by Megan Medeiros (BA)
Megan Medeiros has a bachelor's degree in English and is currently working on a master's in English at James Madison University. She's the owner and operator of Medeiros Writing, and has been working as a cannabis writer for the past three years, mostly following the legal climate of marijuana, especially in areas like California, Colorado, Oregon, Canada, and other legal areas.
This post contains references to products from one or more of our advertisers. We may receive compensation when you click on links to those products. For an explanation of our Advertising Policy, visit this page. All photos were sourced from Pinterest.com | updated 2021
Stay home & get your daily
needs from our shop
Start You'r Daily Shopping with Nest Mart
Best prices & offers
Orders $50 or more
Free delivery
24/7 amazing services
Great daily deal
When you sign up
Wide assortment
Mega Discounts
Easy returns
Within 30 days