Romulan Weed Strain Review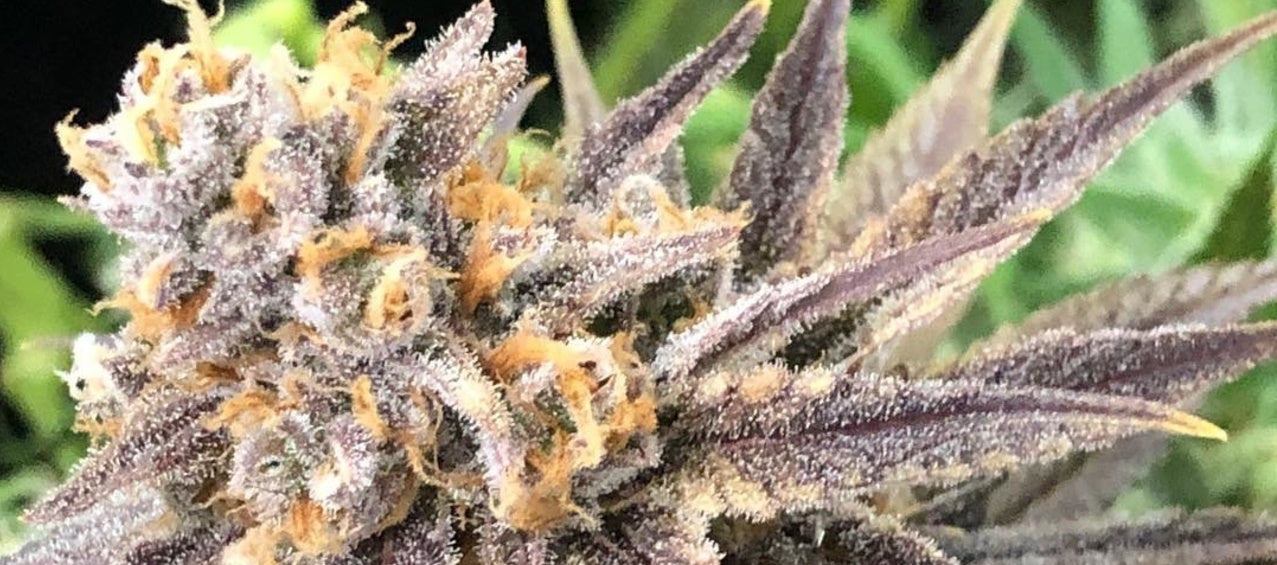 Romulan Strain Overview
Named after a notorious alien race from Star Trek, Romulan Weed Strain is highly potent and is an indica dominant strain. This Purple Romulan strain was commonly classified as a 100% pure indica strain, however, sativa genetics have slowly appeared over time giving users a strong head hitting cerebral experience. This makes it the perfect choice for those who want to sleep or relax after a stressful day. Purple Romulan Strain is highly popular especially in British Columbia and the Pacific Northwest. It has featured in several publications such as High times, Skunk, and Cannabis Culture.
Up-close shot of trichomes and stigmas on this beautiful Romulan bud. Photo: @jaygeneration
For those that don't know, the Romulan weed strain race in Star Trek often have giant V-shaped foreheads. This strain of cannabis is extremely potent so many in the marijuana community joke that it can "dent your head." This comical quote is responsible for the namesake of this strain. Originally thought to be 100% indica, the plant's genetics have evolved over the years and the levels of sativa have slowly increased. Some strains are now known to contain up to 25% sativa. Other popular names for this strain include Star Trek weed, Romulan green, and Romulan Kush.
Romulan Genetics
The exact genetics of Romulan Weed Strain remains shrouded in mystery but can be traced back to the Kush mountains of Afghanistan. In 1996, Federation Seeds saved Romulan clones from near-extinction by crossing it with the popular White Rhino indica. Since then, breeders have continued to crossbreed the strain and it is now estimated that only 3% of the original White Rhino genetics remain. There are many variations of the Romulan including, Grape Romulan, White Romulan, Romulan Diesel, and Purple Romulan Strain. All of these variations offer a solid relaxing body high accompanied by fascinating cerebral effects.
Romulan THC Percentage
Romulan Weed Strain is considered to be quite a powerful strain. Most indica strains have an average THC content of 12.5%, while Romulan Weed Strain has an average of 16%, with some phenotypes containing up to 20% THC. This is why many experienced users choose to enjoy this strain at night to unwind physically and mentally. Newcomers should stick to low doses given its high potency.
Romulan Prices
Purple Romulan Strain is most popular on the American west coast, costing 10 dollars (35 dollars for an eighth) in a Seattle dispensary. If you want to buy this strain in Amsterdam, a gram goes for 20 to 25 dollars because it is primarily grown in North America.
Romulan Tastes
 

Romulan is a rather harsh strain and it's therefore recommended that you smoke it inside a

flower vaporizer

. This is because there's no combustion of plant material, which makes for a smoother and tastier toke.  
Romulan Shatter, Edibles, etc.
Just about any strain can be made into wax, oil, shatter, etc. but Romulan is an extra solid choice for indica lovers because of its high THC percentage. Its buds are dense and well packed. They have a piney, earthy, and sometimes citrus aroma with appealing sweet tastes. Don't forget to grind your weed beforehand to ensure the maximum amount of THC is absorbed into the final product.   
You can also make edibles from any strain including Purple Romulan Strain and it should be noted that you can use already vaped bud (AVB) to make edibles. If you're making edibles with normal marijuana that hasn't yet been vaped, please make sure that you first decarboxylate your weed. However, if your weed has already been vaped, go ahead and mix with an oil or fat and you'll have made an edible from one of the most potent strains around, Romulan.
Nice Looking Romulan ganja. Photo: @canadianmom.info


Romulan Nugget. Photo: @josh_p_robles


Romulan Strain Effects
| | | |
| --- | --- | --- |
|  Romulan Overall    Effects |        Romulan Medicinal             Effects       | Romulan Negative Effects |
| Relaxed | Stress | Dry Mouth |
| Sleepy | Insomnia | Dry Eyes |
| Happy | Depression | Dizzy |
| Hungry | Lack of Appetite | Paranoid |
| Euphoric | Pain | Anxious |
Romulan Weed Strain is known to be one of the best sleeping aids on the market and it is therefore not recommended for daytime use as it can make you feel very lethargic. It is advised you take a cold shower or a coffee if you feel lethargic after consumption. Snacks should be kept nearby as Romulan can have a strong "munchies" effect, even for expert and moderate users.
Romulan Flowering Time
The estimated flowering time for Romulan is 8 to 9 weeks. Although it can be harvested earlier, it is recommended to wait the full 9 weeks to ensure its best quality.
Romulan Growing Tips
Romulan Weed Strain is a relatively easy strain to grow and is a good choice for beginners who want some growing experience. Taller than the average indica plant, a Romulan plant can reach up to a height of 6 feet. Therefore, do not forget to give a sufficient upward space. Growing techniques like Sea of Green do not work well and is not recommended because the plant branches often have multiple budding sites.
Romulan Yield
Romulan has an average yield but its high THC concentration easily makes up for this. One can expect 9 to 10 ounces of fresh bud per fully grown plant. It enjoys warm, dry conditions and can be grown outdoors so long as temperatures between 20 - 26 C are maintained. Should you decide to grow Romulan outdoors, it is recommended to harvest the plant in mid-late October (Northern Hemisphere) to ensure optimal yield.
Romulan Seeds
Seeds are available from a number of different dispensaries across North America including its original breeders, Federation Seeds. Their most popular Romulan Weed Strain seeds are on its 7th Generation backcross and are 99% indica.
Fully flowered Romulan plants ready for harvesting. Photo: @dutchvalleyfarms
What is the Romulan Strain?
Having been saved by Federation Seeds, Romulan Weed Strain has now gone on to become a favourite for indica lovers who want a good night's sleep. Sativa genetics have also been introduced making it a great stress and pain buster. Its high concentration of THC along with its distinctive piney and sweet flavours make it ideal for edibles as well:
Indica dominant strain (up to 99%)

Fantastic sweet and piney taste

Seeds available from original breeders, Federation Seeds

High THC percentage; should be used accordingly

Perfect for relaxation and sleep

Stress buster and curbs depression 

Great for vaping and edibles
Have you tried Romulan strain before? Let us know what you thought in the comments below!
.

Written by Megan Medeiros (BA)
Megan Medeiros has a bachelor's degree in English and is currently working on a master's in English at James Madison University. She's the owner and operator of Medeiros Writing, and has been working as a cannabis writer for the past three years, mostly following the legal climate of marijuana, especially in areas like California, Colorado, Oregon, Canada, and other legal areas.
This post contains references to products from one or more of our advertisers. We may receive compensation when you click on links to those products. For an explanation of our Advertising Policy, visit this page. All photos were sourced from Pinterest.com | updated 2021
Stay home & get your daily
needs from our shop
Start You'r Daily Shopping with Nest Mart
Best prices & offers
Orders $50 or more
Free delivery
24/7 amazing services
Great daily deal
When you sign up
Wide assortment
Mega Discounts
Easy returns
Within 30 days