Strawberry Cheesecake Cannabis Weed Strain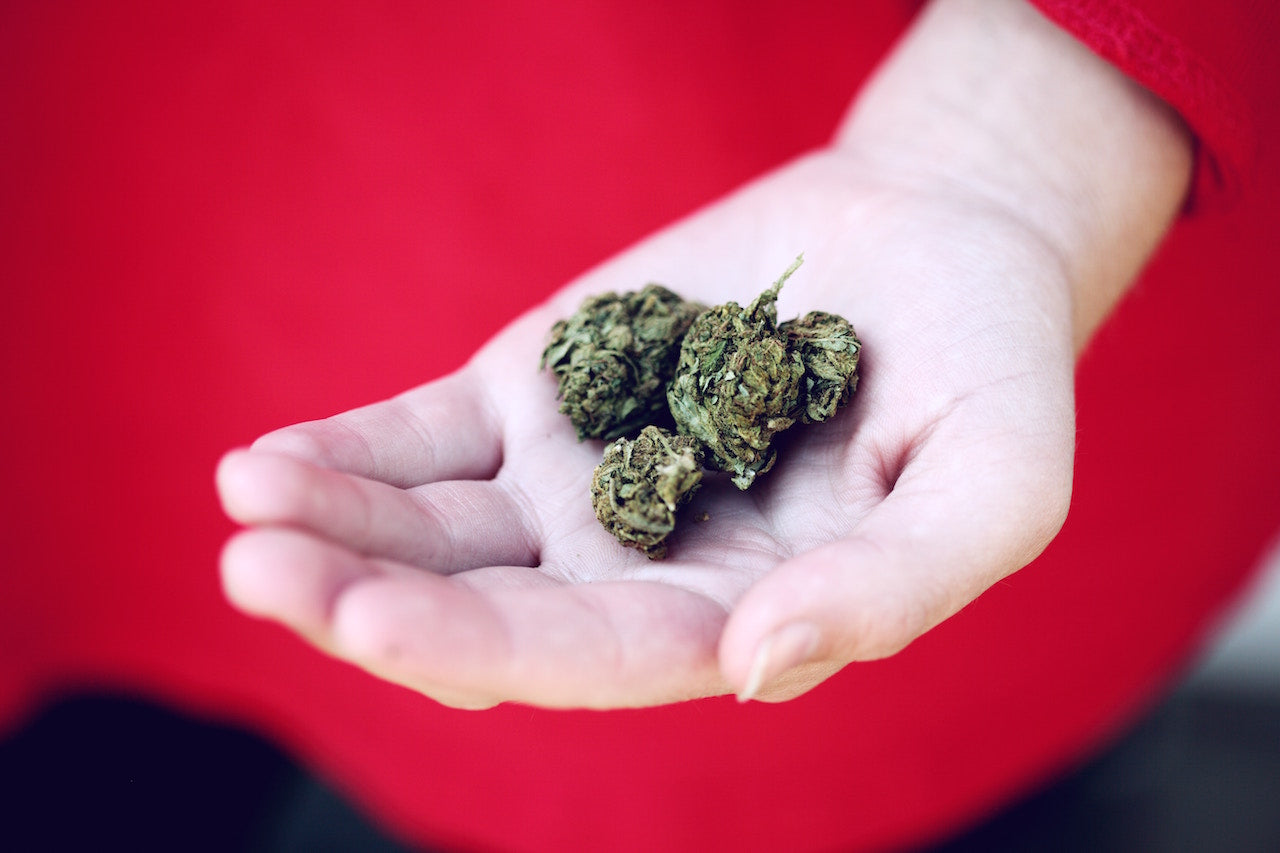 The Strawberry Cheesecake strain we all know and love plates the same elicit effects as the adored desert – all without the calories: euphoria, relaxation and an appetite for wanting more. This strain is a real doozy giving you a sugar high and sugar crash at the same time. With 22% THC, be prepared for a strong head high, soaring your creativity and motivating yourself to tackle those tedious tasks around the house. This kind of cake will get you to sit back and relax. Expect uncontrollable grinning and giggling after gobbling up this late-night delight.
Background
Strawberry Cheesecake is the original dessert combining Chronic, White Widow, and Cheese. The taste of the bud is a sweet berry flavor mixed with a strong dose of cheese – it's no wonder where Strawberry Cheesecake got its name. The parents of this plant are some of the three happiest strains giving this bud a budding effect. The classic Chronic strain attributes its signature sweet taste while White Widow can be thanked for a fruity and euphoric contribution and the Cheese really puts you in a food coma with its fermented French flavor.
Sweet components
The indica to sativa ratio is 70/30, making this high more of a couch-lock than an outdoor adventure. The high THC content elevates you pretty quickly, and the surprisingly high CBD content of 2% helps to balance out the some effects of THC like paranoia. Many tokers also attribute its energetic qualities to the inviting and popular 1:10 ratio of CBD to THC.
Different types of Cheesecake
There are many variations of this wonderful strain like Strawberry Shortcake,
Strawberry Cough
and the hefty bad boys, Strawberry Cream. The Strawberry Cheese is quite a hit in the UK – the sativa version of Cheesecake with a similar fruity taste and euphoric effect, only this time, sending you out into the world to socialize. If you have a sweeter sweet tooth, Cough is your best bet. Cheesecake oil is hard to find but you can easily find seeds. Strawberry Shortcake bud is also a runner up, but could somebody come up with a strawberry crumble cheesecake already? My mouth is watering. For growing your own, check out the video below with the huge stocks and stems of Strawberry Cream. 
Strawberry Cheesecake effects
Strawberry Cheesecake is a strong hitter treating chronic pain and stress. Stress relief is one of the most notable effects of this strain because of the euphoria that paints a smile on your happy and high face. Patients suffering from PTSD, cancer and ADHD find great relief with a slice of this strain. You won't feel the paranoia of high anxiety because this strain keeps your mind positive with focused energy or elated with a soothing relaxation.
Strawberry Cheesecake benefits

Relaxed 100%

Happy 80%

Euphoric 70%

Hungry 60%

Strawberry Cheesecake medicinal properties

Stress Relief 100%

Pain 80%

Insomnia 70%

Depression 50%

Strawberry Cheesecake side effects

Dry Mouth 100%

Dry Eyes 90%

Paranoia 15%

Dizzy 5%
It's recommended to stay at home and channel your energy within the confines of your own castle as socializing might be too difficult to handle. Enjoy the warm and fuzzy feelings you will conjure up on the inside, but be warned of the dry eyes and cotton mouth almost guaranteed to hit. 

Strawberry Cheesecake taste profile:
Fruity
Sweet
Cheesy
Skunky
Overall, this strain is preferable for a day or nighttime of chill with nothing important to do.  This is an all-around playtime nug. Giggle fits are bound to happen when you get your sugar high on Strawberry Cheesecake, so tune-in for a comedy show wherever you go.
Growing tips
Strawberry Cheesecake has a relatively hefty yield with 32 ounces being at the high end. Reaching a medium height of 40 inches, these plants are great for accommodating lack of space. They grow compact and dense, hence the signature thick stocks. Growing these nugs is no cakewalk as its name may suggest, but is not difficult by any means. Flowering takes an average of 8 weeks to grow these dense, fat and sticky kolas. Once the buds flower, you will notice thick, frosty trichomes surrounded by fiery orange hairs. Strawberry Cheesecake price per eighth is typically reasonable. Not dirt cheap, but a middle shelf option. Seeds are always the cheapest way to down your strawberry cheesecake marijuana, with single packets starting at $8 and bundles that lower the price even more. Strawberry Shortcake kush seeds are readily available too and are similar in grow.
Climate: Warm weather best suits this strain
Indoor and Outdoor: Though you will get a higher yield outdoor with the right climate, watering and care
Height: Around 40 inches, give or take
Yield: 16-32 ounces - the higher end being grown outside
Strawberry shortcake pics are similar to these cheesecake photos - so be sure which one you are buying!




Strawberry Cheesecake round up
The overall of this strain is positively delicious – an all-natural sweet treat. While many enjoy a morning toke, an activity come to known as "wake and bake," Strawberry Cheesecake is a "sugar-fake" – giving you the pleasure of a dessert from your pipe. It's about time to smoke a slice. However, this is a heavy high. Though it offers a huge amount of stress relief and delivers the giggles, it's not for the faint of heart. It is safe to say, if you are a beginner, try a strain that is less abrasive like Durban Poison or Cherry Pie. What I love about this strain is that you experience elation and start to appreciate the little things with just one slice. So, instead of trying to switch on a chef impersonation and light up the stove, switch on an episode of Chef's Table and light up this cheesecake kush in your pipe instead – sweeter than most and as easy as pie.
Quick overview of Strawberry Cheesecake effects
Positive energy - feeling like you could redecorate or organize the whole house.
Stay at home relaxation - you'll be all, "I'm chillin!"
Illicits the giggles - Laugh at anything and everything, it's OK.
Pain and stress relief - Pain and anxiety, be gone!
Increased appetite - FYI, you might actually want a cheesecake.
Dry eyes and mouth - so wash it down with an actual cheesecake.
.

Written by Megan Medeiros (BA)
Megan Medeiros has a bachelor's degree in English and is currently working on a master's in English at James Madison University. She's the owner and operator of Medeiros Writing, and has been working as a cannabis writer for the past three years, mostly following the legal climate of marijuana, especially in areas like California, Colorado, Oregon, Canada, and other legal areas.
This post contains references to products from one or more of our advertisers. We may receive compensation when you click on links to those products. For an explanation of our Advertising Policy, visit this page. All photos were sourced from Pinterest.com | updated 2021
Stay home & get your daily
needs from our shop
Start You'r Daily Shopping with Nest Mart
Best prices & offers
Orders $50 or more
Free delivery
24/7 amazing services
Great daily deal
When you sign up
Wide assortment
Mega Discounts
Easy returns
Within 30 days