Skip to product information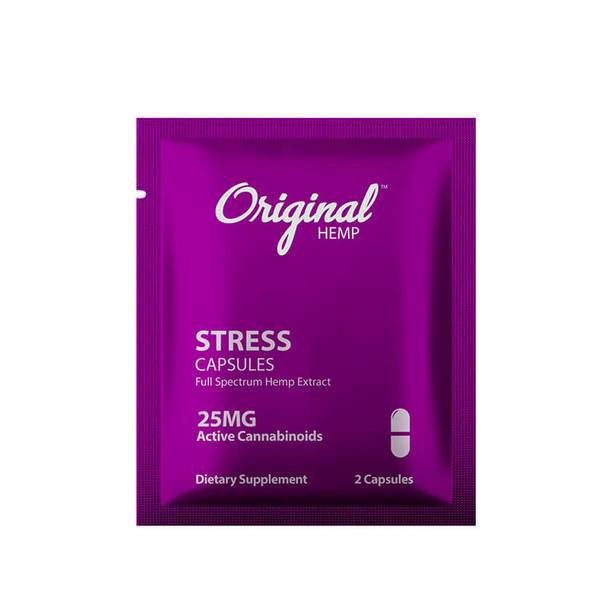 Open media 0 in gallery view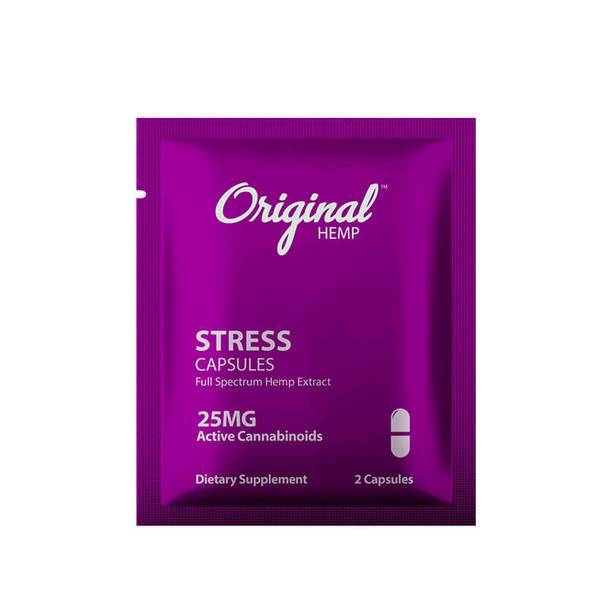 Original Hemp - CBD Capsule - Stress 2 Pack - 25mg
As much as we would like it, stress is not something that can be left at home in the morning or at work in the evening. It is not a
Barcode:
MWYLFBI-RNGHGLQ-JMHZ-PMBMQGG-CB
Description
Additional info
Reviews
Description
Additional info
Reviews
Description
Additional info
Reviews
As much as we would like it, stress is not something that can be left at home in the morning or at work in the evening. It is not a physical thing that we can shake off at any time in order to take a breather before hopping right back into it. Stress follows us through our day, weighing us down and making it more difficult for us to function at an optimal level. Everyone has some feelings of stress that they would love to get rid of, even if only for a moment. Original Hemp's CBD Stress Capsule 2-Pack offers a combination of CBD and other natural ingredients that may be of assistance in moments like these. Each disposable packet contains the serving size of 2 capsules and 25mg of full spectrum CBD. You can choose to either purchase a single 2-capsule packet or purchase a box containing 30 individual packets that can be left at home for you to work your way through.

With the 2-capsule packet, a serving of this product can be consumed at any place and any time. This is useful for those with stress that seems to spike in certain areas or at certain times of day. You may feel more stressed while at work, or maybe it is when you come home that the weight really reaches your shoulders. Regardless, the packet offers quick, painless consumption wherever you might be. The L-Theanine amino acids that are present in the capsule promote relaxation in the body, which could positively affect everything from the way you physically feel to your mental wellbeing.

The Original Hemp CBD Stress Capsule 2-Pack should be taken in its entirety. Swallow each capsule and allow some time for its effects to appear. It is recommended that you drink water while swallowing the pills, as this will make the whole ordeal much easier. It is recommended to take 2 capsules and not exceed that amount for a serving, but if you wish to determine your own personal serving size, take 2 capsules and give it time to take effect. Focus on how your body is affected, and adjust your serving accordingly.
Best prices & offers
Orders $50 or more
Free delivery
24/7 amazing services
Great daily deal
When you sign up
Wide assortment
Mega Discounts
Easy returns
Within 30 days