12 Best Carb Caps in the World Right Now - you need to try no.3!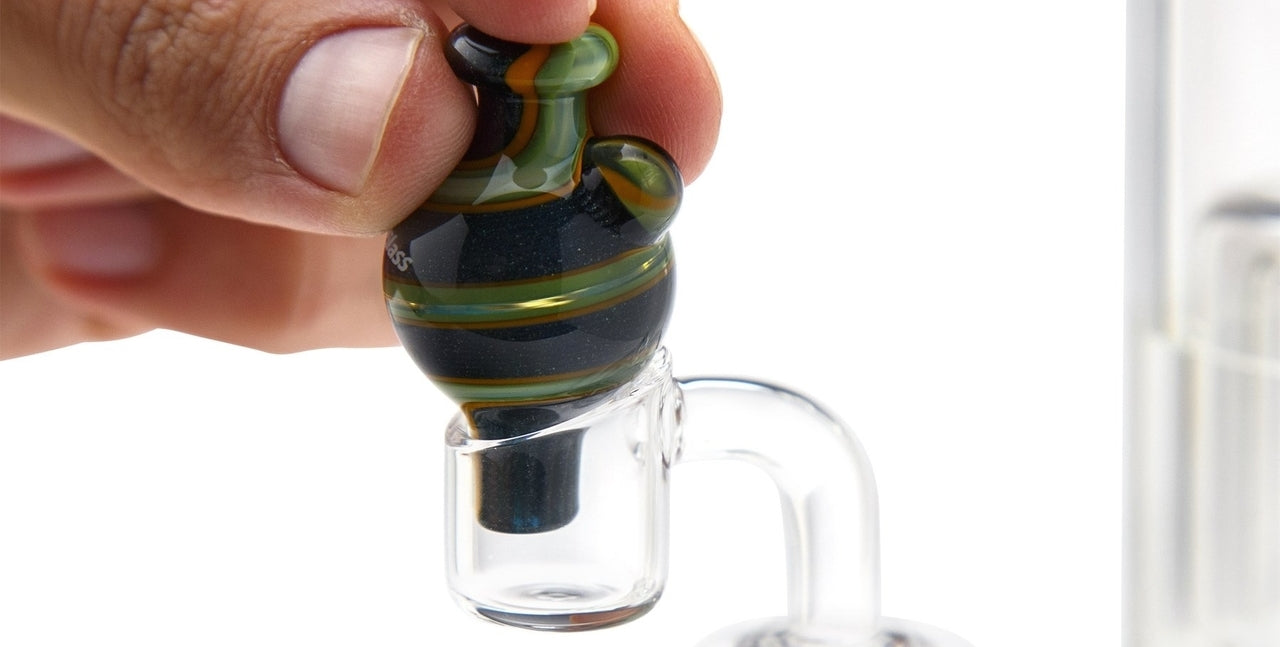 Have you ever taken a dab and watched some of that precious vapor escape from you? Luckily for you, there's a solution for this very sad problem. Carb caps were made just to solve this very problem!
You may be wondering how to use a carb cap, but fret not, for it's not difficult. Simply heat your banger with your
dab blow torch
, let it cool a little, and use your carb cap and dabber to vaporize your concentrates and seal in all that precious vapor. Carb caps are the new, innovative tool every seasoned dabber needs. Now, if you're wondering, "what does dabbing mean?", you're going to want to take a step back before starting with this article. Maybe start with
our review of best dabber rigs
to get an idea of what you'll be getting high off of.
Without further ado, here's our list of the
best cheap carb caps
on the market right now!



Perfect little bubble cap for your perfect little bong!
Bubble Carb Caps are the latest tool in dabbing. This style of glass carb cap is designed to let you have full control of the direction of airflow so you can maximize the vapor in which you take. While this bubble carb cap will work with
quartz banger nails
, they work best with a thermal quartz banger.
What we love!
Full airflow direction control
Comes in 4 colours
Works well with thermal bangers
Great price

This cap looks like a pacifier and will certainly aid in sending you into a pacified state!
This airflow carb cap is designed with a handy glass marble on the top to prevent any burns from occurring while attempting to cap your nail. The bottom of the glass dabber
carb cap
is fitted with a hole, which allows you to direct the air flow to the corners of your banger, thereby allowing you to move around any excess wax that could have been left behind. This ensures you get all the vapor created and aren't wasting any precious concentrate. Directional carb caps like this are designed to fit standard quartz bangers up to 4mm. You can't go wrong with this glass dabber with carb cap!
What we love!
The directional control for the airflow
The small size
The glass marble topper to prevent burns
Price low
Quality construction

Give ceramic a try! @dhgate
This ceramic carb cap is one of the best and cheapest carb caps available. Made from heat-resistant ceramic, this carb cap dabber offers a two-in-one of dabber and carb cap. This dab tool with carb cap has an air vent fitted on the top that restricts the air intake and stabilizes the heat to create a vaporizing chamber. This
14mm carb cap
is designed to fit most 14.5 mm and 18.8 mm bangers.
What we love about these simple carb caps!
Two-in-one usage
Ceramic construction
High-quality construction
Ridiculously low price



We love this multi-purpose quartz cap. Photo: @DankGeek
This carb cap is the new, innovative 2-in-1 design of being both a dabber and a carb cap. This quartz carb cap dab nail has a hole in the center that allows you to direct airflow and helps to keep you from losing vapor. It's designed to fit 2mm thick quartz bangers and is made of high-quality quartz.
What we love!
High-quality construction and material
Good size
Directional control of airflow
2-in-1 functionality



Need a cap that you can't destroy?

Silicone carb caps are your best option for an indestructible, portable, and effective cap. This carb cap comes in three different sizes: 10mm carb cap, 14mm carb cap, and 18mm. It's affordable, lightweight, easy to use, and won't break on you like glass.

Why we think they're the best carb caps!
Indestructible nature
Easily portable and lightweight
Directional control of airflow
Cheap price
Quality construction
Colour options, though they send randomly, so be ready for a surprise!

You'll want to keep your eyes on this unique piece.

This titanium carb cap is by far the coolest carb cap and dabber we have on this list, based solely on looks. This sword-looking masterpiece is the perfect 2-in-1 tool for every dabbing smoker. It has a single air hole, giving you the simple but effective tool to control the air flow and temperature of the smoke you inhale.

What we love about this titanium carb!

Unique look
Made of high-quality, sturdy titanium
2-in-1 functionality
Awesome design



Who doesn't love a good spinner?

This spinning carb cap resembles a top or a dreidel. It allows you to get all the vapor your concentrate creates by covering the banger. This spinner carb cap is made of high-quality material and construction and comes in blue, green, or red.

Why these spinners are some of the best carb caps!
Colour options
Sturdy construction
Neat design



It's getting beachy in here!
This unique-looking carb cap is definitely one of a kind. Whether you're reminded of Spongebob or just love pineapples, this could be one of the
best cheap carb caps
for your dabbing tools collection. It's a directional carb cap that allows you to direct airflow and prevent any excess waste of vapor. This carb cap works well with both thermal nails and banger nails; any cup-style banger.
What we love!
Unique look and well-crafted
Directional airflow control
Fits most bangers
High-quality construction



As if we weren't hungry enough before this cap came along!
This awesome glass carb cap is every bit as unique as the one listed above. This carb cap features shrimp sushi on the top of it, because who doesn't love shrimp?! Like the one listed above, this is a directional carb cap that allows you to direct airflow, preventing any vapor from escaping. It will fit on most cup-style bangers.
Why it's among the best cool carb caps!
Unique design and well-crafted
Directional airflow control
Fits most bangers
High-quality construction



Quality quartz combines for a quality cap.
This quartz honey bucket carb cap is the top of the line. This OFZ carb cap fits 2mm-4mm bangers. It's constructed of high-quality quartz from a trusted and reliable brand. You can't go wrong with this carb cap.
What we love!
Honey Bucket OFZ design
High-quality construction



This UFO disc carb has been identified as a quality option!

This UFO disc carb designed for quartz bangers is a decent carb cap for those on a budget. It comes in two sizes: 16mm and 20mm to fit bangers and buckets of said sizes. It's not one of the best carb caps on this list, but it's also not the worst! If you just need something to get the job done then we can recommend it.

What we love!
Small size
Low price
2 size options
Works well



Get your dabbing done right. @420 Science
This low-temp carb cap is the perfect high-quality dabbing accessory for all tokers. It's designed to be used exclusively on lower temp dabs, as there is no handle to protect you from a burn. This quartz banger carb cap allows you to create a vaping chamber with your banger to ensure no precious concentrate gets left behind. This banger carb cap is designed to fit most large bangers with flame polished joints.
What we love!
High-quality construction you can trust from 420 Science

Quartz material that's better and longer lasting than the cheap glass options

Fits most "traditional" bangers with a flame polished joint

Low price



Conclusion of the best carb caps
Carb caps are the greatest new tool for seasoned dabbing tokers. They allow you to take in absolutely all the vapor so you don't lose any of your precious concentrates. There are all sorts of carb caps out there, so you can find the best one for you. We hope this list has helped you narrow down your options of the best cool carb caps to the perfect one for you!
.

Written by Megan Medeiros (BA)
Megan Medeiros has a bachelor's degree in English and is currently working on a master's in English at James Madison University. She's the owner and operator of Medeiros Writing, and has been working as a cannabis writer for the past three years, mostly following the legal climate of marijuana, especially in areas like California, Colorado, Oregon, Canada, and other legal areas.
This post contains references to products from one or more of our advertisers. We may receive compensation when you click on links to those products. For an explanation of our Advertising Policy, visit this page. All photos were sourced from Pinterest.com | updated 2021
Stay home & get your daily
needs from our shop
Start You'r Daily Shopping with Nest Mart
Best prices & offers
Orders $50 or more
Free delivery
24/7 amazing services
Great daily deal
When you sign up
Wide assortment
Mega Discounts
Easy returns
Within 30 days