Agent Orange Cannabis Strain | Orange Tree Strain
David and Leah Kaye Weathers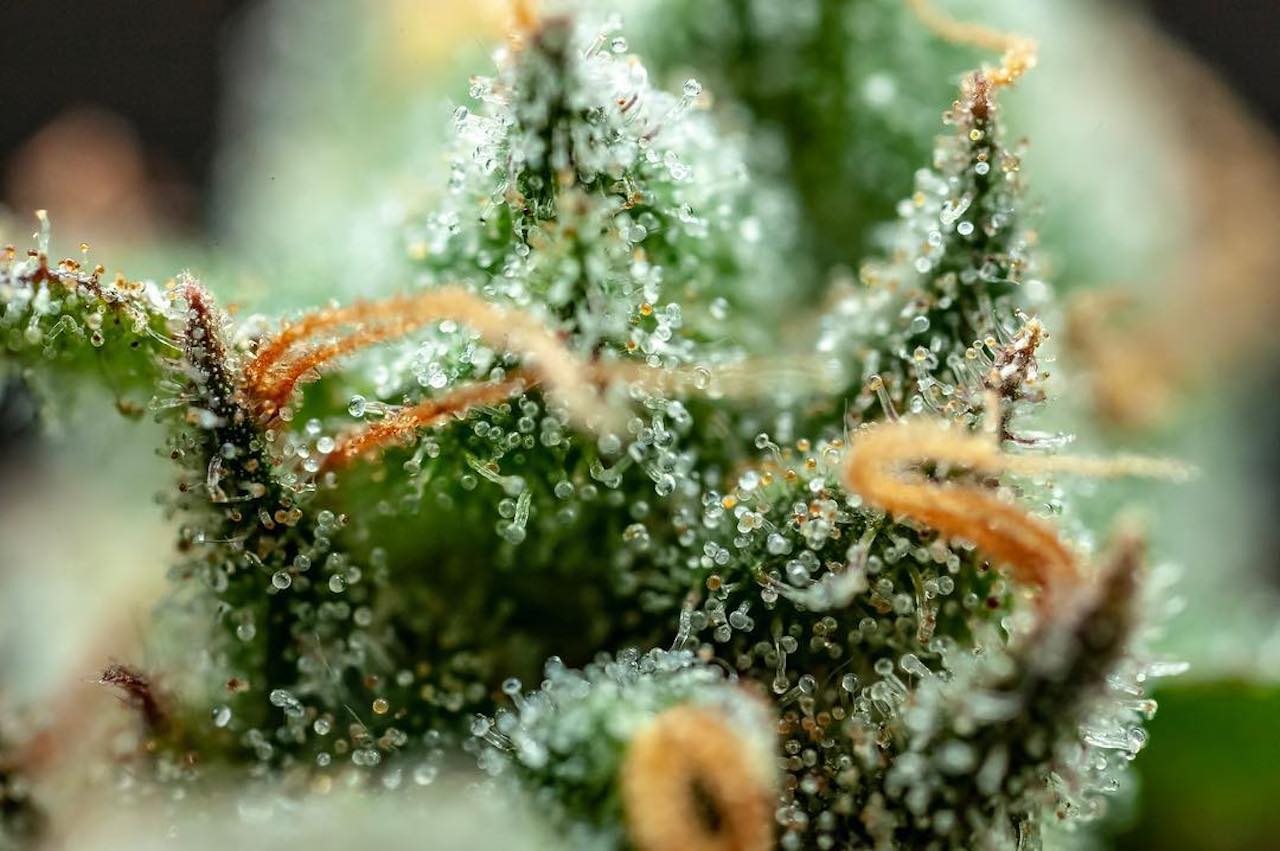 Your first thought might be that it's kind of odd to name a cannabis strain 'Agent Orange' after a controversial chemical compound that defoliates trees - and that might be your second thought, too, but nonetheless that is what  TGA Genetics named this 75% sativa-dominant hybrid weed strain, born from pairing the indica-leaning hybrid Orange Velvet with their flagship sativa Jack the Ripper.  Agent Orange cannabis strain is mentally invigorating, yet also gives you a slight body-numbing effect, with an orange tree strain citrussy, sweet taste and aroma when it is smoked or vaped. Medical marijuana patients seeking relief from stress, anxiety and depression, as well as pain, lack of appetite and fatigue will find therapeutic refuge by using Agent Orange hybrid weed. And for more casual smokers and others, the Agent Orange hybrid strain is just a nice, uplifting, heady high with a bit of a psychedelic trip!


(Agent Orange plant, image source: Breed Bay)
Background:
Sometimes known as Agent O, Agent Orange cannabis strain ganja was created by TGA Genetics, or TGA SubCool Seeds - formed in 2001 by a small group of dedicated medical growers in Northern California – sired from Orange Velvet, a 50/50 sativa/indica hybrid, and Jack the Ripper 18-20% THC laden sativa (though some say it is moreso a 70-30% sativa-heavy hybrid). Some variants have Orange Skunk (a 50/50 indica/sativa cannabis strain), Jacks Cleaner (a sativa variant of Jack Herer<link>), and Space Queen (another 50/50 sativa/indica hybrid) as the parents of Agent Orange. Agent Orange tree strain cannabis typically has up to 23% THC with 0.2% CBD, so consequently it is a great 'wake and bake' weed because of its energizing effects, also because any resultant spaciness from hitting on it fades after about 20-40 minutes, leaving most users energized and ready to get stuff done!

Weed strains similar to Agent Orange would be Strawberry Cough and Trainwreck. 
(Girl with a bud of Agent Orange, image source: WeedKween at Blogspot.com)

Effects:
| | | |
| --- | --- | --- |
| Agent Orange Cannabis General Effects | Agent Orange Cannabis Medical Effects | Agent Orange Cannabis Side Effects |
| Euphoric 100% | Depression 100% | Dry Mouth 100% |
| Uplifted 90% | Fatigue 80% | Dry Eyes 80% |
| Happy 80% | Stress 60% | Headache 40% |
| Focused 50 % | Loss of Appetite 50% | Anxious 25% |
| Creative 40% | Pain 40% | Paranoia 20% |

(Agent Orange Cannabis nugs and a dispensary bottle, image source: Mrs Nice guy.com)
Buying:
Real-world brick and mortar provisioning centers or dispensaries will charge you an average of $35-50 for an eighth for Agent Orange leaf, depending upon where it is legal and whether it is medical or recreational weed, another factor is the quality of the cannabis grow or crop, as well as the availability of the strain in your region, the time of year and your physical location (some dispensaries are required to pass onto you a local or state tax on purchases). Online prices tend to be somewhat steeper and you may need to factor in shipping costs.  Weed delivery services may charge you an extra fee depending on your distance from wherever they are based – and you should always tip your driver (or budtender if you walk into a cannabis store or lounge)! Wax or shatter concentrates run around $30 for a half gram and $50 or more for a full gram, while vaporizer oil cartridges are in the $30-40 range for 300 to 500mgs. Some medibles, or edible cannabis food products, may contain Agent Orange, but since edible marijuana labels usually don't specify the specific strain, you likely wouldn't know it – except if your weed cookies have a citrussy aftertaste and you feel a bit groovy an hour or so after consumption!

(Agent Orange crumble, image source: Ben Delanoy at Pinterest.com)
Growing:
You can grow Agent Orange strain auto-flowering cannabis plants indoors or outside, in soil or hydroponically. The Agent Orange strain plant's height tends to be very tall - around 75 inches (over five feet or almost 2 meters) - with a very heavy yield in the last weeks of harvest, which has a flowering window of 8 – 9 weeks or about 55-65 days. If you are an indoor cannabis grower then you can typically expect to get 16 ounces of harvested weed per square yard/meter, while outdoor growers do significantly better with a whopping 19 ounces per plant! Agent Orange ganja plants produce pale green flowers, or buds, with tints of maroon and purple; the nugs have orange hairs and are sparsely frosted with fine, white crystals.
The intrepid would-be grower can acquire some Agent Orange hybrid cannabis seeds from online seedbanks like I Love Growing Marijuana for $59 for five seeds,  $89 for 10 seeds and $159 for 20 feminized seeds, which are popular because they ensure that all the resulting plants are female (being that only female cannabis plants make nugs or buds). Another good seed resource would be Marijuana Seed Shop.com  where you can purchase from 10 Agent Orange feminized marijuana seeds for $128.78 up to 100 seeds for $1287.77.
Physical dispensaries and online retailers will sell small starter cannabis plants for around $25-$35 per plant. Prices likely vary with location, or from web site to web site, and it's always best to consult an online menu and maybe even call, email or text message ahead if you really want some Agent Orange strain – or any other strain you might be interested in cultivating - so that you know they have them on hand.
 
(Agent Orange ganja plants, image source: Sunshine Farms.Wa)
Summary: 
An interesting name choice aside, TGA Genetics created an invigorating sativa-dominant hybrid weed strain, when they crossbred the mostly-indica hybrid Orange Velvet with the well-known and respected, high-THC sativa Jack the Ripper – the result, Agent Orange strain hybrid weed, leaves the smoker or dabber brain-boosted with some brief headspace euphoria and lasting physical relaxation! Medical marijuana patients using Agent Orange ganja experience steady relief of their symptoms for a variety of conditions such as stress, depression, ADD and ADHD, migraines, lack of appetite, and chronic pain. Because of its stimulating effects, it is a good daytime smoke, but might interfere with getting a good night's sleep if used too close to bedtime. It can be consumed by smoking, or vaping, or if you used some to make your own cannabutter and weed cookies<link>, or something similar, then you could eat it too! However it is ingested or inhaled, Agent Orange cannabis strain cannabis has a profound effect on the mind and body, providing laser-like focus for your thoughts, boosting your emotional happiness, while also tuning down pain and nausea while amplifying appetite! It has an abundance of terpenes, aromatic oils that give cannabis varieties their distinctive flavors, and they are responsible for Agent Orange's citrussy and sweet taste, and its earthy lemon-orange smell!

It is a popular enough weed strain that Agent Orange strain is usually available somewhere online or quite likely at your favorite dispensary in town, and it can be enjoyed in leaf, or in solid or liquid concentrate forms. And you can definitely find Agent Orange cannabis strain cannabis seed for sale online, though always be careful and do some research into the reputation of the place you want to get the seeds from -that is what the internet is for: finding information; but with some diligence, you can get ahold of some seeds, or even small plants locally, if you want to try your hand at growing! Agent Orange strain marijuana is a sativa-heavy hybrid powerhouse that puts you in a good mood after a few puffs off your pipe and gives you a psychedelic buzz for a bit before you coast into a long-lasting physical feeling of well-being, focused cerebral creativity and pain free activity. If this sounds good to you, give it a try, get some and light it up, enjoy the lemon-orange sweet taste and sweet tropical fruit aroma and the mind-journey that it takes you on!
.

Written by Megan Medeiros (BA)
Megan Medeiros has a bachelor's degree in English and is currently working on a master's in English at James Madison University. She's the owner and operator of Medeiros Writing, and has been working as a cannabis writer for the past three years, mostly following the legal climate of marijuana, especially in areas like California, Colorado, Oregon, Canada, and other legal areas.
This post contains references to products from one or more of our advertisers. We may receive compensation when you click on links to those products. For an explanation of our Advertising Policy, visit this page. All photos were sourced from Pinterest.com | updated 2021
Stay home & get your daily
needs from our shop
Start You'r Daily Shopping with Nest Mart
Best prices & offers
Orders $50 or more
Free delivery
24/7 amazing services
Great daily deal
When you sign up
Wide assortment
Mega Discounts
Easy returns
Within 30 days