BlackBerry Kush Cannabis Pie Strain
David and Leah Kaye Weathers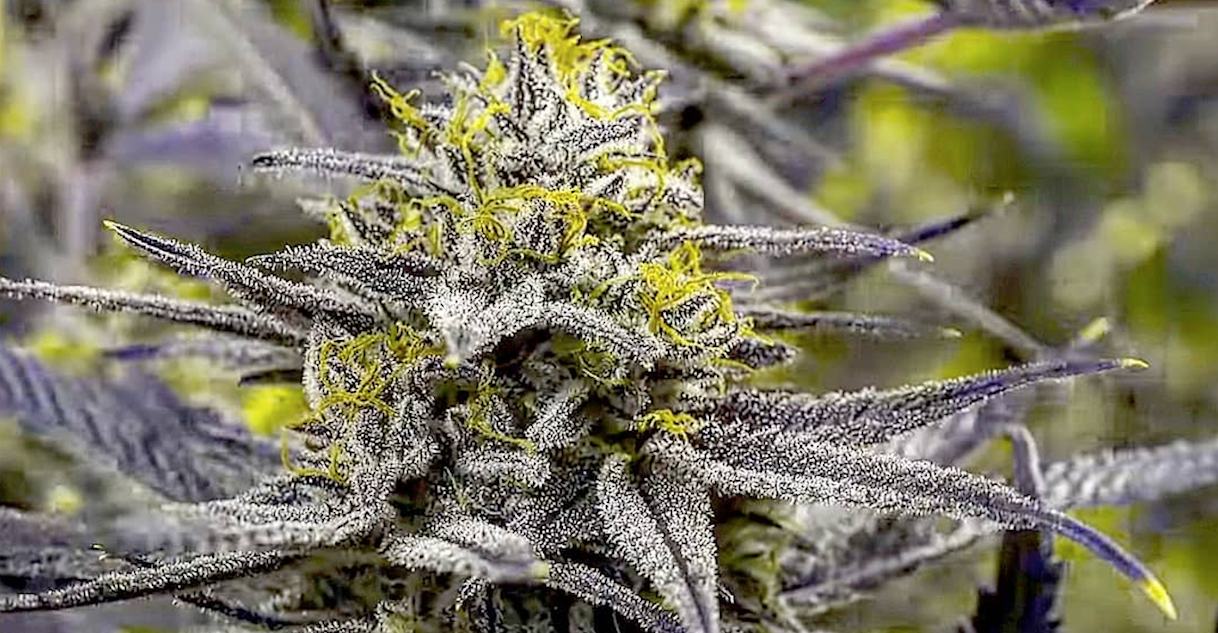 Intro:
If you have more than a little pipeful or a small joint of  Blackberry Kush strain pot, then you might wanna make your couch really comfy because you are gonna likely have flopped on it – this is one hybrid marijuana strain that leans very powerfully towards the indica end of the ganja spectrum! Blackberry Kush 80% Indica hybrid cannabis was spun off from a pairing of the Blackberry marijuana strain, a 50/50 even Indica/Sativa hybrid, and the landrace, or an unadulterated grows in its native environment, Afghani pure Indica weed strain. Smoking or vaping Blackberry Kush strain hybrid weed produces thick, piney, fuel-oil kind of fumes, but the taste is earthy with a fruity sweetness. The effects of this high THC Indica-dominant hybridized cannabis strain include relaxation, mood elevation, pain relief - and it is a good smoke for before bedtime because it will dissipate all your anxious thoughts and help you drift off and stay asleep! So, late at night, with not much to do and a cozy place to recline is probably the best way to sample yourself some Blackberry Kush ganja!
(Blackberry Kush pot plant from top, image from Willow Billy Farms)

Background:
One of the 'parents' of Blackberry Kush weed strain is Afghani, an Indica strain grown over in middle Asia, where some of the earliest varieties of cannabis originated; the other forerunner is Blackberry, which itself was sired from Black Domina indica and Raspberry Cough Sativa marijuana strains. Blackberry Kush weed was 'born' in California, amidst the recreational and medical marijuana scene there, and has a 20% THC level, which it comes by because of Afghani cannabis' 15-20% and Blackberry's 20% THC content. Some growers have produced a variant of Blackberry Kush with DJ Short Blueberry, which has an identical 80% indica to 20% Sativa ratio, just like Blackberry Kush weed strain, mixed with Afghani; others cannabis strain cultivators have produced it using Blackberry and Bubba Kush, another 80% Indica dominant hybrid pot strain.

Similar strains in terms of indica-heaviness and effects would include Afghani, DJ Short Blueberry, and Bubba Kush, as well as Cherry Pie and Sunset Sherbet.
(Blackberry Kush T-shirt, image source: ILGM Shirts on Instagram)

Effects:
| | | |
| --- | --- | --- |
| Blackberry Kush Cannabis General  Effects | Blackberry Kush Cannabis Medical Effects (works for) | Blackberry Kush Cannabis Side Effects |
| Relaxed 100% | Stress 100% | Dry Mouth 100% |
| Sleepy 85% | Pain 80% | Dry Eyes 80% |
| Happy 70% | Insomnia 75% | Dizzy 60% |
| Euphoric 65% | Depression 60% | Lazy 45% |
| Hungry 40% | Lack of Appetite 40% | Paranoid 20% |
(Blackberry Kush shatter, image source: Toker Kat on Instagram)

Buying:
In terms of availability, Blackberry Kush strain hybrid cannabis is still a predominantly West Coast strain, readily available in Washington, Oregon, and California, but rarer elsewhere. If you are in one of those areas, then your local provisioning center might sell you a 1/8th ounce of leaf for an average of $25-40 depending upon whether you are a card-carrying medical marijuana patient or a recreational user, also contingent on that quality of the grow or yield, the strain's availability, time of year and location (some dispensaries do charge you a local or state tax on pot purchases). Sometimes other geographic areas do get weed shipments from the Western states, so there's a chance it might be in your area, check around at your nearest pot shops! If you order off the Internet, then location isn't an issue so much, but online prices for Blackberry Kush weed strain, and other weed strains, tend to be somewhat higher and you can probably count on paying shipping costs.  A Blackberry Kush strain oil cartridge for your vape would run you about $30 for a gram: Blackberry Kush concentrated wax, shatter, resin or crumble is about the same. Pre-rolled joints, or spliffs, can be found for around $5 to $15 and on up each, depending upon their size, which can run half a gram to two grams or more. Edible marijuana may or may not contain Blackberry Kush hybrid weed, however labeling information usually doesn't specify the exact marijuana strain used in the ingredients, rather they usually just indicate the level of THC or CBD. You can always ask your budtender if they know.
(Blackberry Kush cannabis buds and dispensary packaging, image source: Equinox Wa. Gardens on Instagram)

Growing:
If you decide to grow some of your own Blackberry Kush cannabis strain plants then you can, as with most weed plants, grow indoor or outside under the right conditions. With Blackberry Kush, you can expect a 30 to 78 inch (2 ½  to 6 ½ feet, nearly a meter to over 2 meters) plant with pretty high yield, after about 75 days inside, up to 450 grams per 1000 watts or per square yard/meter indoors; and the outdoor bounty in 60 to 65 days of sunshine and the fresh air outside is an impressive two pounds per plant! The flower, buds or nugs, of these Indica-dominant weed plants, are dense, mottled green and purple, and covered by orange trichomes. Indica-heavy Blackberry Kush weed strain hybrid cannabis grows best in low humidity and mild to warm climates, with temperatures between 68 to 80 degrees Fahrenheit/20 to 26 degrees Celsius. Although Blackberry Kush strain cannabis is naturally resistant to molds and mildews, you do have to watch out for spider mites, which can be just vicious to your ganja grow! 
(Blackberry Kush pot plants, image from M_Rock Davidson on Instagram)

Strain seeds and where to buy them
It is relatively easy to locate some Blackberry Kush cannabis seeds somewhere online and then you can give growing your own ganja garden a whirl, I Love Growing Marijuana.com has them for 5 for $59, 10 for $89 and 20 for $159; and Dutch Seed Shop.com has them at 10 seed packets for $53. Always shop for the best bargains and do a little internet research on any online nursery or seed repository, buyer beware and all! Often physical, offline dispensaries and cannabis nurseries will sell small cloned pot plants for around $25 or so apiece. Prices usually vary with location, so it's best to consult an online menu and even call, email or text message ahead if you're interested in Blackberry Kush cannabis or any other specific weed strain.

Here is a vid of a guy reviewing his Blackberry Kush marijuana plant harvest and giving us some tips and critiques of the plant, as well as some growing tidbits:


(Blackberry Kush and actual blackberries, image source: Nirvana Center Dispensary on Instagram)

Summary:
The well-known cannabis culture term couch-locking was made for strains like Blackberry Kush hybrid weed because the 80% indica strain just might do that for you, but that isn't necessarily a bad thing because sometimes you need that level of chillaxation! Blackberry Kush 80% indica hybrid cannabis has strong indica roots from its parent strains of pure Afghani landrace weed and the 50/50 even indica/sativa hybrid Blackberry. Largely popular on the West Coast, Blackberry Kush marijuana offers tokers or dabbers heavy relaxation when they spark up and breathe in its piney smoke or vapor, the flavor is like fresh plucked berries with an earthy undercurrent. Blackberry Kush cannabis is excellent medication for stress, pain, insomnia, depression, and even lack of appetite – so bring a bag of chips with you to the couch if you start feeling 'locky' …and maybe a soda. Blackberry Kush can be grown indoors or out and takes 8-9 weeks to flower, producing a decent yield for your dollar if you're a pretty decent grower. You would be wise, if you're in the market for a mighty mellow - and if your local dispensary happens to have some Blackberry Kush joints or an eighth of Blackberry Kush nugs in stock to sell you - to get some and try this heavy-indica hybrid for yourself… just don't make any plans, because you're probably gonna be taking it easy for a while! 
.

Written by Megan Medeiros (BA)
Megan Medeiros has a bachelor's degree in English and is currently working on a master's in English at James Madison University. She's the owner and operator of Medeiros Writing, and has been working as a cannabis writer for the past three years, mostly following the legal climate of marijuana, especially in areas like California, Colorado, Oregon, Canada, and other legal areas.
This post contains references to products from one or more of our advertisers. We may receive compensation when you click on links to those products. For an explanation of our Advertising Policy, visit this page. All photos were sourced from Pinterest.com | updated 2021
Stay home & get your daily
needs from our shop
Start You'r Daily Shopping with Nest Mart
Best prices & offers
Orders $50 or more
Free delivery
24/7 amazing services
Great daily deal
When you sign up
Wide assortment
Mega Discounts
Easy returns
Within 30 days