Grape Ape Cannabis Strain Review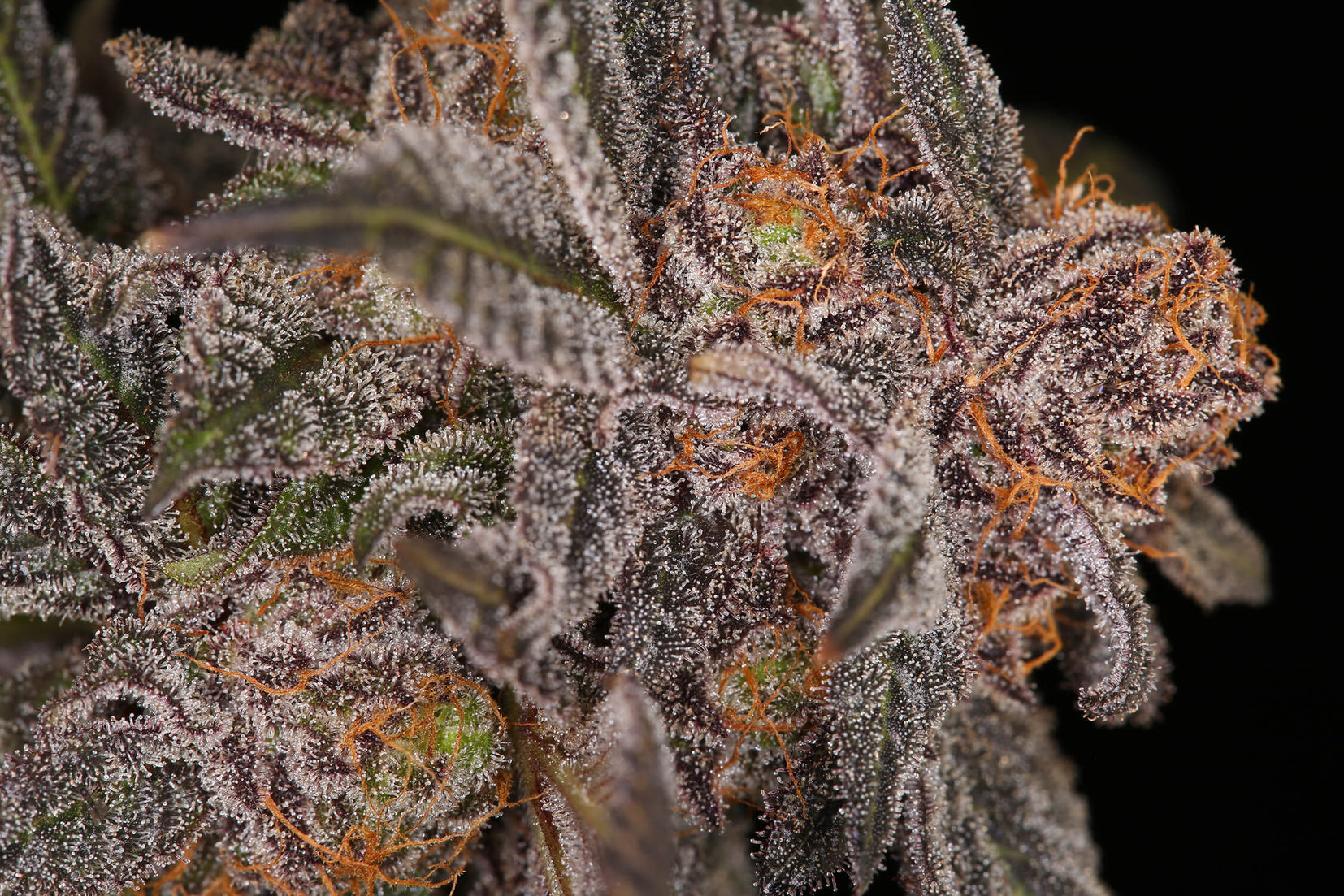 Background
Grape Ape is an Indica genetically near identical to other iconic purple strains such as Purple Urkle, Grand-Daddy Purple, and Mendocino Purps. It also may be known as OG grape, Grape Ape Kush, Big Ape Bust, Purple Ape weed, and a number of other grape strains. If you've had any of those strains, you've had Grape Ape.
Traditionally, any of these strains were originally made by crossing Skunk with a Classic Indica like Hindu Kush from India. The Grape Ape strain flowering time can be anywhere from 8 to 12 weeks.
You can find seeds for Grape ape on most seed websites like dutchseedsshop.com and gyo.green
The purple color mostly comes from innate genetics or phenotype mutations. Purple is also rarely brought out by certain conditions such as flashes of cold temperatures or a lengthy flower stage, but the purple genetics also have to be present or the plant could go yellow or even red.

The batch I got my hands on is testing at THC Level of 19.2%. An eighth in my area is going for around $45. While I was not able to find any Grape Ape oil in my area, I have seen it before, so keep an eye out if that's something of interest to you. In this review I will analyze Grape Ape in appearance, scent, smoke, and high.I rate the strain 9/10 for its wonderful stoney high and fantastic Grape Flavor.
Appearance


It's very important to note that the appearance of the bud can vary drastically plant to plant, even branch to branch. Because of this, the Grape Ape I smoked could be vastly different in appearance from the Grape Ape you might find.
The Grape Ape bud itself is very dense and rounded. This could be a sign of an indoor grow combined with an auto-trimmer before the bud was cured. The "crow's feet', which are stems from sugar leaves, also lead me to this conclusion. Crows feet are often an oversight associated with a wet trim in an auto-trimmer.
Despite what may be considered a lazy trim job, the bud itself is quite pretty. You can see visible evidence of heavy trichome content. While the Grape Ape is green, it does have a few hints of purple on the underside. I'd be willing to bet the stems of the plant and the leaves had a similar violet color. Grapes do come in green, so I'm willing to give this batch a pass for its lack of purple color. perhaps with a higher trichome content, you could have some white grape weed.
The bud was also very hard and very dry. It did not have much give when squeezed and instead crumbled. It ground up quite easily in my grinder. Surprisingly, when ground up, the bud takes on a much fluffier, softer form. Trichome content is still visible, as are flecks of purple in the green jungle of Grape Ape.


Smell
The smell of Grape Ape is of a candy musk. Like an ape dipped in a vat of molten candy. While the scent is not strong, it has a depth of flavor. The Terpenes are most likely concentrated in Linalool and Myrcene. A terpene is an oil found in all kinds of things, fruit, nuts, trees, and is also present in cannabis to give each strain a unique flavor and smell. Linalool is commonly associated with floral and fruity flavors that are not citrus. Myrcene is your earthy flavors and scents. The two together create a wonderful smell found in the Grape Ape.

Smoke
Surprisingly, the Grape Ape tastes just like grapes. It's uncanny. There is still a hint of musk behind the flavor. The flavor is very full. There are no strange chemical flavors and no poor aftertaste.
The bud itself burned very easily. It was easy to pack and to corner. It also cherried and continued smoking without the use of a lighter, when smoking quickly or passing the bong. The end of the bowl was quite pleasant as well. While finishing the dregs of a bowl can often be unpleasant and harsh, this wasn't as bad as I'd normally expect.
This Grape Ape obviously had a proper curing process, allowing for the bud to remain supple, but not too moist.
High
Grape Ape is a classic indica. The high is very relaxing and centered in the body. You feel very heavy with slight body tingles.  While your thoughts will slow, your mind will remain relatively clear. Grape Ape has many stoney characteristics. You will feel dry mouth and become particularly hungry. You may even destroy a large sandwich in a few short minutes as I did. You may also find yourself very tired followed by a long and restful sleep.
Most importantly, the high is very euphoric. There are no feelings of paranoia, unease, or discomfort. You will feel very at home in your body.
Personal Takeaway
I'm a sucker for a good indica. Something that can arouse my appetite and tuck me into bed after a big dinner. Grape Ape hits the mark dead on. This is definitely a strain that I would recommend to anyone looking to chill on the couch with some munchies for a few hours. 9/10

Looking for something similar? Check out Trainwreck 

Looking for something NOT so similar? Check out Sour Diesel 
.

Written by Megan Medeiros (BA)
Megan Medeiros has a bachelor's degree in English and is currently working on a master's in English at James Madison University. She's the owner and operator of Medeiros Writing, and has been working as a cannabis writer for the past three years, mostly following the legal climate of marijuana, especially in areas like California, Colorado, Oregon, Canada, and other legal areas.
This post contains references to products from one or more of our advertisers. We may receive compensation when you click on links to those products. For an explanation of our Advertising Policy, visit this page. All photos were sourced from Pinterest.com | updated 2021
Strains
Stay home & get your daily
needs from our shop
Start You'r Daily Shopping with Nest Mart
Best prices & offers
Orders $50 or more
Free delivery
24/7 amazing services
Great daily deal
When you sign up
Wide assortment
Mega Discounts
Easy returns
Within 30 days