Purple Dream Cannabis Review | Purple Headband Strain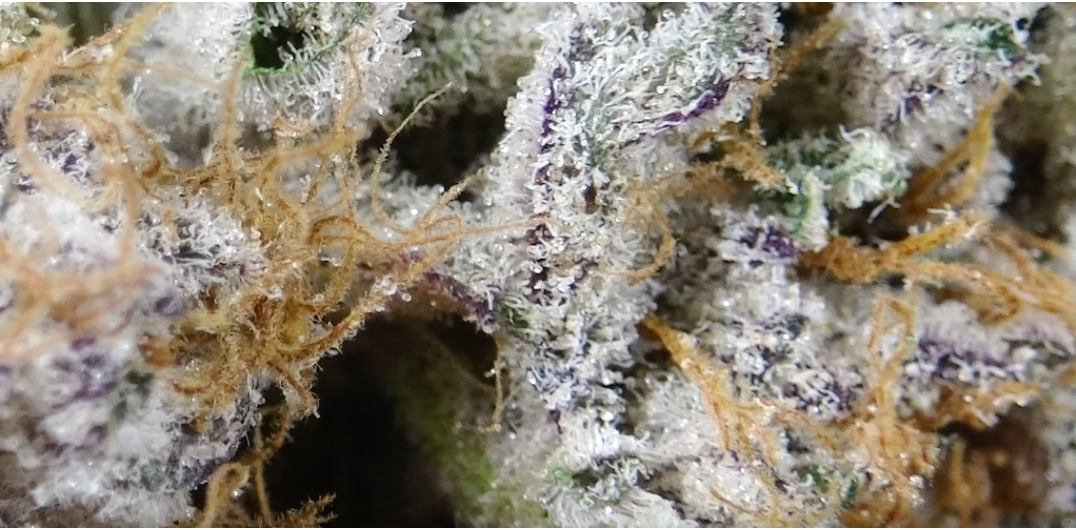 The Blue Dream Purple Kush strain has a reputation – true to its name, it's a dream or at least puts you in a dream-like state.  With a 12% THC content, you don't have to worry about paranoia, anxiety, a headband, or a head spin. The low content is actually quite inviting as it seems to create welcomed alertness. This Indica-dominant hybrid is not the typical late-night narcotic, though it does induce relaxation. There is a bit of energy thrown Blue Dream Purple Kush Purple Dream strain which makes it more of a daydream strain. You can expect to feel like you're in a daydream than actually elicit any because this strain alters the world around you rather than conjuring up creativity.



Purple Dream fresh medicinal nugs, photo: @homebakedchef

Purple Dream Strain Background
California dreamin' is more like a reality with its state signature creation of Purple Dream. Some big dreamers from California combined the genetics of Blue Dream and either Purple Kush or Granddaddy Purple to create this violet gem. Blue Dream, a legend on the west coast and one of the most popular strains in the U.S. and abroad, is a Sativa-heavy hybrid, bringing a dreamy balance to the well-sought after Purple Kush, a San Francisco treat, of pure euphoric indica. Blue Dream Purple Kush is well known for its blueberry taste, of which no doubt comes from Blueberry, one of its parents. Blue Dream Purple Kush passed down its head-in-the-clouds high (a signature trait of its other parent, Silver Haze) to Purple Dream which makes it a great strain for a daytime stroll. While Purple Kush or Grandaddy Purple both tend to cause sedation into a trance of go-with-the-flow and chillaxing which gives Purple Dream a wonderful relaxed and medicinal effect. Combined, Purple Dream becomes a perfect strain for daytime euphoria, deep conversations, and maybe even a little adventure.
Dreamy Composition
The Indica to Sativa ratio is an adequate balance of 60/40, making this high more heady but very adaptable for some daytime fun. The higher indica content creates a relaxing ambiance while the close to even sativa incorporates more energy. The combination is great for alleviating anxiety but not for the idle – this indica-dominant hybrid will get you off your feet to dive into some creative project or plug into your Itunes and dance down a park pathway.
Different Types of Dreams 
The many variations of the dream strains keep you in a deep purple dream-like state – head in the clouds, mind in the sky and daydreaming even through the night. Like Blue Dream Purple Kush, Purple Punch provides heady dreams but more so throughout the night. Blue Dream Purple Kush, as the parent of Purple Kush, provides that creative energy and a surge of energy. Purple Dreams weed is easy to find on the West Coast, especially in California, and even more so in San Francisco, where it comes from. These purple marijuana strains sometimes are better known by their slang names like Purple Headband strain for its heady high effects or super purple weed because, well, you feel kind of super.
What makes weed purple?
Purple hairs grow because of something called Anthocyanins, violet pigments common in berries and flowers that occur when chlorophyll starts to shut down. This is why it prefers milder temperatures – because when temperatures drop the production of chlorophyll slows down and Anthocyanins rise. And you will find this in every purple weed strain, hence the name purple.



Dreaming of this dreamy pile of Purple Dream, photo: @dr.yellowthumb


One large untrimmed bud of Purple Dream - orange hairs and crystally trichomes. Photo: @xd_chronic
Blue Dream Purple Kush is a tough cookie to resist. It focuses on easing your mind, crafting creativity, and easing stress. Though many love its daytime energetic effects, it is also a great sleep aid. Because it relaxes your mind and gives you 100% euphoria, you are adaptable to enjoy a daytime stroll or gradually fall into some purple dreams of your own.
| | | |
| --- | --- | --- |
|  Purple Dream Strain Benefits | Purple Dream Strain Medical | Purple Dream Strain Side Effects |
| Euphoria 100% | Stress Relief 100% | Dizziness 80% |
| Arousal 90% | Anxiety Relief 90% | Clumsiness 70% |
| Happy 80% | Depression 80% | Cottonmouth 60% |
| Relaxed 48% | Insomnia 70% | Drowsiness 60% |
| Creative 70% | Pain Relief 40% | Dry Eyes 15% |
It's recommended to enjoy the outside world with your creative energy of Blue Dream Purple Kush. Watch the clouds go by, skate or surf on by, or just schedule in some playtime. You may feel a surge of arousal, releasing stress, anxiety, and depression – so, this is definitely a strain to share with your partner (or special video). You may feel a little sleepiness, but this is all part of the relaxation. The drowsiness can also account for some clumsy behavior, but just don't handle machinery or sharp tools while dreaming. To counter the sleepiness, you should get up and go outside! Enjoy this strain in the warmth of the sun as it is not really a nesting strain. You'll want to channel energy from the sun like a solar panel! Soak it in, the sun, and your dreams to really enjoy this uplifting strain.
Purple Dream Strain Taste Profile
The Purple Dream Strain High
Overall, this strain is preferable for a daydream chill but can be used for a bit of social interaction, granted that you already feel comfortable with the people you will meet. This is the creative guru's secret weapon and a skater or surfer's preferred inspiration. Mind-blowing conclusions and million-dollar-ideas are bound to happen when you get your dream on with Blue Dream Purple Kush. And giggling is never stifling while riding the dream wave.

Purple Dream Growing Tips

Purple dream yields only 14 ounces per plant, but on the upside, it's foolproof to grow – so growers can plant a whole bunch and just let them do their thing. Being one of the easiest and hardiest strains, Purple Dream can be grown almost anywhere, geographically, and inside or outside. Purple Dream kolas are dense, dark green buds lightly dusted with trichomes. The smell will transport you to a forest full of pine, floral flower buds, and sweet berry bushes with a hint of sour skunk. A real outdoor bliss even when you spend your purple dream inside your own confines.
Flowering Time: 8-12 weeks
Climate: Warm weather with lots of suns. Mediterranean climate best suits this strain.
Location: Indoor and Outdoor. Anywhere outdoors with enough sunshine during the growing period. The Indoor grows well with hydroponics.
Height: Can get to 8 feet in height with the right growing conditions.
Yield: 14 ounces
Where to Find Purple Dream
You will mostly find the purple-blue dream strains in California and the West Coast. Northern Europeans will also find this hearty strain in their areas as it grows well there even though the climate tends to be much colder. Harvest time in Northern Europe has to be in September before the temperatures drop though. California can take its time for obvious reasons. Where does marijuana grow naturally? In Mediterranean climates, because they are the warmest yet mild temperatures that harness all the right growing qualities providing nutrients and repelling mold. That is why you will find purple dreams weed grows well there too – just nothing too hot. Find seeds at Seed Supreme or another reputable seed bank or a friend who might already be growing Purple Dream. They are usually pretty inexpensive and can get a packet of a few seeds for under $10 or less.



Beautifully matured Purple Dream flower buds with finger-like purple leaves, photo: @poweryourpot



Purple Dream thriving in an indoor grow room, photo: @coolbeans_oregon

Purple Dream Roundup
When you are in need of a dream, rolling up purple and blue dreams is the perfect remedy. This purple bunk weed strain is a real dream. It is creative, euphoric, and relaxing. It is a strain enjoyed best in the sun outside but can be a fun playtime booster indoors too – and in the bedroom. The purple kush buds are dense and piney – an enticing aroma. You can find this strain mostly on the U.S. west coast but it is easily grown anywhere, granted it isn't too hot or too cold (below 50F/10C or about 95F/35C). Oil is not as available but can be found by searching around your area or using a strain-finding app. Seeds are plenty, especially on the west of the U.S. The whole flower is well-sought after for its unique effects and low price. An eighth will usually cost you around $13 in California.
Quick Overview of Purple Dream Effects
Creative energy

– you will have the urge to do and create or come up with wild ideas.

Get outdoors

– you'll want to glide, skip and sunbathe.

Looking for fun

– playtime is essential and giggle fits are not off the

table.
Anxiety & stress relief

– relaxation is definite. You may even experience some drowsy dreaminess.

Dream-state behavior

– like sleepwalking, you may experience some clumsiness and dizziness. Just make sure you aren't handling anything dangerous!

Dry mouth

– so stay well hydrated while you have some dreamy fun.
Tried Purple Dream? Tell us about your dreamy experience.
.

Written by Megan Medeiros (BA)
Megan Medeiros has a bachelor's degree in English and is currently working on a master's in English at James Madison University. She's the owner and operator of Medeiros Writing, and has been working as a cannabis writer for the past three years, mostly following the legal climate of marijuana, especially in areas like California, Colorado, Oregon, Canada, and other legal areas.
This post contains references to products from one or more of our advertisers. We may receive compensation when you click on links to those products. For an explanation of our Advertising Policy, visit this page. All photos were sourced from Pinterest.com | updated 2021
Stay home & get your daily
needs from our shop
Start You'r Daily Shopping with Nest Mart
Best prices & offers
Orders $50 or more
Free delivery
24/7 amazing services
Great daily deal
When you sign up
Wide assortment
Mega Discounts
Easy returns
Within 30 days