Purple Wookies Strain & Sour Triangle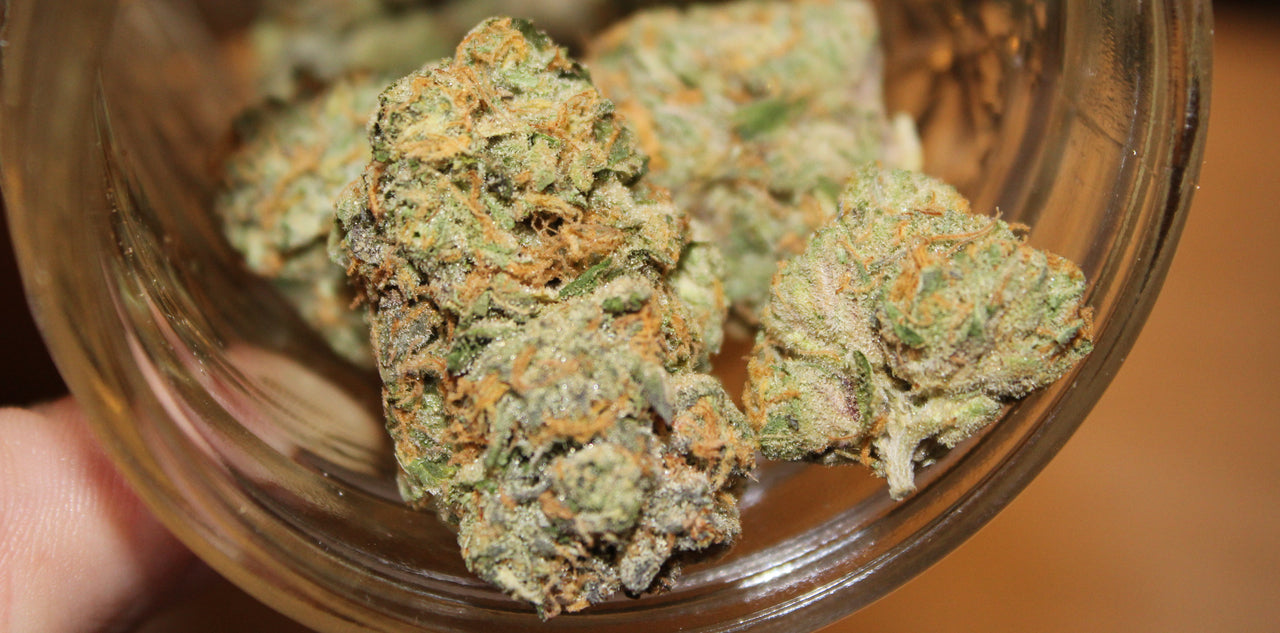 Looking for the large, hairy creature found in far off lands made in cinema movie magic? We're sorry to report you're in the wrong place, since Wookies weed strain is something you smoke. However, if you're looking for a dankenstein, an indica dominant hybrid strain that's sure to leave you feeling relaxed, read on!

Wookies weed strain tastes great and is highly potent. Just don't confuse it with Wookie, an entirely different strain. Wookies has a great genetic profile, inherited from its parents, Girl Scout Cookies, Chemdawg 91 and The White 91. This strain should almost certainly be considered a dankenstein strain, as its parents are all dank strains. These 3 strains come together to create one monster, which would make the hairy alien in Star Wars proud. Just mix some tasty crystal trichomes into the hair and then you're really talking! Wookies weed strain comes from the Cookies genetic line, which, if you're already familiar with Cookies, you know it means Wookies will taste amazing. To fully appreciate the taste of this strain you should grind it up and vape it inside a flower vaporizer.
Wookie strain is perfect for those who are looking for a powerful high that will leave them feeling relaxed and euphoric. Wookie weed is also known for its ability to increase appetite, so it's perfect for those who need a little help in that department.
But if you're looking for a powerful strain that will leave you feeling happy and relaxed, then a Wookie is a perfect choice. If you want to experience this strain but aren't sure where to find it, check out our blog post on where to buy Wookies weed.
There are plenty of options when it comes to finding good-quality weed these days. Whether you prefer smoking at home or prefer something more discreet like vaping,
Buy Wookie Weed
If you're looking for a potent, Indica-dominant hybrid, look no further than Wookie weed. This strain gets its name from its heavy couch-locking effects, which can leave even the most experienced smokers feeling relaxed. But don't let that dissuade you. Wookies is also known for its sweet, cookies-and-cream flavor profile. So, if you're looking to relax and indulge your sweet tooth at the same time, this is the strain for you.
But it's not all fun and games; while Wookie weed has been known to give users a blissful high, it may also cause some paranoia in certain cases. And as with any cannabis product, make sure you test out the strength before taking too much of it.
As your mind fades away, your body will begin to drop off into a deep and restful sleep. Thanks to these effects and its high 18-23% average THC level. Some people want to know about Wookie Cake Strain. It is said to be perfect for treating conditions such as ADD or ADHD, chronic pain, depression, fatigue, insomnia, and migraines or headaches.
Even if you don't smoke weed, you can still enjoy this dish without getting too stoned. Just try it once and let me know what you think. One of the best type is sour Wookies strain.
Wookies cookies strain is perfect for users who need relief from pain, stress, or insomnia. It can also be used to treat nausea and stimulate appetite. It can take up to 2 hours before you feel the full effects of this strain, but once they do hit it will be a long-lasting experience.


This strain is sometimes called Purple Wookie, Purple Wookie Strain, Chewbacca strain, Chewbacca Cookies, Girl Scout Wookies, Cocoon Cookie, Wookie Kush, Dirty Wookie, Cookie Wookie, and tk91 strain.
 To truly enjoy a dankestein like Wookies weed strain, you're going to want to grind your flower into a fluffy texture.

Not all grinders can get you the fluff you're after, but the Santa Cruz Shredder can definitely get the job done. Its square teeth deliver an even grind every time, meaning the flower you pack will light up perfectly. There's a reason it tops our list of favourite herb grinders!

All rights reserved on this stock image. Thank you, pro photogs!
 

For anyone who wants to take their Wookies on the go, investing in a quality vaporizer so you can truly enjoy its flavor is well worth it!

May we introduce the DRYONIC II: PREMIUM DRY HERB VAPE PEN? Every detail has been thought of, from its precise temperature control to its ceramic chamber, meaning you get a clean, smooth and flavorful hit every time.

 


Wookies for the day? Don't mind if we do! Photo: @uncle420guido


Wookies Weed Strain: Indica or Sativa?
Wookies is a fairly balanced Indica-dominant hybrid, coming in at about a 65 indica/35 sativa ratio split. Being that it's well-balanced, you can enjoy both the cerebral effects of its Sativa heritage while being relaxed by the Indica-dominant nature of the strain. Wookies weed strain is definitely one to be enjoyed by the cannabis connoisseurs among us. Be aware that it's a fairly rare, clone-only strain, meaning that it's quite hard to find. If you do manage to find it, you should prepare yourself for a great taste and potent Indica-dominant effects. Its strong terpene profile will leave you with plenty of high, but the indica domination won't let you wander too far off into la la land.

Wookies Weed Strain Genetics 
The original breeder of Wookies weed strain isn't 100% known. Some sources report that it was Phillip Hague, aka Tierra Rojo, who created this masterpiece. However, whoever originally bred it is undoubtedly a master breeder, as they brought together three strains to make one monster strain. This isn't particularly easy, so you know that the original breeders mean business. The seeds are, unfortunately, impossible to find online, as this is a clone-only strain. This adds to the rarity and therefore the price of the strain. The three strains crossed together to create Wookies weed strain were:
The White 91


Chemdawg 91

Girl Scout Cookies

Girl Scout Cookies has a fantastic flavor, and The White 91 is known for its trichome production. Chemdawg 91 is known for its potency, which makes Wookies an all-around strain, with great trichome production, fantastic flavor, and high potency.


Wookies Weed Strain THC percentage
Wookies have a pretty high THC percentage relative to average strains. The average Indica-dominant hybrid sits at around 13% THC, whereas the average THC percentage of Wookies is about 18%. The most potent phenotypes, with the largest terpene profile, of Wookies have around 25% THC, making it a very strong strain. You may find that you're feeling a little couch locked after smoking this strain. But fear not, there are ways to uproot yourself from the tierra roja if you feel yourself sinking into the ground. We'll cover that below!


Wookies price
Wookies are, unfortunately, a rare, clone-only strain. A quick menu search at a coffee shop probably isn't going to help you find Wookies. This drives the price up significantly. Furthermore, this strain is a boutique dankenstein strain, making the price even higher. You will probably pay at least $20 a gram to add this special little strain to your shopping bag. Perhaps if you're in one of the legal weed states of the United States or Canada you'll find a more reasonable price tag.


Wookies taste
Wookies should be enjoyed ground up and smoked from the inside of a flower vaporizer. That is because there's no combustion of plant material when you use a vaporizer, therefore allowing the taste profile to be fully enjoyed. Wookies is a fantastically tasty strain, mainly because of its Girl Scout Cookie heritage. The full taste profile of Girl Scout Wookies is:
Sage

Mint

Sweet

Pungent

Lemon sour component
Wookies oil, wax, shatter, edibles, etc.
You can make any strain you like into Butane Hash oil, also known as oil, wax, or shatter. Concentrate creators normally look for taste and trichome production (and therefore potency) when they are deciding which strains to use. As such, Wookies makes a fantastic choice. However, making Butane Hash Oil is considered very dangerous, and some people have burnt their houses down in the attempt. As such, we recommend that instead of making your own, you travel somewhere like Canada, where you can buy shatter. You won't find concentrates when you browse menus in Amsterdam at the moment, because they are not included in the loophole that allows coffeeshops to sell weed.


 

If you're already equipped with a favourite glass dab rig or bong, but are after a new quartz banger, this 100% Quartz Splash Guard Banger crafted by Miami Glass is a great option.

It's well priced and well crafted with a beveled edge so you ensure you get to enjoy every bit of your concentrates.

Sometimes a quality stock image is all you need. Definitely the case for this gorgeous quartz banger!


Pile o' Wookies! Photo: @killacam079to087




This flower is a cross using Wookies. Photo: @805_roots


| | | |
| --- | --- | --- |
| Wookies General | Wookies Medical | Wookies Negative |
| Relaxed 100% | Insomnia 100% | |
| Happy 75% | Stress Relief 95% | Headaches 30% |
| Sleepy 70% |  Depression 90% | Dizziness 25% |
| Euphoric 45% | Inflammation 80% | Paranoia 20% |
| Hungry 40%  |  Pain Relief 75% | Lethargy 5% |

As an indica-dominant hybrid, Wookies has side effects that act as both advantages and disadvantages. The disadvantages are that it may make you feel sleepy, and could induce a couch lock. However, the advantages are that it will help you with sleep, and will help you feel incredibly relaxed. This strain should be enjoyed after a long day at work, a few hours before bedtime, where it will almost certainly lull you to sleep. A health professional may even prescribe Wookies to someone suffering from insomnia. The best thing about Indica-dominant strains is their relaxing sedative effects.

If you end up in an unwanted state of couch lock, then follow this guide to help get back up:


Have a cold shower

Have a pot of hot coffee, or an espresso

Go for a swim or a run


Wookies flowering time
The flowering time of Wookies is around 49-70 days. If you leave it for the full 70 days, then it will have the full flavor and potency that make this strain so famous. Once you've harvested, you should cure it and allow it to dry out fully before smoking.


Wookies growing tips
Wookies are a clone-only strain, so the likelihood of you finding this strain is very low. However, if you do find it, you will need to be a decent grower to be able to grow this strain successfully. As an indica-dominant strain, the top of this plant will start to shade out the rest of it. As such, you should top the plant, which means cutting away the useless leaves at the very top of the strain.


 

For the ultimate support for your green thumb, get yourself the right tools! These Gonicc 8" pruning shears are a must have. They're ergonomically designed (easy to grip) and are specially designed to channel off sticky material, which may help you when growing sticky cannabis plants!

This stock image from Amazon makes us feel like we can grow anything! All rights reserved.

Wookies seeds
Wookies are a clone-only strain, making it very difficult to find to grow. There are companies who claim to sell these seeds online, but the likelihood is that they are not the real strain, and are therefore not worth buying. When you order weed online it's important to find a site you trust. We (obviously...) like Seedsman, so you can always keep an eye out there for this precious strain.


Wookies yield
If you do manage to find Wookies then you will be gifted with a moderate to high yield, but you will need to be a relatively experienced grower to grow this strain.


 

So you've grown and dried your Wookies to beautiful perfection. Now you need to store them properly so you can enjoy them for a long time after.

These Herb Guard 2 Oz containers are one of our favourite options. They protect against UV rays and are smell-proof. Can you tell they have a target buyer?

Simple and effective. The product really does match the stock image!
Wookies on the up and up. Photo: @capulator


What is the Wookies Weed Strain?
This rare dankenstein strain is a cross between three dank strains: Girl Scout Cookies, The White, and Chemdawg 91. Each one of these parents gifts something to Wookies, making this indica-dominant hybrid a perfect strain for treating stress or insomnia. It was reportedly Tierra Rojo who concocted this deliciously dank strain. If you're smoking this for insomnia, please wait a few hours after smoking, otherwise, the cerebral effects may keep you awake.
65/35 Indica-dominant hybrid

Very potent with a fantastic taste

A tasty strain which should be enjoyed inside a flower vape

Cross between Girl Scout Cookies, The White 91, and Chemdawg 91, reportedly created by Tierra Rojo.


Clone-only, so, unfortunately, the seeds are hard to find
 Have you tried Wookies before? Have questions? Drop us a comment below! No need to leave your email address or zip code!

.

Written by Megan Medeiros (BA)
Megan Medeiros has a bachelor's degree in English and is currently working on a master's in English at James Madison University. She's the owner and operator of Medeiros Writing, and has been working as a cannabis writer for the past three years, mostly following the legal climate of marijuana, especially in areas like California, Colorado, Oregon, Canada, and other legal areas.
This post contains references to products from one or more of our advertisers. We may receive compensation when you click on links to those products. For an explanation of our Advertising Policy, visit this page. All photos were sourced from Pinterest.com | updated 2021
Strains
Stay home & get your daily
needs from our shop
Start You'r Daily Shopping with Nest Mart
Best prices & offers
Orders $50 or more
Free delivery
24/7 amazing services
Great daily deal
When you sign up
Wide assortment
Mega Discounts
Easy returns
Within 30 days