14 Best Giant Bongs Ranging From 3ft To 10ft No 4 Is Crazy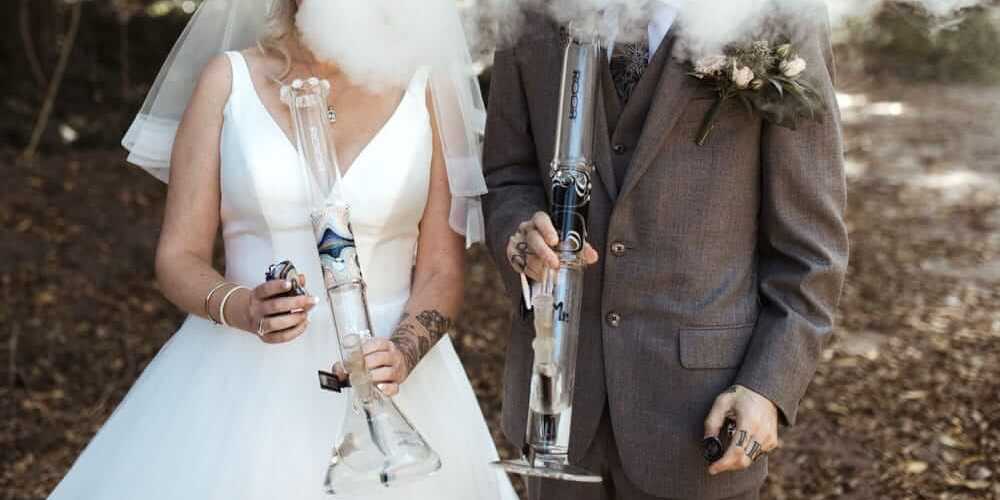 Bongs come in so many sizes, but there are a few truly giant bongs out there. Created centuries ago to smoke tobacco with, the modern day bong has come a long way! From tiny, portable bubblers, to massive bongs that hit extremely hard, bongs are one of the most popular ways to enjoy your Mary Jane. It's also one of the strongest ways to catch your high. Though the myth that smoking out of a bong is healthier than smoking a joint isn't completely true, it's definitely still worth lighting up your favourite water pipe in order to get that strong hit. Tall bongs in particular are popular because of the large amount of smoke that builds up inside the chamber. 
Today bongs are made from a variety of substances. The most common is glass, followed by plastic, silicone, ceramic, acrylic, wood, and metal. Each one has different advantages and disadvantages. You can also always spruce up your bong with different accessories like a quartz banger.
The shape of giant bongs may vary, but it'll consist of the same basic parts.


Bongs are made from 4 separate pieces:
The mouthpiece

The chamber

The stem

The bowl




While the bowl is always made from metal, as that is where you place the weed to heat it, the rest of the bong can be made from any of the substances mentioned above. If you're wondering how to take a bong hit, simply light the plant matter inside the bowl and then begin to inhale. This should make smoke appear inside the chamber, and the water will cool the smoke down and filter it some, making it far easier to inhale. For more filter of your smoke you can always find a bong with a percolator. Once you've built up the amount of smoke you want to inhale, simply remove your finger from the hole inside the stem and take the hit.
10 Foot Bong:
The 10 foot bong is the perfect piece of glassware for those who want to take their smoking experience up a notch. With its massive size and impressive height, this bong is sure to turn heads while you smoke. Whether you're using it for recreational purposes or to get high on some quality weed, the 10 foot bong is a must-have for any cannabis lover.
This bong is a great way to get high and have some fun at the same time. This type of bong has a large enough opening that it can hold a lot of water, making it an ideal choice for smokers who want to enjoy a big hit.
3ft Bong:
Looking for a small and discreet bong? Check out our 3ft bong. This mini bong is perfect for those who want to take their smoking experience up a notch. With its small stature, this bong is perfect for hiding away when not in use. Plus, its lightweight design makes it easy to move around and store. So if you're looking for a discreet and small way to enjoy your smoking experience, our 3ft bong is a perfect choice. Whether you're looking for a classic piece or something a little more unique, we've got you covered.
4 Foot Bong:
Do you need a little more space to enjoy your smoking experience? These water pipes are perfect for smokers who want to get up close and personal with their weed. Not only do they provide you with plenty of room to smoke, but they're also incredibly affordable. So whether you're a beginner or an experienced smoker, we've got the perfect 4 foot bong for you.
3ft Bongs:
If you're looking for a small, portable and affordable way to enjoy smoking weed, then you need to check out 3ft bongs. These pieces of equipment are perfect for individuals who want to take their smoking experience on the go. What makes 3ft bongs so special?
They're small in size.
They're also very portable: You can take them anywhere with you.
5 Foot Bong for Sale:
Looking for a cheap and easy way to smoke weed? Check out our selection of 5 foot bong for sale. These affordable pieces of glassware are perfect for new users or those on a budget. Some of our models even include built-in filters and bubblers, so you can get your dose without having to clean anything up. Whether you're in the market for a classic design or something more unique, we've got you covered.
Big Bongs Amazon:
Looking for a high-quality big bongs Amazon? Look no further, Here are our top picks for the best bongs available on Amazon.
Spiral Glass Beaker Bong by Inhalco
Maverick Glass Long Bong 
USA Double Shower Straight Shooter Bong

There's lots more to learn about bongs, but now let's dive into our list of favourite giant bongs!


If you have been searching for giant bongs that go above and beyond in the style department, then the spiral glass beaker bong by Inhalco is sure to impress! It has a super cool design, and is made from durable premium borosilicate glass, which means it is very strong.

what we love:

Provides the ultimate in smoking experiences

9mm Thick Glass makes it heavy and strong

Suitable for experienced and novice smokers like
.
Look, when it comes to buying quality giant bongs, it can be difficult to find the right mix between quality and personality. What we love about this Maverick Glass long bong is that they seem to have struck the perfect balance between the two! They're adding in a variety of colours to their glass that are unique and different for every bong, keeping it fresh with every new creation. MAV has got a decade's worth of experience in blowing quality glass, and their California Beaker is no exception!
What we love:
Custom, colourful look

With MAV you know you're getting a quality glass product

MAV also has a program that supports Military Veterans, meaning your purchase supports a company that does good in their community!
Why do we love this simple beaker bong? It's thick glass, thoughtful design and fair price point combine for a staple bong for anyone, whether you're just starting your collection or if you have a shelf full of glass already. Giant bongs like these do take up space, though.
Heavy-duty, 7mm thick glass molded into a sleek beaker, complete with an ice notch and a long neck combine to make this bong a real simple yet pleasing piece.
What we love!
Virtually indestructible thanks to thick glass
On sale for a great price right now!
Long neck gives smoke lots of time to chill for smoother pulls


Okay, we'll admit this is a bit more of a novelty pipe, but for the toker who is looking to up their collection of giant bongs, this tall beauty with its unique shape is worth considering! Standing at 15" tall, you may even be able to fool guests into thinking this artsy bong is a flower vase. 
Whatever your reason for picking this bong, it'll add a sense of history and class to your collection! We love the thought of smoke being filtered through this beautiful piece.
What we love!
Unique and yet classy design
Borosilicate tubing
Diffused downstem


With American Made Glass, or AMG, you know you're buying quality giant bongs that, when cared for properly, will last you a long time. AMG actually has many cool designs to choose from. We chose to list the skull pattern because it's priced slightly lower than the other giant bongs currently on Dank Geek, but check out the others to fit your personal preference!
These giant bongs aren't overly complicated, and that's exactly why we like them. With a diffused downstem and a long neck it's easy to smoke from, and isn't that all any of us really wants?
What we love!
Variety of designs to choose from
Long-lasting construction from AMG
Well priced
This may look like an ordinary bong on the surface, but that just means its subtle accessories haven't been noticed yet. Measuring in at 60 centimeters (around the size of most giant bongs), the smoke for your hit will have plenty of time to filter and chill on its way up. And those double percs? They're not just there for looks! They'll help smooth out every hit you take. Thick borosilicate glass blown in Germany make up this thoughtfully crafted water pipe. Care for it and this nearly perfect bong will take care of you for a long time!
What we love!
German craftsmanship ensure quality
Two dome percolators smooth out each hit
Long neck reaches for the sky


This 1 ft bong boasts thick ass borosilicate glass for extra heat resistance and durability as well as handy ice notches to cool and smooth your hits. The shape of it makes it quite stable thanks to a circular foot and the inside-cut (from 18.8mm to 14.5mm) diffuser downstem sits within a 18.8mm ground joint. The 14.5mm glass bowl fits perfectly into the downstem's joint. There is an easy-to-use roll stopper-style arm on the herb bowl, which both keeps it safe on a table top and stops the downstem from rolling around and potentially breaking. A plastic keck clip comes with everything mentioned above. The bong's tube has an extra thick, rimmed mouthpiece for added comfort.

The straight glass tube is easy to clean and maintain, making it the perfect choice for beginner bong users or for more seasoned enthusiasts looking to expand their collection of giant bongs. Note that it is not a collapsible bong. The sick Bio Hazard decals come in a variety of colours to suit any taste. As any good owner knows, the right routine of upkeep and care will make sure this 1 foot ice bong continues to do what it does best: looking badass as it provides you with hit after hit of cooled and quality puff.

These large bongs are the real deal! Especially if you love bright stuff, these full coloured glass bongs are quite a sight. The tallest model, or shall we say, the Biggest Boy, comes in at 6 ft. tall. A beautiful 6 foot bong for sale is a wonderful sight! Don't worry about how tough this huge bong is; although it might appear fragile, its top quality acrylic makeup ensures this badass bong is super durable and party-proof. It has a 2'' diameter, a 9mm joint, and the ingenious addition of a hose attached to the bottom and raised pull slide, meaning you can smoke it all on your own. You can remove the base of the Headway bong, allowing you to add a holder to increase stability and balance. This added security makes the 6ft Big Boy a perfect companion for occasions that might have a bit more bustle. Although they don't yet offer 7 foot bongs or sell 8 foot bongs, you could always attach two of these big bongs to create a monstrous bong to enjoy! The 3 ft bong is no less colourful, and it's easier to stash.

Depending on availability, there are 8 amazing colours to choose from for your crazy bongs: blue, red, purple, orange, black, white and two shades of green. The length of the tube can make the cleaning routine a bit tricky, but with the right tools (cleaning fluids and pipe cleaners attached to long sticks) you can easily keep your biggest party piece as it should be: vibrant, crazy and colourful.

The size of these giant bongs are too good to leave out of the name:
120 cm tall, which is just under 4 ft. Who needs a 2 ft bong when you could have one of these giant bongs? It has a massive red Killer decal and a straight black acrylic tube, making it a perfect fit for any goth. If the trademark dark black tube and red accents of this huge bong don't scare you, maybe the fearsome reputation of the aptly named Killer brand will. Many of their giant bongs are named after one or another famous killing machines to warn users that their bad ass bongs are not for the faint-hearted. This big bong comes with a 12cm standard metal drop pipe. The height of this gigantic bong means it needs more than one person to handle it without an upgrade, but maybe you wouldn't want to left be alone with the deadly Straight Shooter. Bust your lungs at your leisure with this gigantic bong that promises a sharp straight hit to impress even the most experienced rippers.

If you're not a fan of the striking colours of the black and red Straight Shooter giant bongs, there is another gigantic bong by Killer. The Clear Cut Tower 120's no-fuss transparent design means you can watch your delicious hits billow through almost 4 ft of acrylic tube. If it were just a bit longer, it would truly stand head and shoulders among the other 4 ft giant bongs. It comes with a white Killer decal which highlights the minimalist aesthetic of this bad ass bong. It comes with a 12 cm standard glass stem and an extra thick rimmed mouthpiece for the best smoking experience. Large bongs can be hard to find because of the precision engineering needed to create such monster lung busters, not to mention they can be a challenge to smoke. You might need backup to get the most out of this gigantic bong, but its size makes it perfect for sharing. These giant bongs promise colossal, rich hits that will delight any trusty group of stoners. This big ass bong is super gram friendly as well as a clearly superior party piece.

We all know that smoking is as much a science as an art. This oversized beaker bong will make you experience true wonder as all the best scientists have, and completely blow your mind! These giant bongs should withstand many of your wackiest experiments thanks to its high quality borosilicate glass, which is 5mm thick. It boasts a 14mm/18mm glass downstem with an 18mm female joint as well as a 14mm male Bowl. This thick ass glass bong also comes with a 6 slit diffused downstem percolator and a sick ice catcher to boot. You can ensure your hits will be chilled to satisfy the most precise requirements of any aspiring and inhaling user.

If the Zam Smoke Giant Beaker isn't big enough for you, but you like the shape, you should try these Glowfly giant bongs. Since 2007, Glowfly has been blowing the best quality glassware for the best quality customers. Based in Arizona, these American bong making experts have been supplying stoners with models that deliver excellent hits. This Glowfly Glass Super Thick bong gives you only the smoothest hits with its built in ice catcher and bent mouthpiece. Its glass is a whopping 65mm thick, which complements the length of its massive tube. It also comes with a discrete Glowfly Glass decal to add a touch of class to your glass. Its base diameter is a sturdy 8" and this gigantic bong comes with a 14mm joint. Designed for collaborative smoking, this Super Thick bong is the perfect piece to enjoy cool hits with friends.  


If all you're after are cheap giant bongs that get you high, look no further. The crazy coloured bongs are acrylic to increase their durability. Although they come without any branding, you could easily customise these giant bongs however you want. The classic bubble design is doubled up on this model to most effectively cool your massive hits. The diameter of the base is on the small side compared the colossal height of this monster bong, so be sure to add an extra holder to increase its stability and balance. The Extra Tall Bubble Bong comes in four colours: green, orange, light blue and dark blue. It has a thick-rimmed mouthpiece and a short, standard drop pipe in the bottom bubble, so you'll need a friend to light your bowl. If you have this Extra Tall bong, the bright colours and the double trouble bubble will never fail to make a smoke sesh memorable, unless you can't take the massive hits these giant bongs provided. And if this is too tame, take a 5-foot bong extension and clear some space out to make your own 9 ft bong!

Maybe not large in height, but this special bong is massive in personality! If you've got 5,000 dollars to spend on a mind bending bong, maybe this Balloon Giraffe Dog Glass bong is for you. An incredible collaboration between Matt Robertson and the glass blowing crew at Blitzriega in Colorado brought forth these wacky and colourful giant bongs. It's one of the most expensive bongs in the world, along with many other unique models which often feature animals, although no shape compares to this exotic crazy bong. Although these Balloon Giraffe Dog Bongs only stand at 7'' tall, they're still giant bongs and will deliver some of your most satisfying hits. This bad ass bong has a removable tail tip which doubles as a dabber, as well as a 14mm female slide joint. The thickened mouthpiece extends from the tip of the balloon dog's nose, a real comfort to dog-loving stoners about to get super high. This unique and mesmerising bong is absolutely perfect for that one rich dude who has an affinity for balloon animals, giraffes, weed and dogs.

Though an inch shy of 3 feet, it is hard not to mention such a beautifully made bong. It is manufactured by the glass company Blaze Glass. Based in Germany, they have more than 20 years of experience making exclusively glass products. Made with 5mm thick borosilicate glass, their 6 arm bong M&M bong has gathered only good reviews. It is further equipped with a built in percolator, giving an extra smooth and strong toke. Most notably, it can be easily disassembled allowing for easy transport and cleaning. Best of all, for such a giant bongs,  it is relatively affordable coming in at a price of $300!

Get your toke on with this beautiful monstrosity! Photo: @Sky Glass
Wanna see a 22 foot bong? Watch this video, Las Vegas Houses the World's Largest Bongs, if you don't believe it!
Conclusion
Giant bongs have come a long way since its invention hundreds of years ago, spreading from the Middle East to around the world! And it's no wonder considering it is one of the most efficient and strongest methods of smoking marijuana. Purchasing giant bongs is also likely to save you money in the long-term since you won't constantly be buying papers.
 
BTW check out other bong sizes and cool designs by visiting Hemper's bong collection and remember 
These giant bongs can hold plenty of smoke in their chambers, ensuring that you have the best possible experience!
.

Written by Megan Medeiros (BA)
Megan Medeiros has a bachelor's degree in English and is currently working on a master's in English at James Madison University. She's the owner and operator of Medeiros Writing, and has been working as a cannabis writer for the past three years, mostly following the legal climate of marijuana, especially in areas like California, Colorado, Oregon, Canada, and other legal areas.
This post contains references to products from one or more of our advertisers. We may receive compensation when you click on links to those products. For an explanation of our Advertising Policy, visit this page. All photos were sourced from Pinterest.com | updated 2021
Still wondering if a massive bong is right for you? Leave your questions in a comment below! 
Stay home & get your daily
needs from our shop
Start You'r Daily Shopping with Nest Mart
Best prices & offers
Orders $50 or more
Free delivery
24/7 amazing services
Great daily deal
When you sign up
Wide assortment
Mega Discounts
Easy returns
Within 30 days