Alaskan Thunder Fuck Cannabis Strain | Alaskan Thunder Fuck Strain
David and Leah Kaye Weathers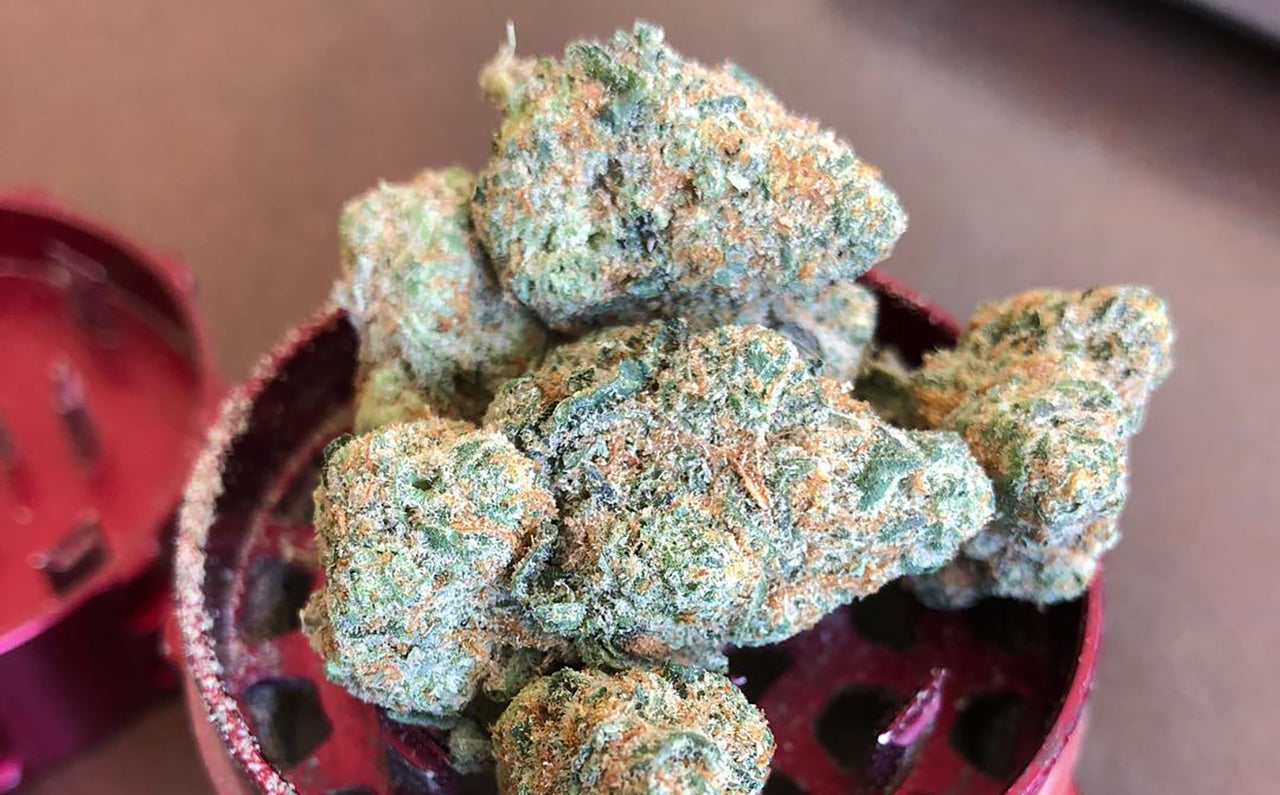 Intro:
Sometimes cannabis strains just have strange, even somewhat giggle-inducing names, and Alaskan Thunder Fuck marijuana  – like Pink Panties or Granddaddy Purple – may have a somewhat silly name but it is a strong sativa with potent effects – and that's no joke! Alaskan Thunder Fuck Strain cannabis was initially created in Alaska's Matanuska Valley, by crossing North American sativa with a Russian ruderalis; ruderalis marijuana is the 'third' type of pot plant mainly used by growers to create autoflowering hybrids that inherit potency and flavor profiles from higher THC sativa, indica or hybrid partners. Smoking this stimulating Alaskan Thunder Fuck sativa weed has what is called a 'creeper' effect, because tokers or vapers will become aware of a slow upshifting of their senses, with a sharper mental focus with a non-couch-locking bodily relaxation. Casual cannabis connoisseurs of Alaskan Thunder Fuck sativa can enjoy its piney evergreen aroma - and rather earthy, woody, dank flavor - and then will feel a euphoric brain boost, happy uplifted emotions and physical stimulation.  Medical marijuana patients might pick up some Alaskan Thunder Fuck to help medicate such diverse problems such as attention deficit disorder, depression, pain, and nausea.


(Alaskan Thunder Fuck plant, image from Welcome to the World of Misty on Instagram)
Background:
Alaskan Thunderfuck (sometimes the middle and last parts of the name are used as a single word by dispensaries and nurseries, online and offline) is a sativa heavyweight with THC levels between 13% and 27%.  ATF, as Alaskan Thunder Fuck is sometimes abbreviated, was initially created by pairing a Northern California sativa weed strain with a Russian ruderalis, but in the 1970s someone decided to tweak it somewhat by crossing the existing version with Afghani genetics to make it even heftier. One interesting thing about the primary parent strain, the Californian cannabis North American Sativa, is that sativas tend to grow best in much warmer climates closer to the equator, whereas indica marijuana strains are more often found north of 30 degrees latitude. So both North American and Alaskan Thunder Fuck sativas are unusual pot phenotypes, or varieties, because of their atypical growing environments. Pot patients have come to depend upon the euphoric and energetic effects of ATF and recreational users often cite the cerebral creativity they experience when toking on Alaskan Thunder Fuck Strain pure sativa weed strain. With increasing legalization across the United States, Canada, and the rest of the world doubtless the fame of Alaskan Thunder Fuck ganja will continue to grow.

Equally strong sativa cannabis strains in terms of effects include Jack Herer, Sour Diesel, and Maui Wowie.

(Close up of Alaskan Thunder Fuck Flower, image source: Heather Jesson on Instagram)
Effects:
| | | |
| --- | --- | --- |
|  Alaskan Thunder Fuck Cannabis Strain General Effects | Alaskan Thunder Fuck Cannabis Strain Medical Effects | Alaskan Thunder Fuck Cannabis Strain Side Effects |
| Happy 100% | Depression 100% | Dry Mouth 100% |
| Uplifted 95% | Pain 90% | Dry Eyes 90% |
| Euphoric 80% | ADD/ADHD (attention deficit) 80% | Paranoid 70% |
| Creative 65% | Loss of Appetite 60% | Dizzy 45% |
| Energetic 50% | Fatigue 50% | Headache 30% |

(Alaskan Thunder Fuck cannabis in a dispensary bag, image from I Just Lost on Instagram)
Buying:
Now if you have a hankering for a strong sativa smoke and want to give ATF weed a whirl, you can pick up the eighth ounce for $36-$50, though it seems available mostly in western states like Washington, Oregon, Arizona and Nevada (weirdly notsomuch in California). We personally have looked for and not found it, here in Michigan, though we have had an offspring of Alaskan Thunderfuck cannabis called Gorilla Fuck (the other parent was Gorilla Glue #4) and that was a very heady sativa smoke! Now you can also enjoy Alaskan Thunder Fuck ganja, wherever it is sold, in concentrated form; you would approximately pay $18 or so for a gram of shatter or wax, maybe about $30 to $45 for a vaporizer oil cartridge, depending on whether it was a half gram or full gram – and prices do vary somewhat from dispensary to dispensary, and from region to region. Consult online menus or call ahead to check prices and availability at your local provisioning center when you are shopping for Alaskan Thunder Fuck Strain cannabis. Buying online will cost you a bit more for your Alaskan Thunder Fuck weed, and shipping prices will probably be added. Also, most places offline charge additional municipal and state taxes, so keep that in mind. Edibles don't often specify if they're made with Alaskan Thunderfuck or any particular weed strain, but the staff at the dispensary may know if you ask.  Or you could even make your own weed cookies or cannabutter brownies with some ATF pot that you made into butter or even stronger hashbutter! Whatever form you partake it in, Alaskan Thunderfuck is going to give you a pretty powerful boost!

(Alaskan Thunder Fuck pot plants growing together in a nursery, image from FACT 808 on Instagram)
Growing:
If you want to invest the time and energy to grow some Alaskan Thunder Fuck sativa strain in your own ganja garden or greenhouse, then you should know that while ATF cannabis prefers to be grown outdoors due to its northern climate cultivation, in a cool climate, with air conditioning it can do just fine as an indoor grow; also be aware that it will likely take you 8-10 weeks from planting to harvest. You'll find that your Alaskan Thunder Fuck pot plants will reach a height of about 30 inches - so less than a yard, maybe about a meter tall. Your labor of love should net you a yield of 16 oz of cannabis buds, or nugs, per square yard or meter, with a superior outdoor 32 oz per each Alaskan Thunder Fuck pot plant. The flowers, buds or nugs, of your Alaskan TF pot plants, tend to be large and bountifully trichome-frosted with a skunky, piney smell when held up to your nose.

Strain seeds of Alaskan Thunder Fuck Strain can be purchased online; Dutch Seed Shop sells Alaskan Thunder Fuck feminized seeds for $111.20 for a 10-pack, and Cannabis Seeds USA  has them for $52.50 for the same amount – as ever, exercise due to caution when buying from an online retailer, do a little internet research to be sure that they are reputable. If you feel better buying from your local offline nursery, they probably have clones or starter plants for about $30-$40 bucks a piece, so give them a call – especially if you're in one of the western states where weed is legal, and where ATF can be found, to see if they have any Alaskan Thunder Fuck cannabis plants to sell you.

Here is a vid of a guy reviewing both the Alaskan Thunder Fuck Strain sativa strain itself as well as some plants that he has grown in his medical garden:




(Alaskan Thunder Fuck vaporizer oil cartridge, image source: Laurene Clausen Logsdon on Instagram)
Summary:
The final thrust of all of this is that Alaskan Thunder Fuck is a powerfully stimulating pure sativa weed strain as potent as the sorta strange name might imply! ATF was sired from a Northern American sativa weed strain crossed with a Russian ruderalis, with a little Afghani ganja later added to bring it to its current sativa strength. It is primarily a West Coast strain, but Alaskan Thunder F is well-enough known in other regions that there is a reasonable hope that it will move eventually into other marijuana markets. It is a better outdoor grow than indoor, preferring a cooler growing climate; but with proper cooling and ventilation, you can get a decent indoor harvest. You can judge Alaskan Thunder Fuck Strain cannabis strain for yourself, pack a bowl, sit back, spark your lighter, take a solid lungful, and let it hit you well and hit you hard as your mood is lifted, your creativity boosted, your body energized as you enjoy its dank piney taste and aroma. Whatever you may think of the name, Alaskan Thunder Fuck marijuana has made a name for itself among some of the best and strongest sativa weed strains.
.

Written by Megan Medeiros (BA)
Megan Medeiros has a bachelor's degree in English and is currently working on a master's in English at James Madison University. She's the owner and operator of Medeiros Writing, and has been working as a cannabis writer for the past three years, mostly following the legal climate of marijuana, especially in areas like California, Colorado, Oregon, Canada, and other legal areas.
This post contains references to products from one or more of our advertisers. We may receive compensation when you click on links to those products. For an explanation of our Advertising Policy, visit this page. All photos were sourced from Pinterest.com | updated 2021
Stay home & get your daily
needs from our shop
Start You'r Daily Shopping with Nest Mart
Best prices & offers
Orders $50 or more
Free delivery
24/7 amazing services
Great daily deal
When you sign up
Wide assortment
Mega Discounts
Easy returns
Within 30 days