Gorilla Glue 4 Cannabis Strain | GG4 Weed Strain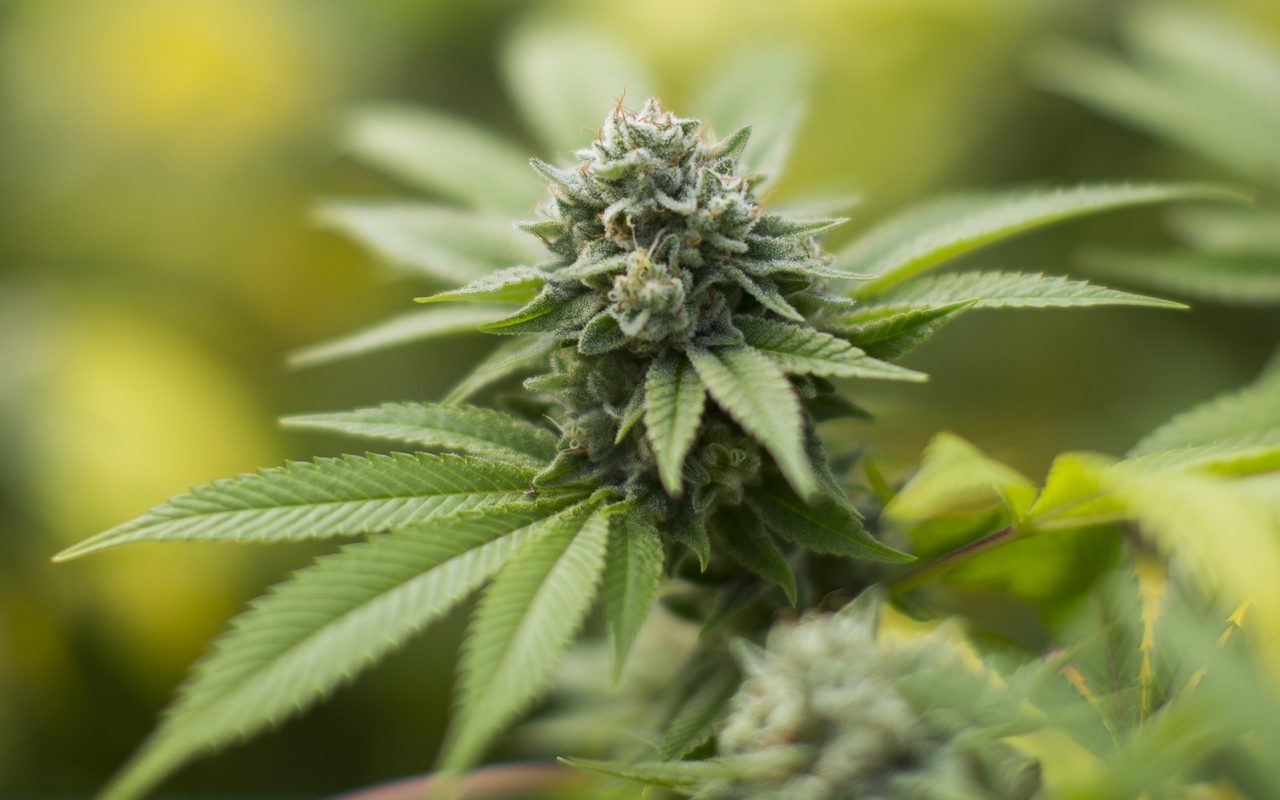 Gorilla Glue #4 is a top choice among medical patients for its glue-like effects; it will literally glue you to the couch! It Is desired for its potency and known for its strong earthy, diesel smell. Gorilla Glue #4 is a top choice by those cannabis consumers who feel they need to self-medicate.

Gorilla Glue #4, also sometimes called gg4, can help with a number of health ailments including the reduction of pain, muscle spasms, help manage the symptoms of arthritis, and treat acute inflammatory injuries. If you find yourself in need of strong pain relief, this is the strain for you. It boasts 25-28% THC range, that will help you ease those aches and pains at the end of a long day.
Gorilla Glue #4 is most widely used to treat mental health symptoms such as depression, anxiety, stress, and even obsessive-compulsive disorder as it produces a heavy body stone.
The effects are cerebral, energizing, euphoric, happy, and uplifting. It creates a strong body high that is great for relaxation.
Gorilla Glue #4 has won awards at the 2014 Cannabis Cup in both Los Angeles and Michigan, specifically first place at the 2014 Los Angeles High Times Cannabis Cup. The smoke is full-bodied and flavourful, with notes of chocolate and coffee. The buds are green, with orange hairs dispersed throughout, and the plant boasts dense, resinous, spongy buds that are covered in trichomes.
Offspring of Sour Diesel, Sour Dubb, and Chocolate Diesel, let's learn more about gg4 Weed strain in this strain review!

For anyone who needs complete control over the decarboxylation process, the Volcano desktop vaporizer needs to be added to your virtual shopping bag immediately.

It's easy to use and maintain and comes with a 3-year warranty just in case you need a repair. Given its quality German build though, we don't see that being necessary!

Thank you to the pro photogs over at Dank Stop for this lovely stock photo.
 


Why do we rarely hear about Hawaiian bud? Aloha GG4, photo: @supakauaii_420

Gorilla Glue #4 Background
Gorilla Glue strain has three parent strains. It is a cross between Chem Sister, Sour Dubb, and Chocolate Diesel strains. It gets its name, similar to the commercial adhesive Gorilla Glue, because of its resinous, sticky buds. It is also a strain well known for "gluing you to the couch."
Gorilla Glue strain was first bred by a Nevada-based breeding company but is typically grown in Colorado. Expect to pay $50-$70 for an eighth of this sticky, Indica dominant hybrid. It is well touted for its high THC levels (25-28% THC) and is a great strain for managing pain, arthritis, ADHD, and many more medical conditions.

 

We really think the Gorilla Glue 4 strain is best enjoyed with a couch nearby. For that, you're going to want a quality bong that offers a smooth toke.

Marley Naturals' Glass and Walnut Wood Beaker Bong is a great option just for that. Stylized just enough to set it apart from the rest, this classic bong uses a 5-hole downstem, helping to ensure quality tokes every time.

@marleynatural show cases their products beautifully in their natural habitat on their insta
GG4 Tastes and Aromas
The aroma Gorilla Glue #4 gives off is a strong diesel (thanks to one of its parents, Chocolate Diesel, no doubt), and tastes earthy with notes of coffee and chocolate. When grown indoors, the plant yields 18oz. of dried bud, while plants grown outdoors will produce upwards of 21oz. per plant. Flowering time for this highly medicinal strain is 8-9 weeks, and it is considered an easy plant to grow.
Gorilla Glue is available in dried herb, oils, tinctures, and edibles, in online markets. Oils and other products produced by GG4 weed strain will be high in sativa THC and low in CBD, which makes the effects of these products psychoactive.


 

Speaking of tasty strains, check out this Cookie Monster themed rig from Empire Glassworks!

Not only is it ...awesome! It's also a high-quality water pipe that will give you a smooth toke while you're enjoying your gg strains.

Okay, normally we pull from @empireglasswork's ig for photos, but we think this stock photo shares the awesomeness of this bong well enough!

 

Why stop a good thing once it's rolling? That's why we're including this awesome ice cream hand pipe, also from Empire Glassworks. (Can you tell we're hungry as we write this...?)

Let's not start any debates about which ice cream cone toppings are best. No one has to know the best is actually the delicious, potent gg 4 anyway!

See above - @empireglassworks does a mean job of putting dope images up on their insta, but sometimes a good ol' fashion stock photo does what you need it to!



 GG4 hearts you with this heart-shaped Gorilla GLue #4 flower bunch, photo: @vegas_big_ro
GG4 Effects
As this is a high THC strain, it is best suited to seasoned cannabis consumers. New users may experience strong effects like a racing effect from gg strains like gg4 that are too much to handle. Additionally, this strain has low CBD levels, between .05 and .1 percent, therefore, it is not for treating serious medical conditions such as cancer, seizures, central nervous disorders, and serious mental health disorders. It is more effective to use as a sleep aid, or to fight depression, anxiety, nausea, and pain.
The effects of Gorilla Glue #4 will hit you immediately even when you just get a scent of it. The high THC level produces a dreamy body-stone with relaxation properties that will help even the most stressed-out individuals.
| | |
| --- | --- |
|   | When you're smoking the best weed, you need to make sure you're taking good care of it. Housing it in this airtight container will make sure your bud stays fresh and you Stay Lifted. |

Sorry not sorry if all these stock photos are making you hungry. Join the club! 
| | | |
| --- | --- | --- |
| GG4 Effects | GG4 Medical | GG4 Side Effects |
| Euphoria 100% | Pain Relief 100% | Cottonmouth 100% |
| Energetic 75% | Stress Relief 90% | Paranoia 40% |
| Happy 70% | Depression 60% | Dry Eyes 30% |
| Uplifting 50% | Insomnia 50% | Anxiety 15% |
| Relaxed 50% | Nausea 40% | Dizzy 10% |
GG4 is touted as a highly medicinal strain, boasting up to 28% THC. This strain is not for novice users, as the effects are significant.
GG4 Grow Tips
Gorilla Glue #4 seeds can be purchased from a wide array of seed vendors in the United States, Canada and the U.K. Expect to pay about $90 for 10 seeds.
Gorilla Glue #4 can be grown indoors or outdoors, although outdoor production will produce a higher yield of 18oz to 21oz., respectively. Flowering time for this strain is 8-9 weeks or mid-October.
One main concern with growing gg strains outdoors is that it has a very pungent aroma when raw. Take care to grow this plant in a secure, safe location so that all of your hard work is not lost to a curious passer-by.
 


Such a beautiful plant to grow - thick crystals and big buds, photo: @olympusgardensog

Gorilla Glue #4 Overview
Gorilla Glue #4 is a sticky, Indica dominant hybrid strain that is excellent at managing chronic pain, as well as a number of other symptoms. Its high THC to CBD ratio produces a cerebral body high that is euphoric and uplifting. The cannabis community recognizes it is not a strain for novice users due to its high potency and THC content.
Gorilla Glue #4 is inappropriate for treating more serious medical conditions such as seizures, epilepsy, schizophrenia, and fibromyalgia due to its extremely low CBD content (.05% - .1%)
Gorilla Glue #4 is a cross between Chem Sister, Sour Dubb, and Chocolate Diesel strains. It gets its name, similar to the commercial adhesive Gorilla Glue, because of its resinous, sticky buds and strong diesel smell. When consumed GG4 has notes of chocolate and coffee, although the strong diesel smell can mask these flavors. It is one of the most pungent strains to smoke but is highly sought after for its medicinal properties. There's a reason it won first place at the 2014 Los Angeles High Times Cannabis Cup.

Gorilla Glue #4 is considered an easy strain to grow and produces large yields, whether growing is done indoors or outdoors. Due to the aroma of the Gorilla Glue #4 plant it is wise to grow this strain indoors.
Grow experts recommend that if you are looking to reduce pain after a long day, or just relax and get "glued" to the couch, this is the strain for you. Novice users should exercise caution when using this strain, as the effects may be too intense for some individuals to handle.
.

Written by Megan Medeiros (BA)
Megan Medeiros has a bachelor's degree in English and is currently working on a master's in English at James Madison University. She's the owner and operator of Medeiros Writing, and has been working as a cannabis writer for the past three years, mostly following the legal climate of marijuana, especially in areas like California, Colorado, Oregon, Canada, and other legal areas.
This post contains references to products from one or more of our advertisers. We may receive compensation when you click on links to those products. For an explanation of our Advertising Policy, visit this page. All photos were sourced from Pinterest.com | updated 2021
Strains
Stay home & get your daily
needs from our shop
Start You'r Daily Shopping with Nest Mart
Best prices & offers
Orders $50 or more
Free delivery
24/7 amazing services
Great daily deal
When you sign up
Wide assortment
Mega Discounts
Easy returns
Within 30 days