Pink Kush Strain Review | Pink Candy Strain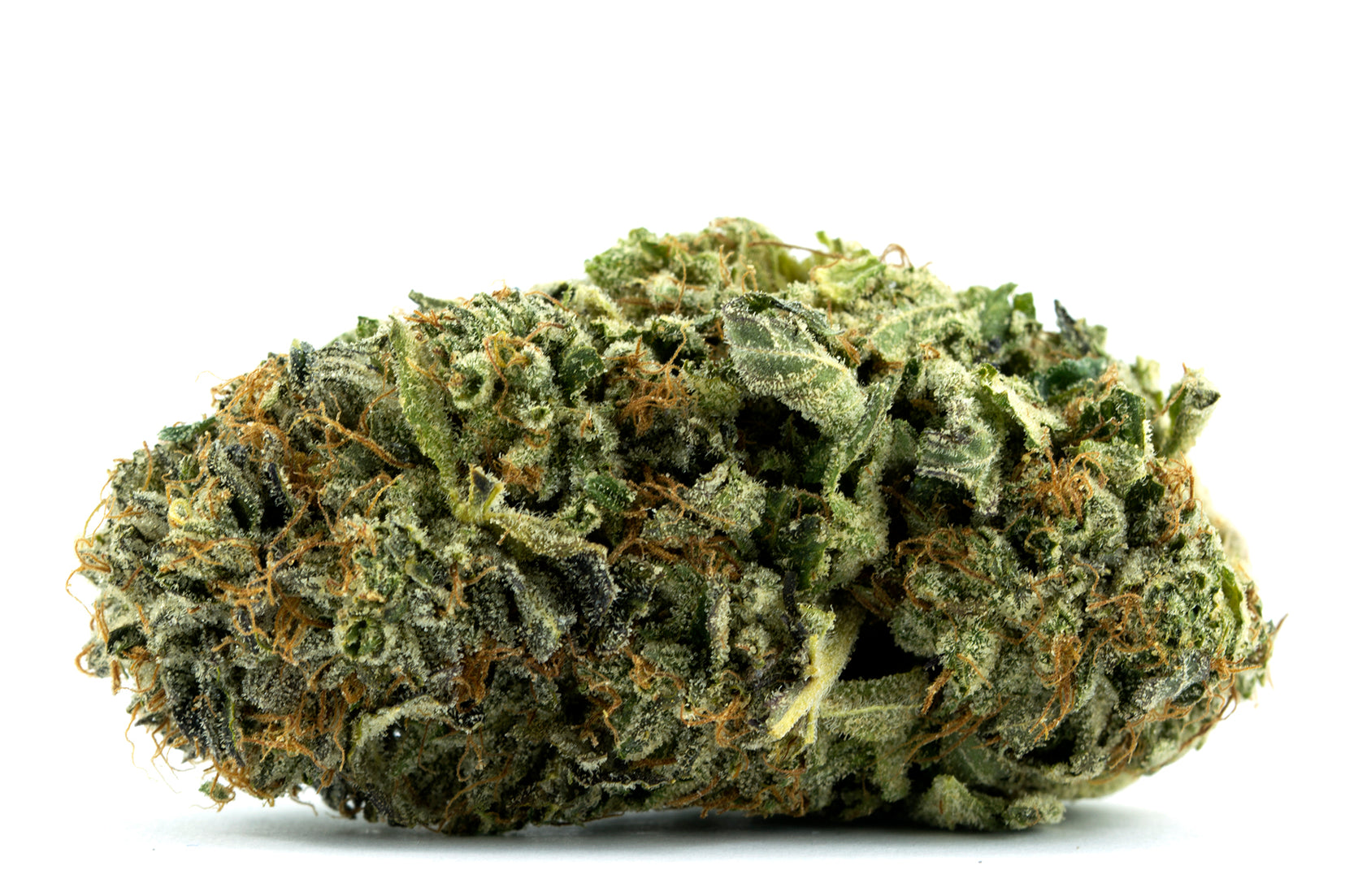 Pink Kush, a relative of OG Kush, is one of the most sought-after strains out there. It's exceptionally hard to grow, making it even more desirable. It has breathtaking purple and pink hues, which, if you know anything about cannabis, makes tokers yearn for it even more. This strain is a phenotype of OG Kush, and, as such, it's an Indica-dominant hybrid, with about a 90/10 ratio. This strain will put you to sleep after lighting it up, so don't plan on going anywhere after hitting this strain!

This Pink Kush strain is also sometimes called Pink Pussy strain, Pink Cadillac strain, Pink OG, Pink OG Kush, Pink Fig, Pink Lady strain, Pink Candy strain, or Pussy Kush.
 

If you want to send Pink Kush into smoke in style, then a correspondingly pink bong is the perfect way to do it!

This sturdy, 9mm, 18" beaker bong from Maverick Glass is the perfect companion for an indica-dominant strain like Pink Kush.
Made from food grade silicone, you can feel good about smoking any cannabis strain out of the indestructible Kirby by PieceMaker. 

Besides its quality build, the Kirby also utilizes Hex-TEK high perc tech, includes a silicone diffuser downstem, and has many other thoughtful features such as a lighter holder. Oh! And it glows in the dark! What's not to love?




Snackin' on some Pink Kush, photo: @the_real_tokes

Pink Kush: Indica or Sativa? 
This strain is definitely an Indica-dominant hybrid. The pink hairs covering it, the high THC percentage, and the sugary trichomes that grow on it are what makes Pink Kush Weed Strain such a crowd-pleaser. If you can find this strain, you'll definitely be one happy stoner. This is particularly true if you're an indica lover. It has green buds with some pink and purple hues to it. The smell, once it's ground up,
 will make most stoners salivate. Pink Kush is truly a top-shelf bud.
Pink Kush weed strain genetics 
Pink Kush is simply a phenotype of OG Kush, which is one of the heavy-weight indica-dominant hybrids found in the cannabis community. OG Kush is a particularly popular strain for the same reasons that Pink Kush is a popular strain. Consumer reviews laud its high yields and high THC percentages, which lead to some particularly enjoyable side effects including relaxing body effects including relief from chronic pain. You can read more about OG Kush here.
 

One of the best ways to enjoy the flavors and effects of a quality strain like Pink Kush is through a well-made vaporizer like the MIVA 2 from Kandypens.

Precise temperature control gives you the power to set the hybrid convection and conduction heating system to your desired temp. This means you'll be able to enjoy your herb exactly how you like it.
Pink Kush THC percentage
The average indica-dominant hybrid has around 13% THC inside it, whereas Pink Kush tests at around 20% on average. The top THC phenotypes have up to 22% THC in them. While Pink Kush isn't quite on the same level as its relative, OG Kush, this marijuana strain more than makes up for this in its flowery, vanilla taste.


 
Pink OG Kush price
Pay attention to names here. "Pink OG Kush" is a dankenstein strain. This means that it is also a boutique marijuana strain. The problem with a lot of these strains is that they're clone-only, or the seeds are highly protected. "

Pink Kush Weed Strain

" may be difficult to find, but is offered by Barney's Farm in the Netherlands, or you may be able to find it in the Pacific Northwest of the United States. Barney's Farm is one of the top Amsterdam seedbanks. This means that not only are the seeds available online, increasing the supply, but you can also go to Amsterdam to try this marijuana strain. Barney's Farm normally sells all of their own strains in their coffee shop, so pop in and see for yourself. The price for this strain is about $15 a gram.


 
Pink Kush taste
You're going to want to crack out your flower
vape
for this one because it's a truly tasty strain. The best thing about flower vapes is that there's no combustion of plant material when your vape, so the taste is much better. This, when coupled with the health benefits of smoking through a vaporizer, makes them a great choice. The taste profile of Pink Kush is:
Pink Kush oil, wax, shatter, edibles, etc.
There are other advantages of using a flower vape. The main advantage is that you can use the already vaped marijuana (or AVB as it's known) to easily create edibles. Simply get your AVB (it will be a little bit brown) and mix it with either an oil or a fat, and then either cook it or eat it as is. The best method for this is to spread butter onto some toast and sprinkle a little bit of AVB onto it. Depending on the temperature you used to vape the original bud, is how potent the AVB will be. Please note: this stuff is pretty potent in general, so don't overdo it! If you do find yourself feeling a bit too high, simply take a cold shower or drink a coffee (or both) and you should feel right as rain in no time!
 
You can also use any strain you like to create wax, shatter, edibles, etc. Some strains are superior to others, because of their flavors, or the number of trichomes they have. Pink Kush has both a lot of trichomes and a fantastic taste, making it a great choice for concentrates. It's no small wonder that companies such as Heavy Hitters offer Pink Kush as one of their flavors.
 

For a no-brainer vape that offers great vapor flavors at an affordable price, the Atmos Jump Dry Herb Vaporizer is exactly what you need!

Built with a carbon fiber exterior, this sturdy pen has an anodized heating chamber, an optimized temp setting, heats up quickly and automatically shuts off so you and your herb stay safe!



This Pink Kush cross looking worthy of its name, photo: @

tetra_genetix


Pink Kush nug, ready for duty, photo: @gaspackwoods


Pink Kush General Effects

Pink Kush

Medical Effects

Pink Kush Effects

Relaxed 100%
Stress Relief 100%
Happy 90%
Pain Relief 90%

Anxiety 55%

Sleepy 60%
Insomnia 80%
Paranoia 45%
Uplifted 60%
Depression 80%
Headache 15%
Euphoric 45% 
Muscle Spasms 55%

Lethargy 10%
 
Pink Kush is an Indica-dominant hybrid cannabis strain, and it has a high THC percentage. This can either be a good thing or a bad thing, depending on what you want. If you're looking for a medicine to help you sleep well or to control chronic pain, then Pink Kush is your friend. If you're looking for something to give you energy or to make you social, then look for a marijuana strain such as Sour Diesel.
Pink Kush flowering time 
Pink Kush has a very long flowering time. In fact, it takes about 11 weeks to grow, which can feel like a very long time when you can see the trichomes forming and you just want to grind it up and give it a smoke. Trust us though, you should wait the full 11 weeks in order to ensure full potency.
Pink Kush Growing tips
Pink Kush can be grown either indoors and outdoors, and will only grow to a relatively modest 1.2m. You will need low humidity, due to the dense buds. You may also need to support the plant a few weeks in, to ensure that the buds don't droop.
Pink Kush seeds
Barney's Farm, a reputable seedbank from Amsterdam, often has this seed in stock. Just check their site to see if they have it!
 
Pink Kush yield 
Despite the long wait, Pink Kush's yield is good, with a yield of 600-700 outdoor, and the same yield for an indoor grow.


 

Grind away on that precious herb, and watch the bits fall as you go!

With the Sweet Tooth 4 Piece Aluminum Grinder, the anodized aluminum construction ensures a sturdy grinder that you can take anywhere. A pollen catcher, removable screen, and the glass window are all bonus features that make this grinder stand out from the rest.
Pink Kush may take a while to grow, but, trust us, you'll be glad you waited! Photo: @drgrowthumb

What is the Pink Kush marijuana strain?
Pink Kush is a dankenstein strain that is both hard to grow and incredibly sought-after. If Barney's Farm doesn't have the seeds in stock, it will be very hard to find this strain. However, if you do find this strain and manage to either grow it or smoke it in Amsterdam, you'll be rewarded with a high trichome production, high THC percentage, heavy Indica effects, with a high yield and a fantastic taste.
Dank strain

Known for its taste and potent Indica-dominant effects

Great for use in a flower vape

Notoriously difficult to grow

High Yield

Indoor and outdoor grow

Purple and pink flower

Vanilla scent and taste

Dense buds
Smoked Pink Kush before? Let us know what you thought in the comments below! 
.

Written by Megan Medeiros (BA)
Megan Medeiros has a bachelor's degree in English and is currently working on a master's in English at James Madison University. She's the owner and operator of Medeiros Writing, and has been working as a cannabis writer for the past three years, mostly following the legal climate of marijuana, especially in areas like California, Colorado, Oregon, Canada, and other legal areas.
This post contains references to products from one or more of our advertisers. We may receive compensation when you click on links to those products. For an explanation of our Advertising Policy, visit this page. All photos were sourced from Pinterest.com | updated 2021
Strains
Stay home & get your daily
needs from our shop
Start You'r Daily Shopping with Nest Mart
Best prices & offers
Orders $50 or more
Free delivery
24/7 amazing services
Great daily deal
When you sign up
Wide assortment
Mega Discounts
Easy returns
Within 30 days