Biscotti Strain Review | Biscotti Gelato Strain | Biscotti Cookies Strain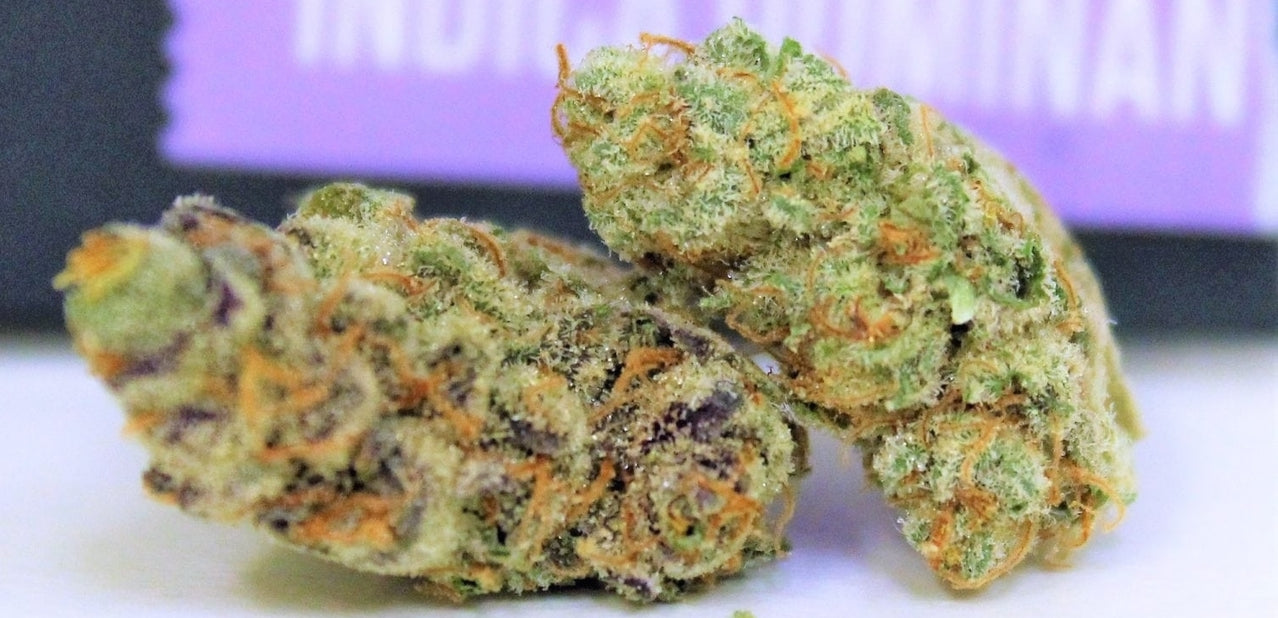 Biscotti. No, this review is not for the hard breakfast treat that is meant to accompany your morning coffee or tea. Instead, we're about to tell you the many reasons why you're going to need a very tall ladder to reach the shelf that the  Biscotti Cookies Strain sits atop. It's truly one of the best! We shouldn't get your hopes up though. The odds of finding the Biscotti Gelato Strain are exceedingly slim. It's an exceptionally rare strain. If you do find this strain, hold onto it. Don't waste it. You probably won't find it again for a long time.
Biscotti Gelato Strain

is what is known as a 'dankenstein' strain, which is basically any strain that is a cross of two or more exceptionally dank strains. The end result is usually what some people call 'next-gen,' meaning it is part of the ever-growing cannabis revolution. Dankenstein strains are bred for two reasons: potency and flavor. Many landraces crossed strains have either potency or flavor. Strains like Biscotti Gelato Strain, on the other hand, have both. This makes them exceptionally popular, but, unfortunately, they are often very very rare, and, if you do find them, very very expensive. Picture the top shelf, and then picture a shelf above the top shelf. That is what these strains, like Biscotti Mintz Strain, are. There is another Biscotti Strain Leafly, called Tangie Biscotti, or Tangie Leafly. This is most likely a cross of Biscotti and Tangie.




Biscotti nugg on the right - we'd happily take it with our morning coffee! Photo: @eyegrowtrees


Biscotti Gelato Strain: indica or sativa?
Most dankenstein strains are hybrids. Biscotti Gelato Strain is also an indica-dominant hybrid. It has a leaning of 80:20, meaning you can expect both a cerebral buzz, but you'll most likely experience an overwhelming body high. However, the main thing that stands out about Biscotti is its flavor. If you're looking for an exceptional indica-dominant hybrid with one of the best tastes you've ever tasted, then you've found it.  
Biscotti Strain Leafly genetics
This strain was created by Cookies Fam. They claim to be the pioneers of a lot of these exceptionally dank strains, and it's hard to disagree with them. Biscotti Gelato Strain is a cross between:
Gelato #25

Girl Scout Cookies

South Florida OG
 
There's some discrepancy as to what the third cross is, depending on who you talk to. Some will tell you it was Gorilla Glue #4 and not South Florida OG, but it\'ll be one of these combinations. Gelato 25 is in itself a dankenstein strain, and
Gorilla Glue #4
and
Girl Scout Cookies
are two of the best known dank strains in the world. Biscotti Gelato Strain is an ultimate strain with probably one of the best taste profiles in the business.


Biscotti weed Strain THC percentage
The average indica-dominant hybrid has around 12-13% THC inside it. Biscotti Gelato Strain, having been bred for taste and potency purposes, averages in with a THC level of 25%. Some Biscotti phenotypes test at around 30%. This is massive and is almost guaranteed to knock your socks off. You may also experience some couch lock, which shouldn\'t come as a huge surprise, as that\'s what its parent, Gorilla Glue #4, is famous for.


Biscotti Strain price
This is the real kicker. Unfortunately, as the seeds aren't available online, and in general the Biscotti Strain Leafly is exceptionally rare, the price is very high. In Amsterdam, you're probably looking at about $40 a gram at least. In North America, it's going to be slightly cheaper, but still not cheap by any means. A gram will cost at least $25 in a dispensary in California. However, because of its strength, it's probably worth it.


Biscotti Weed Strain taste
Fruity

Nutty

Spicy

Sugary

Sweet
Biscotti Gelato Strain is definitely a strain you're going to want to experience inside a flower
vaporizer
. Although it's also one of those strains that taste good no matter how you smoke it, it's definitely worth cracking out your trusty flower vape for this one. It's simply one of the best-tasting strains available on the market right now, and to combust it ruins the flavor ever so slightly. By using a vaporizer there is no combustion, keeping Biscotti's elegant flavor profile intact. Furthermore, if you
grind
 the weed first, it will taste even better inside your vaporizer.


Biscotti Strain oil, wax, shatter, edibles, etc.
Any strain can be made into wax or oil. It's not an easy process, but you can technically make Butane Hash Oil from any strain at home. It's considered to be dangerous, so please exercise extreme caution when attempting it. If you do manage to find enough of this strain to make into a concentrate, then you will understand why people pick strains like this. Basically, strains are picked for having flavor and potency. Biscotti Gelato Strain, as we've already seen, has both. This makes it a great choice for making into concentrates. 
Edibles can also be made from any strain you like. There are two methods for making edibles; both include decarboxylation of your weed. Decarboxylation is the process of turning THCA (raw THC) into THC. Without this process, your weed edibles will only have a little bit of potency. To decarb your weed normally, simply stick it in the oven. After an hour or so, take it out, mix it with a fat or oil, and you're good to go. The other method is using Already Vaped Bud, which is the leftover flower from your vaporizer. This is actually a perfectly decarboxylated weed, so you simply need to mix it with a fat or oil, and again you're good to go.
Looking for some inspiration for your weed cooking?
Try one of these awesome cookbooks!
| | | |
| --- | --- | --- |
| | | |
| From drinks to salads, from pasta to dessert - "Bong Appétit" has all your cooking questions answered! | Any book that includes a fried mac & cheese recipe is a winner to us! With "Edibles: Small Bites for the modern cannabis kitchen" you get that, PLUS some important cooking-with-cannabis knowledge. | Whether you've got the munchies or your sweet tooth is dialing in, "Edibles for Beginners" is a fun way to get your cannabis cooking feet underneath you. |
| | | |
Is it just us, or is this Biscotti looking an awful lot like dessert? Photo: @colliercannabis


Okay, now we're just getting hungry! Photo: @barcelonabluemagic


| | | |
| --- | --- | --- |
| Biscotti General Effects | Biscotti Medical Effects | Biscotti Effects Negative |
| Relaxed 100% | Anxiety 100% | |
| Uplifted 90% | Chronic Pain 75% | Dry Eyes 75% |
| Giggly 75% | Depression 65% | Headaches 75% |
| Euphoric 70% | Mood Swings 65% | Lethargy 75% |
| Happy 45%  | Stress 45% | Couch Lock 5% |
This tasty indica-dominant hybrid also has pretty potent Biscotti Strain Effects effects. A relaxing strain, Biscotti Gelato Strain could easily leave you feeling completely glued to your couch, so watch out! If you do feel glued to your couch, you can simply take a cold shower and drink a coffee, and you should feel better afterward. If you're looking for an indica that will chill you out, but also give you a slight cerebral buzz, then Biscotti Mintz Strain is definitely one to try. Its indica/sativa balance makes it a good strain for treating depression, although this by no means it will cure everyone's depression. All we have to say is there's only one way to find out if it will work for you or not...


| | |
| --- | --- |
| | Keep all of your precious herbs separated and fresh with these Shrub Club herb jars. You can label and re-label them, ensuring you know exactly what you're taking on. |
Biscotti Strain flowering time
It is very hard to find information about the growth of this strain because it's such a rare strain. However, some people say that the flowering time of Biscotti is 8-9 weeks.


Biscotti Strain Growing tips
As this strain is a bushy indica-dominant hybrid, it's recommended that you trim the top leaves of the plant. This allows the business of the plant to stop growing as much, allowing light and air to get to the bottom of the plant. This strain is also a good example of a strain that reacts well to Sea of Green or Screen of Green techniques.
| | |
| --- | --- |
|   | If you're planning on growing your own Biscotti, you can plan on doing some trimming. We recommend investing in a quality pair of shears like these super precise, non-stick (key!) Fiskars Shears. Bonus? There are two in a pack! |


Biscotti Strain seeds

The seeds of this strain are next to impossible to find, but you can try and find some online. Seedsman or Cookies Fam would be good options to start your search at.


Biscotti weed Strain yield
The yield of Biscotti is average.


If this doesn't bring you joy we don't know what will

! Photo: @cannabliss_bcn



What is the Biscotti strain?
Biscotti Gelato Strain, the love child of a truly beautiful threesome between Gelato 25, Girl Scout Cookies, and (most likely) South Florida OG, is a truly boutique strain. While it can be difficult to find, it's worth the trouble. If you do manage to find it then you're in luck, as you've just found probably one of the best-tasting strains on the market. You should definitely try out this strain inside a flower vaporizer, as you will come to truly appreciate the flavor profile this way. Furthermore, this strain is an indica-dominant hybrid, which makes it a great choice for relaxing and potentially for dealing with depression.
Biscotti is a dankenstein strain

High THC percentage

Very potent

Flavour is second to none

Great indica-dominant high

Leaves you feeling both relaxed and euphoric

Recommended for depression and for stress
.

Written by Megan Medeiros (BA)
Megan Medeiros has a bachelor's degree in English and is currently working on a master's in English at James Madison University. She's the owner and operator of Medeiros Writing, and has been working as a cannabis writer for the past three years, mostly following the legal climate of marijuana, especially in areas like California, Colorado, Oregon, Canada, and other legal areas.
This post contains references to products from one or more of our advertisers. We may receive compensation when you click on links to those products. For an explanation of our Advertising Policy, visit this page. All photos were sourced from Pinterest.com | updated 2021
Have thoughts or questions to share about Biscotti? Let us know in the comments below!
Strains
Stay home & get your daily
needs from our shop
Start You'r Daily Shopping with Nest Mart
Best prices & offers
Orders $50 or more
Free delivery
24/7 amazing services
Great daily deal
When you sign up
Wide assortment
Mega Discounts
Easy returns
Within 30 days