Headband Strain Cannabis Review | Headband Weed Strain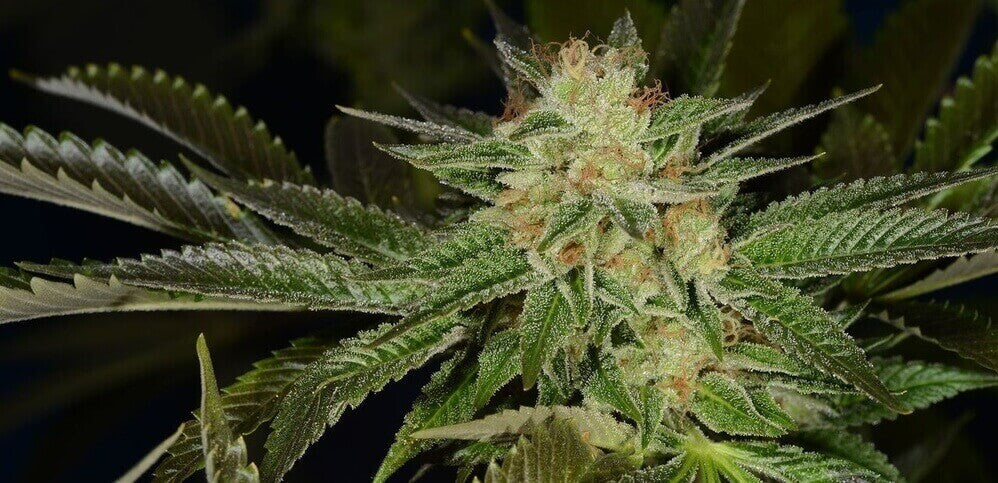 If you know anything about weed, then you've heard of Sour Diesel and O.G Kush. Now imagine they had a baby. Well, they did. Headband, Sour OG or Headband OG Strain is a cross between these two titans of the cannabis community. Why is it called  headband weed, you may ask? Well, because it is supposed to give you a slight cerebral buzzing around the forehead, which of course comes from its Sativa-dominant parent, Sour Diesel.
This strain is one of a number of strains sought after because of its relative balance between sativa and indica. People don't like being too high or too chill which is why hybrids, such as Headband strains, are becoming increasingly popular in the cannabis world. Fair warning, this strain is considered a creeper which means the high will creep up on you. This could be too full-on, so just pace yourself.


(Bowl of Headband Cannabis. Photo by @stoney_resintrip_

)
Headband Weed Price
This strain is considered top shelf, so the average eighth of Headband in California is around $40-50.
Headband Genetics
(Headband Weed Genetics.. Photo @oregoncannagirl)
As previously mentioned, this strain is a cross between two of the most notorious strains on the planet: Sour Diesel and O.G. Kush. Here is a little bit of info on both to introduce their baby, Headband.
Headband Sour Diesel
Sour Diesel or Sour D (hence Sour OG) is a sativa-dominant hybrid, whose parentage includes Chemdawg 91 and Super Skunk, is known across the community for its invigorating sativa like effects. It was originally created by the legendary Amsterdam seed company Royal Queen Seeds, and like most of the strains created in the Netherlands, Sour Diesel is truly a beautiful strain.
Headband O.G Kush
A Cali classic, whether it means original or ocean grown, no-one really knows, but no-one really cares. As long as what they're smoking is the real O.G. then they know that they're in for a nice relaxing indica-dominant hybrid high. If a strain comes out of the O.G. Kush line you know that it's going to keep the smooth taste and flavor as well as the relaxing body high of its parent. 
Headband strain info
The headband strain is seriously an impressive concoction. Because of the levels of interbreeding these days, it's very hard to tell what you're actually getting. A good place to experience some very nice weed legally is Amsterdam, providing you go to a high-end shop such as Het Ballonnetje or Green Seed Co. The final product of Headband is impressive, showcasing some top-notch breeding.
The name itself suggests a Californian heritage. The actual name is either 707 Headband or 808 Headband, which is apparently a reference to area codes in the Northern California Bay Area. The exact heritage of the strain isn't fully known, which is unfortunate. Some sources point to Colorado, but let's just say it is a West Coast treat. If you are able to find an original form of Headband Kush, legend has it that you will be coasting high from coast to coast.



Headband bud, photo: @justyourbud15

808 Headband THC Levels & Buds
The headband weed strain has a pretty high THC content -- it has been measured at between 20% and an impressive 27%. The  Headband strain buds are small and nuggety, which is great when you grind them up into fine, dust-covered bits ready to roll up and smoke. Depending on growing techniques, there may be some purpling to the leaves. This is a sought after thing, but it's not always necessarily a sure sign of quality. The trichomes of this bud are undeniable, but can only truly be appreciated after grinding the buds up. The smell after grinding is also wonderful, so take a whiff. Because of the trichomes you'll probably require a grinder regardless, as the buds are fairly sticky.
When you do take a whiff, you'll smell the skunk of the Sour Diesel, as well as a lemony scent. Lemon is definitely headbands number one trait, as truly lemon strains taste the best. Particularly through a flower vaporizer. You should also be able to smell the O.G Kush, which smells piney and earthy. Sour Diesel also has a pungent smell of diesel, which some headband phenotypes carry on. This strain is very high THC if you smoked weed in the past and you're looking to try it again maybe for medicine, then just be careful with dosages. This is a strong strain and could knock your socks off if you smoke too much.
Can you make oil, tinctures, shatter, or edibles with Headband?
Just remember that you can make literally anything you want providing you follow the instructions properly. All you need is an organic plant matter. You should always decarboxylate your weed first, as this ensures it's not raw. You can do this by vaping it, which means you can basically get high twice. As this video shows below, you can make a cannabis tincture using the Headband strains if you want. As headband is a Kush strain, it makes good tinctures because of its sedating qualities.
 
Photo of Headband Medical Weed, photo by @acannabispage
This bud here clearly has purplish hues to it which is a frequent trait of some Headband strains.  
Headband Strain Effects
| | | |
| --- | --- | --- |
| Headband Effects | Headband Medical | Headband Negatives |
| Relaxed 100% | Stress 100% | Dry mouth 100% |
| Happy 85% | Depression 75% | Dry/red eyes 40% |
| Euphoric 80% | Pain 60% | Anxious 30% |
| Uplifted 60% | Headaches 50% | Dizzy 25% |
| Creative 50% | Lack of Appetite 40% | Headache 25% |
As a medicine,, it's hard to find a better strain and is regularly used in the treatment of anxiety, depression, and pain relief. Headband OG Strain smoke and flavor are top-notch, and the balance of effects makes it a great remedy for anxiety, depression, etc. This is particularly true because it's Sativa-dominant, which is sometimes required for mental health issues.
For recreational users, you can expect to enjoy a relaxed yet slightly energetic high. At the very least you won't be couchlocked, and should find yourself more open to doing something like the chores, or some work. Headband strain is definitely great for lying down on the sofa all day if that's what you want, but you should have enough energy to do something if needed.

Headband taste profile
Growing Headband
It has a solid genetic profile. This means that it produces versatile plants that can be grown with limited amounts of experience. The Headband plant is not vulnerable to mold or disease, and as mentioned before, can produce some purple hues. It's easy to grow this plant outside during the summer or all year round inside. You should try to trim your leaves often as this allows for the buds to grow larger. This is particularly important because the Headband buds are quite small and you probably want the biggest buds you can yield. The growing time is on the low end of about 8-10 weeks. The yield average weighing in at 3-6oz per squared foot.
 This video shows how to prune your buds, allowing the buds to grow bigger. This is particularly helpful when growing plants such as Headband weed strain which grows small, compact buds.


Imposters 
Don't get this strain confused with Headband Haze. Because each strain has two distinct parents, it can be difficult to keep track of all the different strains. The Headband Haze is Headband x Haze which makes the Sativa element stronger and giving you even more of a cerebral high. 
Overview
Overall, Headband strain is a creamy smoke. Headband strain is the prodigy of Sour Diesel and O.G. Kush with aromas of citrus, earth, and diesel. The high is a strong, cerebral high that leaves your forehead buzzing. The history is not fully known but most likely originating from the west coast of the U.S. This strain will give you a good yield which will add to happy and creative effects.
Where to buy Headband Seeds
It's very hard to know whether what you're actually buying are Headband seeds or not. Without clipping directly from another plant, it's very hard to tell the authenticity of the seeds. You can simply google Headband seeds and hope for the best. This is mainly because the original creator of the strain doesn't produce the seeds, unlike other strains. The shroud of uncertainty can be annoying, but that shouldn't stop you from trying!
Ever experienced a Headband high? Tell us about it below.
.

Written by Megan Medeiros (BA)
Megan Medeiros has a bachelor's degree in English and is currently working on a master's in English at James Madison University. She's the owner and operator of Medeiros Writing, and has been working as a cannabis writer for the past three years, mostly following the legal climate of marijuana, especially in areas like California, Colorado, Oregon, Canada, and other legal areas.
This post contains references to products from one or more of our advertisers. We may receive compensation when you click on links to those products. For an explanation of our Advertising Policy, visit this page. All photos were sourced from Pinterest.com | updated 2021
Stay home & get your daily
needs from our shop
Start You'r Daily Shopping with Nest Mart
Best prices & offers
Orders $50 or more
Free delivery
24/7 amazing services
Great daily deal
When you sign up
Wide assortment
Mega Discounts
Easy returns
Within 30 days