What is a Nectar Collector - The Ultimate Guide in 2021!
David and Leah Kaye Weathers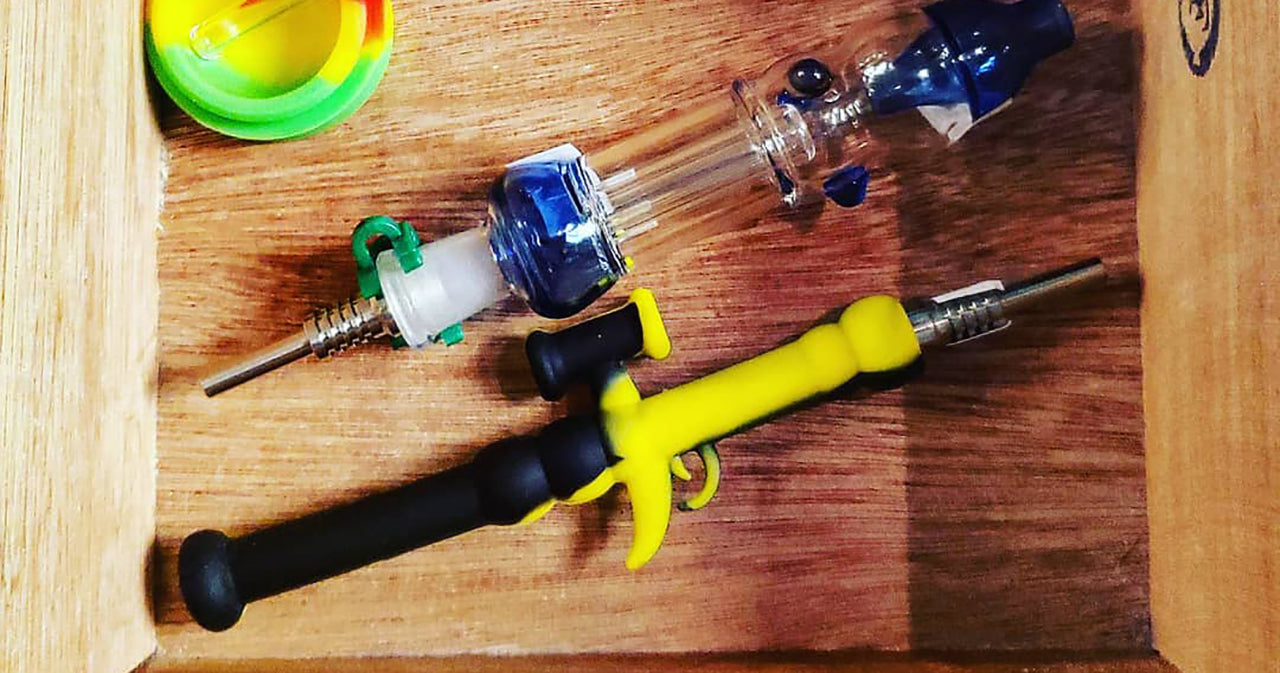 'What is a nectar collector?' you might ask; to which we would answer, 'Good question – think silly straws for stoners – or maybe pixie stix for potheads'!  A nectar collector is known, in some cannabis circles, as a percolating dab straw or a honey straw.
If you're wondering how to use a nectar collector vertical vaporizer it's pretty simple; in fact, it's like a dab rig in reverse: rather than heating and reheating a standard nail or quartz banger, you apply your torch to just the tip of the nectar collector and then, when the quartz or titanium tip is red hot – but after giving it a minute or so to cool down – you touch the tip to your concentrates and take your dab, sublimating those sweet cannabinoids!
You would be mistaken to think that all nectar collectors are the same; oh, no, it's never that simple – like bong bowls or weed pipes or anything else you can smoke weed wax or hash from, there are different shapes and sizes, different materials – for example, some nectar collectors are smaller and portable for on-the-go toking and some are bigger and better suited for indoor infusing at home.
However, in general configuration, one thing nectar collectors do have in common is that they tend to consist of three major sections: the mouthpiece, the body, and the tip. The tip is usually made of glass, titanium or quartz and is the part that comes into contact with your concentrate to heat it and sublimate it into vapor. The vapor then passes up through the next section, which is the straight, tubular body or a body tube with a built-in percolator chamber. Finally, you have the part that connects your face directly to the nectar collector, the mouthpiece – which is removable, but designed to rejoin with the body easily and securely! Put them all together and you have your very own percolating dab straw to slurp vaporized weed honey goodness with!
Factually, there are two additional but very necessary pieces to your nectar collector set and those would be a heat-resistant dish to put your wax resin in and a hand torch to heat the tip of your nectar collector.
Now that you know something about what a nectar collector is and how to use a nectar collector, let's look at some different types of nectar collectors.

Silicone Nectar Collectors

Here is another nectar collector made of silicone for your consideration – eight inches is a pretty good size, and this weed wax wand can take a lot of action and give good satisfaction!
Silicone pipes, bongs and nectar collectors make great on-the-go travel pieces because of their durability and ease of cleaning.  This honey straw can be thrown onto the seat of your car, tossed into a travel bag, or even accidentally dropped and it's going to be fine, because the material it's made of is flexible but strong. Not only is platinum-grade silicone rugged, it is also non-stick, heat-resistant, and freezer safe – and as to why you might want to put your vertical vape in the freezer, that would be to give it a little more cooling ability to your vapor for smoother hitting.
A really nice feature of the Waxmaid Silicone Nectar Collector is that you can easily see smoke as it travels up through the clear glass chamber of the nectar collector. The glass chamber features a built-in percolator, so add a little water and you have a bubbly little mini-dab rig!
The tip of the 8-inch Waxmaid Silicone Nectar Collector is a high-grade titanium tip, or nail. Titanium is obviously also very durable if dropped and can be bumped around when you are out and about. Titanium is fairly quick to heat, but you should be wary to let the tip cool a bit before dabbing so that you more gradually sublimate your wax, versus flash vaping it and losing valuable cannabinoids. One potential negative is the metallic flavor from heating and reheating titanium that some dabbers find distasteful – so you might want to take that into consideration when considering a silicone nectar collector.
It does take some practice with any nectar collector to determine the best temperature needed to heat up your nail for dabbing. Nevertheless, benefits of using a nectar collector include portability and ease-of-use functionality, plus much more direct contact – or at least less distance – between your mouth and the cannabis-rich vapor.
If this sounds like your kind of percolating dab straw then by all means fork over your $15.00 and vape away!
What we love!
8-inch size
Made from non-stick, heat-resistant, and freezer safe platinum-grade silicone
High-grade titanium tip, or nail
Clear glass chamber with built-in percolator
Great on-the-go travel piece because of its durability

If you want yourself an inexpensive but highly durable honey straw that you can take with you outdoors or on-the-go to get durably high, then consider a silicone nectar collector.
Smokea's pocket-sized vertical vape is made from nigh-indestructible 100% food-grade silicone; silicone is an awesome material for weed smoking pipes, bongs and, yes, nectar collectors because it is rugged, bendable, lightweight and can be tossed into a dishwasher for cleaning – though we recommend using some isopropyl rubbing alcohol, too, for degreasing. If that ain't tough enough for ya, this dabbing straw also comes with 14mm, male-ended, grade 2 titanium nail that can be heated and reheated nearly indefinitely!
What's more, each 4¾-inch (6¾-inch including the nail) Smokea silicone nectar collector includes a removable cap that not only covers the mouthpiece in transport, like in your purse, gym bag or glove compartment, but also doubles as an on-the-go dab dish to put your concentrates in – you can just load up your favorite shatter or wax in the metal cap, heat the titanium nail and dab, dab the night away!
This silicone nectar collector is available in several colors, such as blue/red, blue/pink, blue/yellow, green, green/black, green/pink, pink, purple/black, Rasta and more!
If you wanna trip on some weed wax the next time you take a trip, bring along a silicone nectar collector and sip your dabs with some friends under the stars! Smokea's runs around $14.99 or 5 interest-free payments of $3.00 each and that includes free shipping within the United States.
What we love!
Highly portable 4¾-inch (6¾-inch with the nail)
Made from nigh-indestructible 100% food-grade silicone
Rugged, bendable, lightweight
Dishwasher safe
Comes with 14mm, male-ended, grade 2 titanium nail
Includes a removable cap that doubles as an on-the-go dab dish to put your concentrates in
Available in several colors

Glass Nectar Collectors

So, this vapor straw could not be simpler – when it comes to nectar collectors this is as basic as it gets, just a stylus-like glass straw and a dish for dabs. If you're confused by this, then you're definitely in need of a dab or two – or maybe you just had one… or a few. Regardless, trust us when we say Grav's straws will make you forget about dab rigs and all other bulky toking gear.
You just torch the end until it gets hot; let it cool for a few seconds and then plunge the point end into the weed wax, shatter or whatever, sucking the vapor up as it melts – end of story, roll credits. A vapor straw is neither the most efficient way to dab, nor probably the least efficient (we have no science to back this up), it just does what it does.
Borosilicate glass dab nails or nectar collectors are excellent for dabbing because they are inexpensive and they don't add any metallic aftertaste to your vapor.
At 6¼ inches long by only a few eighths of an inch wide, the Grav vapor straw is small enough to fit in your pocket or purse – however, even quality glass nectar collectors like this one are fragile, so wrapping it in some protective wadding or even slipping it into some kind of container would be advisable.
Each Grav vapor straw also includes a custom glass dish to put your dabbing concentrates in. The Grav decal colors and roll-stop glass ball on the pointy end of the stylus come in varying colors.
If you want simplicity in your dabbing and can be mindful not to drop a fragile glass honey straw then you can pick up this lightweight glass nectar collector for $14.99, or 4 interest-free payments of $3.75 – with free US shipping either way you pay.
What we love!
Made from reasonably sturdy borosilicate glass
Lightweight and highly portable
6¼ inches long
Includes a custom glass dish

Electronic Nectar Collectors

You can rest assured that Yocan's Dive Portable Nectar Collector is a quality adjustable-setting straw at an affordable price that will vape your cannabis or CBD concentrates quite satisfactorily!
It looks an awful lot like Yocan's Evolve Plus Portable Vape, but it works quite a bit differently – the Evolve Plus uses an atomizer to melt wax that you load into its ceramic vaping dish, whereas the Dive Portable Nectar Collector has a ceramic nail that touches your concentrates and heats up to vaporize them on contact. The EP is a pen vape and the Dive is an electronic nectar collector – similar ideas but different mechanically.
You can actually use the Dive's nail to sublimate and sip your concentrates right from the container they come in from your favorite dispensary, provisioning center or online weed supply website.
Yocan's Dive Portable Nectar Collector has 3 heating modes – low, medium and high heat – to give you the option of whether you want more power to your puff or more flavor from your favorite concentrate.  If you prefer tasty toking over powerful hitting, then likely you'll want the lower setting; but you can breathe in and exhale a big ol' cloud of hefty pot potency if you power up to the high setting.
The weedy warp core of the Yocan Dive Electric Nectar Collector is the powerful and rechargeable 650mAh battery with a micro-USB charging cable. Anywhere you can plug in a USB charger you can repower this sophisticated honey straw.
Portability and privacy are pretty important if you want to vape on-the-go, outside in the park or perhaps on the porch at a party; the Yocan Dive Electronic Nectar Collector is 140mm long, or just over 5 inches (excluding the ceramic nail tip) so it easily fits into your pocket, purse or pack, and it is ideally inconspicuous because you can hide it in your hand while vaping.
The Dive dab straw comes in either matte black or silver metallic finishes, and has a magnetic cap that clicks into place over the ceramic vapor tip to protect it when not in use.
The power button works just like any portable pen vape – click it five times for on or off; depress three times to change power settings, indicated by the power button glowing red for low, green for medium and white for high, which you will be if you puff from the maximum setting! What's more, the power button can indicate the battery's condition by quickly blinking 3 times for a bad coil or short circuit, 8 times for holding the button too long (overtime), and 10 consecutive blinks for low battery – signaling the need for recharging.
You can order yourself a Yocan Dive Portable Electronic Nectar Collector for $39.99​ - or 4 interest-free payments of $10.00.
What we love!
3 heating modes – low, medium and high heat
Powerful and rechargeable 650mAh battery
Micro-USB charging cable included
140mm long, or just over 5 inches (excluding the ceramic nail tip) - forget those bulky dab rigs!
Power button works just like any portable pen vape: 5 clicks = on/off, 3 clicks = rotate power settings
Comes in either matte black or silver metallic finishes
One person's mini is another person's micro, so you can call this a mini nectar collector or you can call it a micro nectar collector; either way the idea is that, at 7-and-a-half inches fully assembled, it's pretty small – take a hit off from this powerful little percolator straw and go see the Ant Man movie and you'll be fine!
Though there's nothing wrong with a big, bad bong, there's something to be said for sipping from a small nectar collector instead! Portability in dabbing is a thing and in our busy, hustle-and-bustle lives sometimes having a dabber you can grab and toss into your purse or pocket or a small travel tote then bust your buns out the door is essential!
The Vaped Micro V3 Nectar Collector might be just the thing for your transportable toking needs! This electronic nectar collector kit is the result of a collaboration between established vaping name brands Vaped and Nectar Collector, bringing to the cannabis consumer what they call 'Switch-Hit Technology' – what that means is that the Micro Vaped vaporizer can be used both as a standard wax vape pen with the included 110v battery, or as a standard nectar collector by using the titanium tip and torching it before you touch the nail to your dish of concentrates. Basically, it's a 2-in-1 option for you to choose how you want to vape your wax. Is it a wax vape pen or is it a nectar collector straw? The answer is yes, both!
You get a lot of stuff in this nectar collector kit - everything but the dab rig itself; it comes with 1 V3 lithium-ion battery, a threaded grade 2 titanium tip with a cover, a silicone carrying case for your waxes, a Vaped silicone pen stand, a glass dish, steel dabbing tool, and a mini-USB adapter with wall charger. If you don't want to wait to use the vape, this vaporizer battery was designed with "vape-while-charging" technology so you can use it even when plugged in and charging! If you want to use it as a nectar collector, all you need is a torch to fire the tip and some dab wax for your dish and you are ready to roll!
The manufacturers even throw in a Vaped warranty card and instruction manual, because they are just cool that way.
All of this Vaped Nectar Collector awesomeness will cost you $129.99 or 4 payments of $32.50.
What we love!
Collaboration between established vaping name brands Vaped and Nectar Collector
'Switch-Hit Technology' – can be used both as a standard wax vape pen with the included 110v battery, or as a standard nectar collector by using the titanium tip
1 V3 lithium-ion battery
Includes silicone carrying case
Vaped silicone pen stand
Threaded grade 2 titanium tip with a cover
Mini-USB charger and a wall charger
Steel dabbing tool
Glass dish
Comes with a Vaped warranty card and instruction manual

Nectar Collector Kits

While it's as small as a hummingbird, it isn't the hummingbird nectar collector, rather it's the Honeybird Nectar Collector and this kit will set you up to dab wax quickly and efficiently!
The Honeybird is tulip-bulb-shaped, just a small glass chamber with an internal perc and a dab nail for a tip – that's all there is! But it works sublimely well in vaping your concentrates and getting you mighty high!
To use this nectar collector just slowly fill the bulbous water chamber with the tip removed by either pouring water in through the mouthpiece or sucking water up through the bottom like a straw, until the water is about halfway-covering the central up-stem of the Honeybird Nectar Collector. If you overfill and want to clear water from the otherwise spill-proof nectar collector, then just remove the tip and blow down through the mouthpiece. Next, use your small torch to heat the very bottom, about ½-inch, of the titanium tip – being careful to not overheat, and letting it cool slightly before you dab by touching the hot tip to whatever wax or hash you may have in your bowl. Draw the vapor up with suction from your mouth and lungs, inhale and enjoy – lather, rinse, repeat!
Included in the Honeybird Survival Nectar Collector Kit you will find the Nectar Collector Honeybird Core, plus a threaded titanium tip with tip cover; you also get a parabolic bird feeder dish for your wax, a small dab tool, a fill bottle to drip water into your collector's water chamber, a small Vector Drone Torch, and a sunglasses-style carrying case. They give you everything you need to start enjoying your own personal straw except for the cannabis concentrate – that you have to do on your own.
If all of this sounds pretty sweet, then get your own Nectar Collector Mini-Pro Kit for $219.99.
What we love!
Easy to fill and remove excess water
Threaded titanium tip with tip cover
Parabolic bird feeder dish
Dab tool completes all dab rigs
Fill bottle to add water
Vector Drone hand torch
Sunglasses-style carrying case

Maybe you and your hunny, your significant other that is, want to do a little honey, as in cannabis concentrate wax or some oil – then you might consider dabbling in dabbing with a Huni Badger Electric Nectar Collector!
The nice thing about an electric nectar collector is that it is torchless toking technology – no need for you to mess around with a potentially dangerous open flame because the heating of the dab nail tip comes from internal battery power.
All you have to do is to first assemble the unit by attaching the mouthpiece with the bulbous water chamber with some water already in it, then insert the 2 HOHM High Drain 18650 battery which is included in the kit; next add some crumble, shatter, wax or cannabis oil to the HuniPot Extract Containers; click the power button five times to begin heating the High Temp HuniTip (installed) or the Low Temp HuniTip (included) and as soon as the ceramic tips are hot, which takes about a minute, you can touch the heated tip to whatever concentrated cannabis you have in your HuniPot and boom – you are vaping! It's pretty quick and easy to assemble and use!
You want more, how about a Honeybird Delux Core? They spare nothing for your dab percolating pleasure!
The reason that there are two different ceramic nail tips for this electronic nectar collector is to give you the option between high-temp dabbing or low-temp dabbing. With high-temperature dabbing, the nail or tip is heated to oven-like temperatures ranging in 330-390 degrees Fahrenheit (165-198 degree Celsius). High-temp heating instantly vaporizes your weed wax concentrates, offering a much more intense psychotropic effect at a faster rate than low-temp dabs, and all the cannabinoids reach vaporization. In low-temperature dabbing (under 300 degrees F/148 degrees C), the nail tip is heated to a lower temperature – hence the name, for a bit slower sublimation resulting in a more flavorful dab with a less intense but more prolonged high. It's good to have options!
Including some of the components we've already mentioned above, your handmade in USA, signed and numbered Huni Badger Electric Nectar Collector Delux Kit contains:
1 Huni Badger Unit (in this case, black; there are also camo and white varieties)
1 Nectar Collector Honeybird Delux Core
1 Huni Badger Nectar Connector
2 HOHM High Drain 18650 battery
1 Blackcell 2A battery charger
1 waterproof hard case
1 High Temp HuniTip which comes installed
1 Low Temp HuniTip in the box
1 510 eGo Adapter
1 14mm adapter
3 HuniPot Extract Containers  - one stored in the magnetic cap
3 pipe cleaners
2 replacement O-rings
1 user manual
And maybe even a partridge in a pear tree… nah, probably not; but the Huni Badger kit definitely has everything you need to have many enjoyable dab seshes with your Huni Badger Electric Nectar Collector. An amazing nectar collector and all the dabbing accouterments in one swell kit for $374.99 is one honey of a deal!
What we love!
Torchless toking technology – no open flame
Powered by a 2 HOHM High Drain 18650 battery
Easy to operate and dab with
Comes with both a High Temp HuniTip (installed) and a Low Temp HuniTip (included)
Handmade in USA, signed and numbered
Waterproof hard case with HuniPot Extract Containers , tips, adapters, a user manual and more

Nectar Collector is THE name brand when it comes to vertical vaping – they are the Rolls Royce, the Coca Cola, the Marvel Comics, name your big dog brand – they are the BEST of the best! So, naturally, if you have one of their top-of-the-line dabbing straws, you are going to want to show it off! This Nectar Collector nectar collector comes with a handmade, up-cycled, gear-shaped display stand so that you can strut your dabbing stuff in style! It's certified that it's handmade in USA, and it is signed and numbered – so it is all very impressive!
Not only will people be amazed with how sleek and cool the Nectar Collector looks, but they'll really love how easy it is to use and how smoothly it does a dab of premium wax! The Nectar Collector v2.0 straw features a 6-hole star percolator and splashguard mouthpiece, delivering the tastiest hits from tiny sips to the giant rips, and everything in between. The 14mm titanium tip heats up nicely to sublimate your cannabis or CBD concentrates when you touch the red hot nail to them. They even throw in some joint wax to keep all the pieces sealed tightly together when you're using them, but able to come apart when you need to disassemble the piece for cleaning or storage.
So, for $379.99, the Nectar Collector v2.0 Kit has everything you need in a sophisticated, stylish vertical vape. This could be the end of our story, but there is a 'but wait, there's more' because if this particular percolator straw doesn't sufficiently impress you there's also a Nectar Collector v3.0 Kit  that retails for $899.99 and is a more artistic, updated version of the Nectar Collector, available in a variety of colors, designed by Kristian Merwin and the team at Wasatch Glassworks. It features a 510 threaded connection to give your tip a better grip and a vortex venturi percolator for some of the cleanest, smoothest vertical dabs ever. So if you're ready to whip out the American Express or other card for this investment, we assure you it won't be in vain!
Or if the Nectar Collector v2.0 Kit and Nectar Collector v3.0 Kit are a bit too much for you there's always the original, less expensive $249.99 Nectar Collector v1.0 Kit, which comes with a parabolic bird feeder dish.
All versions of the Nectar Collector feature the display stand and the sealing wax.
What we love!
Certified that it's handmade in USA, signed and numbered
Internal, built-in percolator
Splashguard mouthpiece
14mm titanium tip
Handmade, up-cycled, gear-shaped display stand
Includes joint wax to keep all the pieces sealed tightly together
Available in Nectar Collector v1.0 Kit for $249.99, Nectar Collector v2.0 Kit for $379.99, and the artistic and colorful Nectar Collector v1.0 Kit  for $899.99.
(Nectar collector and glass wax dish, image from Veedub Grow on Instagram)


Portability is a pretty big deal when it comes to portable vapes and nectar collectors – people like to take their green goodness with them when they travel, experience nature and visit with free-minded friends. You want portable? Let's talk 6-inch Mini Nectar Collector Dab Pipe, shall we?
First of all, cannabis and CBD concentrates are all the rage amongst smokers, tokers and midnight dabbers because they deliver maximum potency almost immediately when you vape; whether you are using weed recreationally or for medical reasons, getting immediate gratification from your ganja gets you where you need to be mentally and physically. Pain relief and pleasure need not be exclusive, and a good hit of dab wax does both for you, quickly and effectively!
This particular mini nectar collector is like a dab rig that fits in your purse or pocket – you can easily take it anywhere! The nectar collector kit comes with a 6-inch dab straw with a perc in the middle of its water chamber, your own glass wax dish and a 10mm titanium tip – so, add some shatter, crumble, wax or even some oil and you are ready to rip some solid pulls of weedy or CBD-y vapor!
The cost of this little glass gem of a nectar collector is $25.60 – which is not too bad for a solid glass honey straw that will give you hours of vaping pleasure!
What we love!
At 6 inches, a very pocket-sized dabbing straw
Built-in perc in the middle of the water chamber
10mm titanium tip
Glass wax dish included
Summary
So, we've educated you, hopefully, about the fun-filled and flavorful world of nectar collectors. They are alternately called vertical vapes, dab straws or honey straws – but the whole idea, whatever you want to call them, is to sublimate your cannabis or CBD concentrates or oils in a glass dish with the hot tip of the device, and then suck up that vapor like you were drinking a shamrock shake of weed! Some nectar collectors use torches, just like a dab nail, to heat their tips, other tips are electronically heated. They can be made of glass, silicone or metal, and there are micro and mini-sized nectar collectors, which are pocket-sized and super-portable. The tips of nectar collectors are just like the nails of a dab rig and tend to be made of titanium, glass or ceramic.
When it comes to how to use a nectar collector, it\'s quite simple, especially compared to rigging up your dab rig with a quartz banger, etc. With the nectar collector, you'll heat the tip by pressing a button or manually torching the nail. Electronic nectar collectors let you precisely control the heating of the tip so that you can enjoy either high-temp dabs that are more intense and hit faster than low-temp dabs, or you can go with a low-temp dab that tends to be more flavorful, with more intact cannabinoids and terpenes, and with a less intense effect that lasts far longer. Some dab cannasseurs think you get more intense heat more evenly distributed using a torch. You need a dish to place your wax, shatter, crumble or oils in; then you just inject the heated tip into the concentrates and suction the vapor up through the honey straw by breathing in from the mouthpiece at the opposite end. Many nectar collectors have water chambers with some form of built-in percolator, similar to a bong or bubbler pipe.
Conveniently, as we showcased above, there are many nectar collector kits out there that come with the collector itself, plus important accessories like extra tips, a dish for your concentrates, a dab tool, and maybe even a carrying case.
And, finally, when it comes to how to clean a nectar collector, that's going to depend somewhat on the material. Removable metal, glass, and ceramic tips and parts can be soaked in 91% isopropyl rubbing alcohol for a few hours or overnight, then further cleaned and rinsed off with soap and water. Silicone pieces are usually dishwasher safe. Be sure that any and all alcohol is either evaporated or washed off before applying either a torch or using a heating element to prevent unexpected, eyebrow-singeing fires!
Now comes the most important part – assessing your needs, checking to see how much you want to load up your American Express or other handy payment method in your wallet, and then deciding which kind of nectar collector you should get to slurp your shatter, wax or whatever kind of concentrate you have with your own personal dabbing straw! Sometimes sucking can be sublime!
.

Written by Megan Medeiros (BA)
Megan Medeiros has a bachelor's degree in English and is currently working on a master's in English at James Madison University. She's the owner and operator of Medeiros Writing, and has been working as a cannabis writer for the past three years, mostly following the legal climate of marijuana, especially in areas like California, Colorado, Oregon, Canada, and other legal areas.
This post contains references to products from one or more of our advertisers. We may receive compensation when you click on links to those products. For an explanation of our Advertising Policy, visit this page. All photos were sourced from Pinterest.com | updated 2021
Stay home & get your daily
needs from our shop
Start You'r Daily Shopping with Nest Mart
Best prices & offers
Orders $50 or more
Free delivery
24/7 amazing services
Great daily deal
When you sign up
Wide assortment
Mega Discounts
Easy returns
Within 30 days