Purple Haze Cannabis Strain | Purple Haze Weed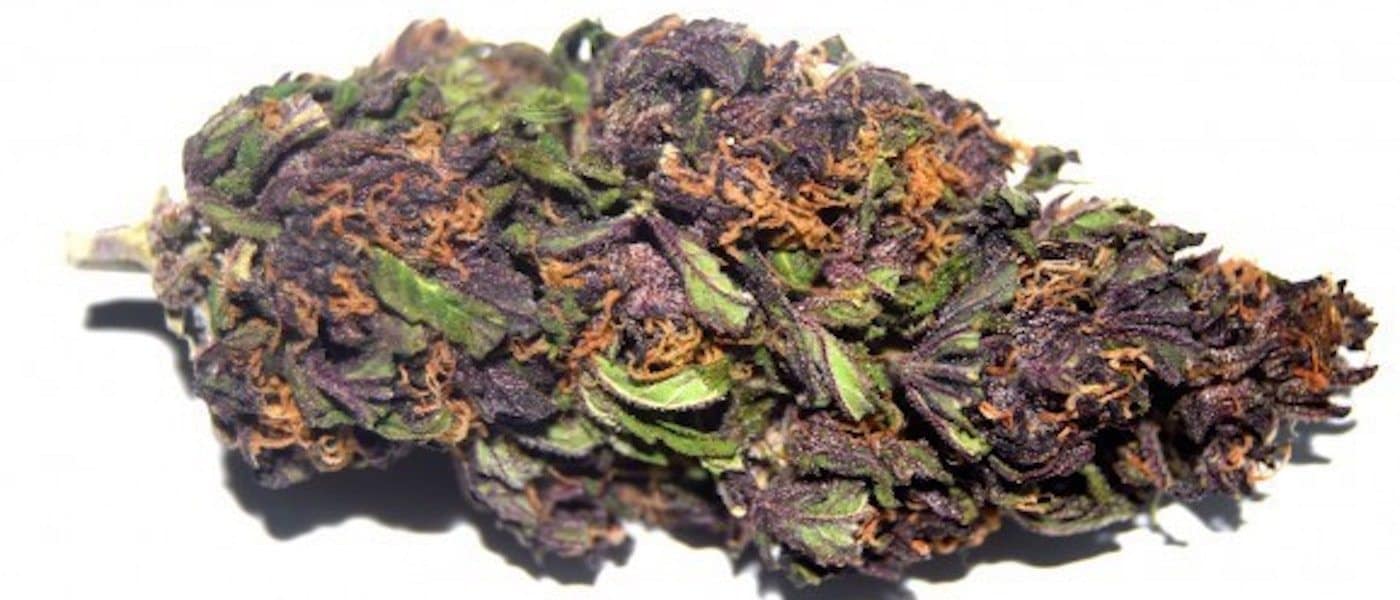 Popularized by (but unrelated from) Jimi Hendrix's classic song, Purple Haze cannabis is best known for its euphoric and almost psychedelic stimulation. This elusive classic sports a mild potency while also boasting both Sativa and Indica effects. After consumption, there is an almost immediate impact similar to the Sour Diesel marijuana strain. Consumers often note the sweet, berry-candy aromas that give root to any Purple family marijuana strain. Secondarily, you will notice the earthy spice undertones and maybe a burst of grape. The aromas and flavors in this strain blend so well, even the smoke tastes sweet! 
If you want to grow your own Purple Haze cannabis, pick up some of these feminized seeds.

Expect large yields from this Sativa-dominant strain, which can be grown indoors or outdoors with great success!

Our thanks to the high res cameras and photogs at Seedsman for this photo!

Purple Haze Cannabis Information
Purple Haze cannabis is an 85/15 Sativa dominant strain. Its exact parent strains are unknown but strain experts believe it is a cross of the well-liked strains Haze and Purple Thai; rooting lineage to popular strains like Lemon Haze and Grape Ape. Being a Sativa dominant with Haze lineage makes this an optimal strain to treat muscle tension, pain, headaches, depression, and anxiety. Of course, if you really want to know if the effects purple haze offers are right for your healthy woes then it's best to consult a licensed health professional. Need an energetic buzz - an energy boost - with a smooth mellow fade? A body high without the couch lock? The effects of this strain would also be beneficial when combined with activities that stimulate the mind and body, such as video games or exercise. Take this strain to a party if you have a difficult time talking socially. New cannabis users beware! Always start low, go slow, or the THC content of your Purple Haze cannabis high may cause unwanted mood swings. With the right usage and environment though this is a very enjoyable strain!
 

Already have your Purple Haze, but looking for the perfect way to enjoy it?

Try this classic Round Base Water Pipe from Grav Labs. As always with Grav you're getting a bong made from quality scientific glass, and the geometric ice pinch will both cool your toke and make it easier for you to hold the glass.

Alright, Grav's got a dope insta (@gravlabs) well worth checking out, but we wanted to keep this photo simple to show off the beautiful glass, so thanks to the creators of this stock image!
Effects
Recreational and medical users have described an intense sense of inspiration, blissful tranquillity, and a slight body buzz when using this marijuana strain. This fragrant bud is well known for its cerebral stimulation, curbing fatigue, and discomfort. This stimulation can benefit users with attention deficit disorders who may be unable to focus on a singular task. Medical patients use it for nausea, migraines, and chronic pain as well. Medical advice from a health professional is always recommended if you have specific needs you're seeking from your cannabis.
Unfortunately, Purple Haze weed strain effects do not include as much "munchies" as others, check out Strawberry Cheesecake for major appetite stimulation!
Negative experiences are more often seen in high doses. Dry mouth, also known as cottonmouth, can be alleviated with water, try adding lemon juice as the terpene limonene stimulates saliva production.
Purple Haze
General Effects
Purple Haze
Medicinal Properties
Purple Haze
Side Effects
Happiness 100%
Anxiety & Stress 100%
Dry Mouth & Dry Eyes 90%
Euphoric 90%
Pain & Muscle Spasms 70%
Anxiety 50%
Creativity 80%
Depression 60%
Giddy after Consumption 40%
Relaxation 60%
ADD & ADHD 60%
Dizziness 20%
Energizing 60%
Fatigue/Insomnia 50%
Minor Paranoia 20%
Sociable 50%
PTSD 50%
Minor Headache 10%
 
Loss of Appetite & Nausea 30%
 
 
Headaches & Migraines 30%
 
Purple Haze's THC level can range from 12-20% which is typical for a Sativa (like its cousin Strawberry Cough), while CBD usually sits around .1-.5%, making this an immensely beneficial strain. CBN is typically .01-.05%. In the case of overstimulation or anxiety from the high THC, a dose of CBD can remedy this side effect.
Never smoke alone with the Jay and Silent Bob Percolator Beaker Ice Bong.

Not only does Buddy Christ always cheer you on from his location on the side of the beaker base, but the showerhead percolator and ice catch will cool every toke you take. Buddy Christ is really looking out for you with this one!

With so much personality, this stock image that we are oh-so-grateful for is really doing it for us.

The typical terpene content for Purple Haze weed is around .67% beta-caryophyllene, .5% humelene, .17% myrcene, and a handful of other .1% Terps (linalool, alpha & beta-pinene, etc.). This combination of oils produces a sedative, analgesic, and anti-inflammatory effect, especially in Purple Haze wax. The pinene also helps negate some of the memory issues you can expect with high THC. Purple Haze produces fewer amounts of aromatic terpenes than other strains, be sure to protect your flower from heat and oxidation.
If you enjoy more piney strains, check out the fan-favorite Trainwreck!
 What is Purple Haze? How to Identify
Purple Haze buds are prominently a deep green with rich purple hues throughout. They are typically long medium or large-sized flowers, often presenting a fluffy-looking spade structure. Look closer to see the thick layer of the sweet sticky resin surrounding tiny milky white trichomes dispersed among the orange hairs (similar to its cousin Cherry Pie). Some variations include purple hairs or bright blue undertones.
| | |
| --- | --- |
| | Add some more Buddy Christ love to your glass collection with this stash jar. Don't worry, Buddy Christ will take good care of your nug, be it Purple Haze or any other tasty marijuana strain. |

All rights reserved on the Buddy Christ character, and thanks to whoever took this stock photo!


Why is Weed Purple?
Purple Haze strains are known to produce high amounts of the terpene myrcene and cannabinoid THC. These strains are derived from purple Afghani, sometimes crossed with Skunk. Purple cannabis is known to produce the pigment anthocyanin (purple color) to protect its self from solar radiation. This color is a class of plant pigment called flavonoids. The flavonoid anthocyanin is responsible for red, blue, and purple pigments on your favorite strains. The hue depends on the pH; a plant that is more acidic will display red pigments, a more alkaline plant will have blue hues, a neutral plant that is between the two will produce purple flavonoids. 
Anthocyanin can be found in antioxidant-rich foods like grapes, blueberries, and raspberries. Antioxidants are also known to produce anti-inflammatory effects in the body, although there is no supporting research, there is a possibility that purple strains may work the same way.
Growing Purple Haze
The Purple Haze plants plant is considered a very simple growth and is suggested for first-time growers. With an 8 to 10 weeks flowering time, this plant produces an extremely high yield (with 3 to 6 ounces per square foot) indoors and out. It also boasts a high resistance to disease. Although Purple Haze can flourish in northern climates, professional growers suggest a sunny warmer climate with hydroponic equipment to produce the best flower.
 

Ever tried traveling with your glass bong somewhere without a protective bag? 

Here at the Weed Republic we advocate safe behavior, which is why we highly recommend investing in a quality bong bag. Don't risk your precious glass! Wrap it up in a carefully designed bag like this one from Black Leaf!

Photo cred goes to whoever captured the great qualities of this bong bag in this stock photo.
Purchasing
The availability of Purple Haze is almost nonexistent. After a little research, it appears that there are offers as high as $80 USD for a 1/8… Your best bet is to grow them in your own zip code. Either purchase the parents and cross them yourself, purchase the feminized (don't take chance with your seeds - males don't produce medicine and are only useful for crossing strains) Purple Haze seeds online (10 for $100), OR find a grower who already has the plant and purchase a clone - a cutting near the lower base of the plant where there are the most root growth chemicals.
Purple Haze Cannabis in Summary
When you consider body chemistry and the amount of variation of cannabis genetics, it can be hard to pinpoint what a particular strain will do for you. However, Purple Haze OG has incredible reviews and proves to remain a classic even after 30+ years. With hints of that famous purple berry aroma, this beautiful purple bud is sure to deliver an instant spark of bliss. Whether it's medical advice that led you to this purple beauty, or you're a recreational toker looking for a throwback, Purple Haze plants cannabis is well worth a try!
.

Written by Megan Medeiros (BA)
Megan Medeiros has a bachelor's degree in English and is currently working on a master's in English at James Madison University. She's the owner and operator of Medeiros Writing, and has been working as a cannabis writer for the past three years, mostly following the legal climate of marijuana, especially in areas like California, Colorado, Oregon, Canada, and other legal areas.
This post contains references to products from one or more of our advertisers. We may receive compensation when you click on links to those products. For an explanation of our Advertising Policy, visit this page. All photos were sourced from Pinterest.com | updated 2021
Stay home & get your daily
needs from our shop
Start You'r Daily Shopping with Nest Mart
Best prices & offers
Orders $50 or more
Free delivery
24/7 amazing services
Great daily deal
When you sign up
Wide assortment
Mega Discounts
Easy returns
Within 30 days